Worst Title Nomination Wins Box Office Title
John Hamann's Weekend Wrap-Up
February 7-9, 2003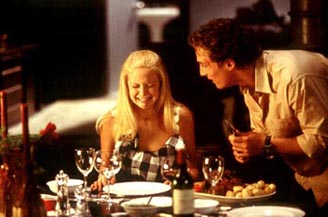 Our first real weekend in February is here, and like clockwork, it delivered 2003's box office surprise hit of the year so far - except it's not the film we expected it to be. Shanghai Knights, Deliver Us from Eva, and How to Lose a Guy in 10 Days all opened this weekend, and together, they are probably the strangest titles ever to open on the same weekend. There was talk that the two rom-coms would cannibalize each other, but that wasn't the case. The box office totals for the frame exceeded those of the same February weekend when Hannibal opened in 2001; that film took in $58 million over its opening weekend.
February has really become the box office month to watch. Over the last two years, films like Hannibal and John Q have opened very successfully, and some smaller films have found success in the second month, like Britney Spears' Crossroads and Frankie Muniz's Big Fat Liar. Hollywood studios no longer shy away from February and dump their garbage; now they market some of their films throughout January, building awareness only to eventually rip the top off the box office in February. This weekend is no different. Paramount pushed How to Lose a Guy in 10 Days throughout January, having a couple of word-of-mouth screenings and getting Matthew McConaughey and Kate Hudson to push the film wherever possible. Touchstone also had word-of-mouth screenings, and used TV and print to get the message of the Shanghai Knights opening out to moviegoers. The marketing paid off for both of these films, but definitely more for the Paramount release.
How to Lose a Guy in 10 Days may have one of the worst titles ever in box office history, but it didn't put moviegoers off. The romantic comedy scored very large this weekend, becoming the number one movie at the box office, which was definitely a surprise. Lose a Guy grossed a stunning $24.1 million this weekend from 2,923 venues, good for a fantastic venue average of $8,245, the best in the top ten. In terms of February openings, Lose a Guy is the third biggest opening ever for a February film, behind Hannibal and Scream 3. It's the biggest opening ever for the principals in the film, Matthew McConaughey and Kate Hudson. For Hudson, this film is a very important step in her career. After a star-making performance in the beautiful but low-grossing Almost Famous, Hudson starred in a couple of dogs, namely The Four Feathers and Dr. T and the Women (I think Kate has a fetish for poorly titled films). Lose a Guy will keep the talented daughter of Goldie Hawn making movies for a long time to come. The underrated McConaughey also needed Lose A Guy, even after a very successful 2002. Last year McConaughey starred in several great movies, but none of them amounted to much in terms of box office. In 2002, McConaughey was in the little seen but very good Thirteen Conversations About One Thing and the even better Frailty, before having some fun in the not-as-bad-as-people-think Reign of Fire.
How to Lose a Guy in 10 Days is Paramount Pictures' first release of 2003, and is obviously a great start for the studio. Paramount is still trying to wash the bad taste out of its mouth after the dismal performance of Star Trek: Nemesis, which flopped hard this past December. It's been a good week for Paramount. On Wednesday, Variety reported that Steven Spielberg may have some room in his schedule for the fourth Indiana Jones movie, which would end up being a 2004 release if all the principals can come together for the making of the film. Check the chart below to see how Paramount did over 2002.
<% sqlstr = "SELECT * FROM box WHERE" sqlstr = sqlstr + " movie like 'Orange County' OR" sqlstr = sqlstr + " movie like 'Crossroads' OR" sqlstr = sqlstr + " movie like 'We Were Soldiers' OR" sqlstr = sqlstr + " movie like 'Clockstoppers' OR" sqlstr = sqlstr + " movie like 'Changing Lanes' OR" sqlstr = sqlstr + " movie like 'Sum of All Fears, The' OR" sqlstr = sqlstr + " movie like '%Hey Arnold%' OR" sqlstr = sqlstr + " movie like '%K-19%' OR" sqlstr = sqlstr + " movie like 'Serving Sara' OR" sqlstr = sqlstr + " movie like '%Four Feathers%' OR" sqlstr = sqlstr + " movie like 'Abandon' OR" sqlstr = sqlstr + " movie like 'Jackass: The Movie' OR" sqlstr = sqlstr + " movie like 'Star Trek: Nemesis' OR" sqlstr = sqlstr + " movie like '%Wild Thornberrys Movie%'" sqlstr = sqlstr + " ORDER BY open DESC" max = 100 header = "Paramount 2002" tstyle = "release" skin = "bop" x = Drawtable(sqlstr,max,header,tstyle,skin) %>

Second spot this weekend goes to the movie I thought would debut on top. Shanghai Knights, the sequel to Shanghai Noon, had to settle for second, grossing $19.8 million from 2,753 venues. The Old West meets Far East sequel had a venue average of $7,181. Comparing the sequel to the original is tough. The original film opened over Memorial Day weekend in 2000. It grossed $15.6 million over the Friday-to-Sunday portion of the weekend and had an internal multiplier (Friday gross divided by weekend gross) of 3.43, but because of the holiday, that number is skewed. Like most sequels, Shanghai Knights had a bigger Friday than the original, but a lower multiplier of 3.18. The point, though, is that even with the original opening on one of the biggest weekends of the year in 2000, the sequel's first weekend of February opening still beat the original. Touchstone Pictures, a division of Disney, has to be very happy with this.
How did audiences compare the two movies? Shanghai Knights drew an A and A- from the under 21 set, and then saw their Cinemascore grades drop from there out. The key demo of males 21-34 gave Knights its lowest score, a B, which is a little unsettling for the studio, but all other sectors gave the film a B+. Shanghai Noon on the other hand, had a single sector low score of B+, with all the other demos giving A-s, and women under 21 giving an A+. The original grossed $56.9 million, which Knights should easily acheive, but I wonder by how much, with lower audience buzz.
Chicago was able to stop its drop this weekend; last weekend the musical saw its box office total drop for the first time in its run as it dropped 14.4% compared to the weekend before. Miramax got smart this weekend and finally took their film into wide release, increasing the venue count by 1,218 screens up to 1,841. The play worked. Chicago saw a 34% increase over last weekend as the Oscar-worthy film grossed $10.7 million, generating a screen average of $5,823. Oscar nominations come out Tuesday, so this weekend's expansion is perfectly timed, albeit maybe a weekend late. Look for Chicago to continue its march towards $100 million, picking up where A Beautiful Mind left off last year. So far, the Miramax musical has grossed $63.7 million.
In fourth place is last weekend's number one film, The Recruit with Colin Farrell and Al Pacino. With three big success stories in front of it, The Recruit had to settle for $9.5 million this frame, as the poorly reviewed film dropped a large 42%. The Recruit is Touchstone Pictures' second film in the top five after Shanghai Knights, a feat they haven't accomplished since December of 1999, when Deuce Bigalow: Male Gigolo and Bicentennial Man held the four and five spot in the top ten. The Recruit has made $30.1 million so far, and looks like it will struggle to make $50 million.
Coming in at fifth is another oddball-titled film, Final Destination 2. FD2 was probably the easiest film to predict this weekend, as horror titles, especially horror sequels, tend to be extremely frontloaded. FD2 is no exception; it dropped 46% this weekend, winding up with a gross of $8.7 million. Still on 2,834 screens, FD2 had a venue average of $3,052. Its total has hit $28.1 million; the original in the series had scored $20.4 million after two weekends, but only dropped 28% in its second frame.
Deliver Us from Eva, our last new release, is the sixth place film. Eva went the typical urban route, opening on only 1,139 screens. The LL Cool J and Gabrielle Union film grossed $7.1 million in its debut weekend, generating a decent venue average of $6,216. Eva is from director Gary Hardwick, whose release The Brothers hit screens back in March of 2001. The Brothers had an opening weekend gross of over $10 million, so Eva is a bit of a step backward box office-wise. Eva did get decent Cinemascores, but again couldn't keep up with The Brothers, which had an average score of an A; Eva averaged an A-. Could Eva have grossed more if it hadn't opened against How to Lose A Guy in 10 Days? The answer is probably, but the impact wouldn't have been large. On the other hand, though, small films like Eva need every chance they can get for success over opening weekend. Often, urban films are extremely frontloaded, so the distributor should be desperate to make their dollars in the first and second weekend. The aforementioned The Brothers may have opened to over $10 million, but it topped out around $27 million.
Kangaroo Jack fell a few spots from its number four ranking last weekend all the way down to seventh this weekend (yay!). The WB feature scored $5.9 million over the February frame, dropping 35% of its audience compared to last weekend. This, ladies and gentleman, is the best news I've had all weekend. So far, KJ has stolen $52.8 million from its audiences, and many, many hours of peoples time.
DreamWorks' Biker Boyz is the big dropper of the weekend. After debuting in third last weekend, Biker Boyz dropped all the way to eighth as it grossed only $4.0 million. That's a brutal weekend-to-weekend drop of 61%. So far BB has grossed $15.5 million, with not much more to come.
Ninth this weekend is Darkness Falls. The Sony horror flick grossed $3.8 million in its third weekend, dropping 46%. Its total has now reached $26.8 million.
The Lord of the Rings: The Two Towers may be spending its last weekend in the top ten, though Tuesday's nominations could give it a good hold next weekend. TTT grossed $3.38 million and brought its massive total up to $320.7 million.
The top ten movies this weekend grossed a massive estimated $96.3 million, which compares quite favorably to the year before. Last year, top ten estimates came in at $77.9 million, which means a 19.5% increase for 2003. In fact, 2003's top ten gross is even better than 2001, when Hannibal's $58 million led the top ten to $95.5 million.
Out of the top ten this weekend are Catch Me If You Can, About Schmidt and National Security. Looking to join the party for Valentine's Day weekend is the supposedly big hitter Daredevil, though the marketing has been underwhelming in my opinion. Also up for release next weekend is another Disney retread, The Jungle Book 2. This is what people get for buying tickets to Return to Neverland. For more information on these and a whole bunch of other films, visit BOP's Release Schedule.
Top 12 for Weekend of February 7-9, 2003

Rank

Film

Number of Sites

Change in Sites from Last

Estimated Gross ($)

Cumulative Gross ($)

1

How to Lose a Guy in 10 Days

2,923

New

24.1

24.1

2

Shanghai Knights

2,753

New

19.8

19.8

3

Chicago

1,841

+1,218

10.7

63.7

4

The Recruit

2,376

No change

9.5

30.1

5

Final Destination 2

2,834

No change

8.7

23.1

6

Deliver Us from Eva

1,139

New

7.1

7.1

7

Kangaroo Jack

2,848

No change

5.9

52.8

8

Biker Boyz

1,769

+3

4.0

15.5

9

Darkness Falls

2,456

-409

3.8

26.8

10

The Lord of the Rings: The Two Towers

1,680

-495

3.4

320.7

11

Catch Me If You Can

1,744

-572

3.1

156.5

12

About Schmidt

1,240

+4

3.1

48.6