Space Shuttle Blast
Drives People to the Movies
John Hamann's Weekend Wrap-Up
January 31 - February 2, 2003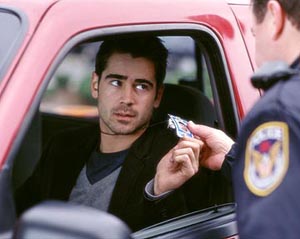 One would think it would be another tough outing for movie studios this weekend. After getting over the hump called the Super Bowl, Hollywood had to compete with breaking world news this weekend. I thought the crash of the Space Shuttle would have moviegoers watching CNN instead of going to the movies on Saturday, but instead the news seems to have driven people to movies to seek solace. Three big movies hit the cineplexes this weekend, the horror flick Final Destination 2, the CIA flick The Recruit, and Biker Boyz from DreamWorks, and all held up quite well in the face of the dramatic news.
On Friday, July 16, 1999, the plane carrying John F. Kennedy Jr. and his wife Carolyn crashed into the sea off Martha's Vineyard, and the story was carried for almost the entire weekend without interruption on most network and cable news channels. The box office that weekend wasn't sacked completely, but there is strong evidence that there was a negative impact on box office. The average internal weekend multiplier (Friday gross divided by weekend gross) for the top eight films for the July 16th weekend in 1999 was 3.2, down from the weekend before when it was 3.3. The weekend after the 16th saw a return to normalcy for the month with an average internal multiplier of 3.38. The decline on the weekend of the 16th was almost certainly caused by people staying home to follow the breaking news, so all the films in the top ten that weekend were adversely affected by the tragedy. This time around things are a bit different. Internal multipliers were quite good this weekend, and drop-offs from the previous week were low all around. This is the weekend following the Super Bowl, so low drop-offs were expected, but not this low. Let's take a look at what happened this weekend.
The number one film was a bit of a surprise, and may mean that the always-working Colin Farrell has finally hit the big time. The Recruit from Touchstone Pictures is the number one film of the weekend, as it grossed $16.5 million from only 2,376 venues over the late January/early February frame. The espionage thriller had a venue average of $6,953, the second best in the top ten. Farrell has seen a couple of flops on the way to being "the next big thing." After huge disappointments in American Outlaws and Hart's War (combined cost $105 million, combined gross $32.3 million) Farrell hooked up with Tom Cruise for Minority Report, which was finally a blockbuster for the young actor. The Recruit also stars Al Pacino, and though he may have been the draw for this one, he has had his share of flop trouble as well. His last film, S1M0NE, cost about $40 million and only drew flies, grossing a meager $9.6 million. So a win for both actors was needed, and at least financially, this one seems to be working. The internal multiplier for The Recruit was 3.03, which is slightly below the average for this type of film, and is most likely due to what happenned with the shuttle.
Critically, The Recruit is another story. At RottenTomatoes, The Recruit went splat; of the 104 reviews collected, only 38 were positive, resulting in a rotten rating of 37%. Cinemascores were better, but still nothing to write home to mother about. The average was a B+, but the best rating came from under 21 females, which scored it at an A-. The movie couldn't find anything above a B+ for its target, males 34 and younger. We don't have budget information for The Recruit at BOP yet, but with its open, The Recruit should gross $45 million at the very least, and should bring it close to profitability.
The number two film for the weekend is the oddly titled film, Final Destination 2, a film that I felt should have had a comma between Destination and 2 just to make the joke go a little further. FD2 grossed a whopping $16.2 million this weekend from 2,834 venues, good for an average of $5,716. FD2 got out of the gate in a large way on Friday, grossing $5.67 million, but after Saturday's tragedy, one would think that horror would not be on the menu. Nonetheless, the New Line release settled for an internal weekend multiplier of 2.85, which isn't bad for this type of film. For comparison, Darkness Falls, last week's horror film du jour, carried a weekend multiplier of 2.44 and a weekend gross of $12.0 million while competing against the Super Bowl. The original Final Destination was released in March of 2000, and opened to just over $10 million from 2,587 screens. It had an internal multiplier of 3.2, which is quite good for a teen-oriented horror film; the IM for the sequel is lower due to front-loading, with fans of the series rushing out to see the movie on Friday night. The original film went on to make a little over $50 million, hence the reason for the sequel. Final Destination 2 could play very interestingly over the next few weeks. The demises in this film should cause some positive word of mouth from horror film junkies, and could propel this sequel to a similar gross as that of the original, if not more.
Reviews are going to be horrible for a film like this no matter what. Having seen it, I can say that there isn't much of a film there, but the effects and death sequences are chilling if not humorous. The Cinemascores give a good indication that the audience enjoyed the update. The original's scores averaged a B-, with the older demos giving a D and D+ and the under 21s giving a pair of B+s. This time around, the older crowd was more into it, giving B+s, while the under 34 crowd gave mostly A-s. The average was a B+, which is pretty good for a teen-oriented horror flick. There should still be a place for Final Destination 2 in the top five next week, when we get a rom-com, an action sequel and an urban comedy.
Somehow landing in third is Biker Boyz, the Fast and Furious rip-off from DreamWorks. Featuring a mostly male, black cast, Biker Boyz found a niche this weekend and scored, even though it carried a relatively small venue count. Boyz tallied $10.1 million from 1,766 screens, which equated to a hot $5,736 venue average. Biker Boyz is another example of the effect on the box office caused by the sad news of Saturday, as it scored an internal multiplier of 2.84, which should have been in the 2.95-3.0 range.
Biker Boyz is the first entry of 2003 for DreamWorks, which looks to be setting up for a quiet year. Next up is Old School from Road Trip director Todd Phillips; it looks like a similar style comedy for people ten years older than the target demo for Road Trip. Scheduled after that are Head of State with Chris Rock, Envy with Jack Black and Ben Stiller, and the animated Sinbad. DreamWorks does have another few films set for dates not announced yet, but one of these scheduled films had better work big or it's going to be an ugly year for the studio.
<% sqlstr = "SELECT * FROM box WHERE" sqlstr = sqlstr + " movie like 'Time Machine, The' OR" sqlstr = sqlstr + " movie like 'Hollywood Ending' OR" sqlstr = sqlstr + " movie like 'Spirit: Stallion of the Cimarron' OR" sqlstr = sqlstr + " movie like 'Road to Perdition' OR" sqlstr = sqlstr + " movie like 'Tuxedo, The' OR" sqlstr = sqlstr + " movie like 'Ring, The' OR" sqlstr = sqlstr + " movie like 'Catch Me If You Can'" sqlstr = sqlstr + " ORDER BY open DESC" max = 100 header = "DreamWorks 2002" tstyle = "release" skin = "bop" x = Drawtable(sqlstr,max,header,tstyle,skin) %>

Starting in fourth, we have the also-rans, and the first one out of the gate is unfortunately Kangaroo Jack. KJ dropped only 21.7%, which isn't fast enough, and grossed $9.0 million. After three weeks it has grossed $45.9 million, which compares with its satanic compatriot, Snow Dogs; that film had grossed $51.1 million after three weekends. Kangaroo Jack had an internal multiplier of 4.67, which just about matches last week's mult of 4.65.
Fifth goes to another piece of classic American cinema, Darkness Falls. Darkness didn't fall hard at all in its second frame, dropping only 37.6% compared to last weekend's gross of $12.0 million. This weekend, the horror flick grossed $7.5 million. Darkness Falls cost Sony only $8 million, so the studio should be happy that the film only depreciated as much as it did versus Final Destination 2. For $8 million, DF could have laid an egg this weekend and the studio would have been happy. So far, the Sony flick has grossed $22.3 million. Its internal multiplier was over 3.0, which really proves that North Americans were looking for a brainless activity on Saturday night, and they sure got it with this one.
Chicago continues its bizarre run toward Oscar, this time landing in sixth. I say bizarre because Miramax obviously has the hottest film in release right now, but oddly chose to only add seven screens to its total, bringing its venue count up to a still slight 623 venues. The musical grossed $7.1 million and lost only 13.3% of its audience. I can understand Miramax wanting this film to peak at Oscar time, but I feel like they are shooting themselves in the foot with this release strategy. The drop this weekend should indicate to Miramax that this is no My Big Fat Greek Wedding. Chicago has so far grossed $50.7 million. Chicago is another example that the Shuttle tragedy had zero effect on the box office. Over Super Bowl weekend, Chicago had an IM of 3.16, this weekend it was 3.75; and remember, the Chicago audience is definitely not the Super Bowl audience.
Down two spots to number seven is The Lord of the Rings: The Two Towers, which scored a couple of big achievements this weekend. The Peter Jackson epic grossed $5 million over this late January frame, and with that gross the film was finally able to pass the original's gross of $313.4 million as it now has a total of $315.9 million. TTT actually passed two films on the all-time chart this weekend, Fellowship of the Ring and The Lion King, which found $312.9 million in 1994 (though IMAX box office is going to bump it back up again). LOTR's next chance to gain a position on the all-time chart is Forrest Gump, which scored $329.7 million, but it will take a lot of nickel and diming to get there, if it ever does.
Eighth place goes to Ashton Kutcher and Brittany Murphy in Fox's Just Married, the wacky comedy that has had decent legs considering the stars and the genre. This weekend JM grossed $4.9 million, bringing its total up to $49.8 million, which has to exceed Fox's best estimates. You have to love start-of-the-year box office, the time when quality and dreck are equally likely to do well.
Catch Me If You Can is our ninth place entry this weekend. The DreamWorks flick grossed $4.8 million, dropping 26.3%. The Tom Hanks/Leonardo DiCaprio/Steven Spielberg mega-project crossed the $150 mark and its total now stands at $151.9 million. It will need Oscar attention to go much further from here.
Finally, in tenth we have About Schmidt, with Jack Nicholson starring as Warren Schmidt. About Schmidt grossed $4.7 million and dropped only 12.7% in the process. The Alexander Payne-directed film has now grossed a fantastic $44.4 million.
Booted out of the top ten this weekend are National Security (which fell hard from fourth spot last weekend) and two films we may see again in the top ten - Confessions of a Dangerous Mind and The Hours. Up for release next weekend are Shanghai Knights, Deliver Us From Eva, and How To Lose a Guy in 10 Days.
Overall, the top ten scored a decent estimated $85.9 million. As we explained last weekend, Super Bowl weekend was a year later last year, so comparisons aren't that reliable, although the shuttle tragedy does even the field somewhat. Last year, with the Super Bowl, top ten estimates came in at $72.3 million, an increase for this year of 19%.
Top 12 for Weekend of January 31 - February 2, 2003

Rank

Film

Number of Sites

Change in Sites from Last

Estimated Gross ($)

Cumulative Gross ($)

1

The Recruit

2,376

New

16.5

16.5

2

Final Destination 2

2,834

New

16.2

16.2

3

Biker Boyz

1,766

New

10.1

10.1

4

Kangaroo Jack

2,848

No change

9.0

45.9

5

Darkness Falls

2,865

+28

7.5

22.3

6

Chicago

623

+7

7.1

50.7

7

The Lord of the Rings: The Two Towers

2,175

-491

6.6

315.9

8

Just Married

2,408

-297

4.9

49.8

9

Catch Me If You Can

2,316

-460

4.8

151.9

10

About Schmidt

1,236

No change

4.7

44.4

11

National Security

2,494

-235

4.5

32.5

12

Confessions of a Dangerous Mind

1,776

+7

4.3

12.4