Quiet weekend has Ocean's on top
John Hamann's Weekend Wrap-Up
December 9, 2001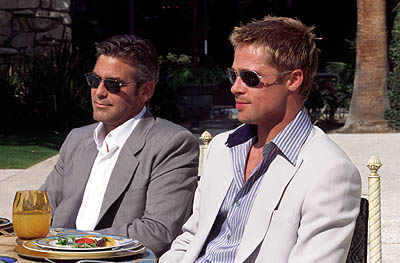 December can be a funny month at the box office. People are just too damned busy to hit the cineplex. But as always, if a film is presented that people want to see, all bets on opening weekends are off. The first two weeks of December are historically slow but Ocean's 11 proves once again that a good movie package beats all the negatives - screens, running time and release date - and brings the box office prediction game down to one simple formula. Screens + Marketing = Box Office.
Warner Bros., the studio releasing Ocean's 11, made a few smart moves in the last week leading up to the film's release date. First off, they changed the TV ad to make the plot a little more accessible, and they increased the screen count from 2,700 to over 3,000. Prior to that last week, WB was logically promoting the film through the use of its stars, Clooney, Pitt, Roberts, Damon and Cheadle. This group seems to realistically enjoy spending time together, and their appearances as a group on CNN and shows like Entertainment Tonight would have been more than enough to make Ocean's 11 a $30 million plus opener. However, with the weak marketing leading up to last week, WB had to do something to broaden the audience base for this film.
These strategies worked. Ocean's 11 is the number one film for the week, grossing $39.26 million from 3,075 screens for a venue average of $12,766. Ocean's becomes the biggest opener in December, easily beating the Mel Gibson/ Helen Hunt starrer, What Women Want; it grossed $33.61 in its opening weekend last December 15th, from 3,012 screens. There is no reason not to think the legs on Ocean's 11 won't be fantastic. Reviews were extremely positive. The score at Rottentomatoes.com was 84% fresh, and the Cinemascores were high across the board and actually skewed higher as the age of the sample went down.
Ocean's 11 wasn't a quick one-off with big stars a la Cannonball Run; the film cost $90 million (source: IMDB) and was a five month shoot completed before the actors' strike was about to hit. With star salaries where they are today, a film with George Clooney, Matt Damon, Julia Roberts, and Brad Pitt could not have been made for $90 million, so the stars agreed to lower salaries with backend participation. With the opening of $39.26 million this weekend, Ocean's should be a good investment not only for the studio, but also for the stars of the film.
Ocean's should play well through the lucrative Christmas season. What Women Want opened at $33.6 million and had an opening weekend to total box office multiplier of 5.44, leading to a final gross of $182.81 million. With an extra weekend of play before Christmas, there is no reason not to think that Ocean's 11 can't gross at least the same before the end of its run. Ocean's will also be huge overseas, as a lot of overseas business comes from star recognition, and this one has it in spades.
It's a lucrative holiday season for Warner Bros., as Ocean's 11 knocked its stablemate Harry Potter out of the number one spot after three weeks. Percentage wise, things were good for Harry Potter as the film bounced back some in its third weekend. The number one opening film of all time grossed $14.8 million in its third week, dropping a very reasonable 37%, and brought its total to a still very mighty $239.7 million. Still on 3,672 screens, Harry looks to be headed above $300 million now, and it has a competitio- free weekend again next weekend before Lord of the Rings and Jimmy Neutron open later in December. Warner Bros. still has one more card left to play, and that's Jim Carrey in The Majestic which is opening December 21st. The $68 million gamble stars Jim Carrey, looking like he's trying to morph into Tom Hanks. While the first three-quarters of 2001 were not kind to Warner Bros., the last quarter is definitely making up for it. Let's see if The Majestic adds or detracts from WB's glorious season.

<% sqlstr = "SELECT * FROM box WHERE movie like '%Rock Star%' OR movie like '%American Outlaws%' OR movie like '%3000 Miles to Graceland%' OR movie like '%Rock Star%' " sqlstr = sqlstr + "OR movie like '%Osmosis Jones%' OR movie like 'Cats and Dogs' OR movie like '%A.I.%' " sqlstr = sqlstr + "OR movie like '%Swordfish%' OR movie like '%Angel Eyes%' OR movie like '%Driven%' " sqlstr = sqlstr + "OR movie like '%Pokemon 3%' OR movie like '%Exit Wounds%' OR movie like '%See Spot Run%' " sqlstr = sqlstr + "OR movie like 'Cats and Dogs%' OR movie like 'Hearts in Atlantis%' OR movie like '%Summer Catch%' " sqlstr = sqlstr + " OR movie like 'Rock Star%' OR movie like 'The One' OR movie like '%Osmosis Jones%' OR movie like '%American Outlaws%' " sqlstr = sqlstr + " OR movie like '%Thirteen Ghosts%' OR movie like '%Ocean''s%' ORDER BY open DESC" max = 100 header = "Recent Warner Bros. Releases" tstyle = "release" skin = "bop" x = Drawtable(sqlstr,max,header,tstyle,skin) %>

After the top two films in the chart, there were some remarkable week-to-week dives from some of the male- oriented films this weekend. In third spot was Behind Enemy Lines, which grossed $8.11 million this week, dropping 57%. BEL had a screen average of $2,852, and brought its total to $31.2 million. The drop indicates not only that it is a busy time of year, but also that there is a real first week fanbase for this kind of film, and currently it's under served. Look for big things from the upcoming Black Hawk Down.
Disney did the smart thing this weekend and released the outtakes from its hit Monsters, Inc., which grossed $6.67 million for fourth spot at the box office. The ploy softened the drop as the kids flick only lost 27% of its audience in its sixth week of release. Monsters now has $212.5 million in the kitty and has Aladdin in its sights, as the Robin Williams film had a total gross of $216.97 million, good for 29th on the all time list.

<% sqlstr = "SELECT * FROM box WHERE movie like 'Lion King%' OR movie like 'Aladdin%' OR movie like 'Toy Story%' OR movie like 'Tarzan' " sqlstr = sqlstr + "OR movie like '%Pocahontas%' OR movie like '%Bug''s%' OR movie like 'Monsters, I%' ORDER BY open DESC" max = 100 header = "Disney Animated Releases" tstyle = "release" skin = "bop" x = Drawtable(sqlstr,max,header,tstyle,skin) %>

Fifth this week was the other Brad Pitt movie, Spy Game, which grossed $4.58 million from 2,761 screens. The total for the Universal flick stands at $54.1 million. Spy Game was the other war/espionage film to have a big drop, the film plunged 58% in its third week. After a great opening weekend over Thanksgiving, Spy Game now seems to be in trouble, as its budget was a sky-high $92 million.
The two Fox comedies, Black Knight and Shallow Hal were together again in sixth and seventh this week. The flop narrowly out-gained the small hit from Fox. Black Knight grossed $3.25 million in its third weekend, dropping 41%, while Hal grossed $2.75 million, dropping 44%. Black Knight, with its $50 million budget, is a big disappointment with its total now at $27.2 million. On the other hand, Shallow Hal, with a budget of $40 million, should make up for BK's losses as its total stands at $64.8 million.
OutCOLD hasn't been completely knocked out (although it's teetering) as it lands in eighth spot on the box office chart. OutCOLD barely cleared a million as it grossed $1.42 million, bringing its total to $12.3 million. Someone please put this film out of its misery.
Ninth went to the French film Amélie, which lost a bit of its audience this week, grossing $1.10 million from 218 screens. I'm beginning to worry that Miramax is taking too long to broaden this film's horizons, and that Life Is Beautiful business for this film will soon be out of the question. The total for the small film with Oscar buzz stands at $11.4 million.
It didn't take much to land in tenth this week, as the total was so low that a number of films were up for the prize. The award goes to Domestic Disturbance which managed to gross $.95 this weekend in its 6th weekend, bringing its total to $43.8 million.
There were a couple of strong limited release films this weekend. No Man's Land grossed $23,000 from 2 screens for an average of $11,500. Baran from Miramax also opened on two screens this weekend and grossed $19,000 for an average of $9,500.
The total for the top 12 films in release this weekend was $83.77 million, missing the $100 million mark for the second weekend in a row. Last year, four new films hit theatres this weekend: Vertical Limit, Proof of Life, Dungeons and Dragons, and the beginning of a long run for Crouching Tiger: Hidden Dragon. The four combined opened to less than the opening gross of Ocean's 11, leading to a year to year gain of 3.35%. Compared to last week, box office was up 2.65%.
Next week Paramount and Columbia duke it out for Market Share as Paramount releases the Tom Cruise/Cameron Diaz vehicle Vanilla Sky and Columbia attempts a foray into the teen market with Not Another Teen Movie. Both films need to create further awareness if they are going to take on Ocean's 11 next weekend.

Top 10 for Weekend of December 7-9, 2001

Rank

Film

Number of Sites

Change in Sites from Last

Estimated Gross ($)

Cumulative Gross ($)

1

Ocean's 11

3,075

New

39.26

39.26

2

Harry Potter and the Sorcerer's Stone

3,672

No change

14.81

239.73

3

Behind Enemy Lines

2,844

No change

8.11

31.25

4

Monsters, Inc.

2,884

-506

6.67

212.47

5

Spy Game

2,770

No change

4.60

54.10

6

The Black Knight

2,233

-301

3.25

27.16

7

Shallow Hal

2,218

-210

2.55

64.76

8

OutCOLD

1,651

-360

1.40

12.27

9

Amélie

221

+3

1.10

11.40

10

Domestic Disturbance

1,471

-379

.95

43.75