Bond Victorious
John Hamann's Weekend Wrap-Up
December 6-8, 2002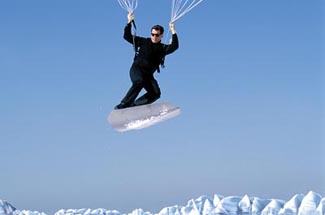 It's the post Thanksgiving weekend and like most years, movies were extremely low on filmgoers' to-do lists over the December 6th - 8th frame. Since 1998, only two films have been released on this weekend - Gus Van Sant's Psycho, and Owen Wilson's Behind Enemy Lines. This post-holiday weekend studios got brave, releasing two films, although one debuted on less than 900 screens and the other, Analyze That, is getting kneecapped by bad word-of-mouth. The result is a return to victory for James Bond, MGM and Die Another Day.
It was a crazy weekend at the box office. Huge drop-offs followed the Thanksgiving holiday as per usual, but they were even bigger this year than they were in years past. The total for the top ten will be the lowest since 1998, mostly due to the soft opens of five new pictures last weekend. Last year, the post-Thanksgiving rut for openers at the box office was thought to be cured by Behind Enemy Lines; that film opened to $18.7 million. This year, Warner Bros. stepped up to the plate with Analyze That, the sequel to the 1999 hit movie Analyze This. Analyze That didn't perform so well over the weekend - is it a case of the post-Thanksgiving Blues or is this simply a tired idea with bad marketing that not many people wanted to see? I personally think it was a lot of both, leading to a soft opening. On the other hand, in the case of Empire, a small Hispanic film, the screen average was fantastic and Universal Pictures and Arenas Entertainment have to be very happy with the result. Again, the point is that any film can be released at any time if it's marketed well - there are no weekends of box office doom.
Returning to the top spot after narrowly missing last weekend is Die Another Day, MGM's latest entry in the lucrative Bond franchise. Die Another Day was tagged for a 58% drop, grossing $13.0 million in its third weekend of release. MGM has released three of the last four Bond films the same way - opening the weekend before Thanksgiving, and each has performed basically the same way: large opening followed by a 30-35% drop over the Thanksgiving weekend, followed by a greater than 50% drop over the post-holiday weekend. Even with a slightly larger drop this weekend, Die Another Day will have no problem becoming the biggest grossing Bond film ever when looking at grosses not adjusted for inflation. The highest grosser is The World Is Not Enough; that film took in $127 million in 1999. Die Another Day should pass that mark next weekend, as its current total stands at $120.4 million.
Analyze That couldn't do better than second this weekend, and it failed to draw numbers bigger than the original. Analyze That was only able to gross $11.3 million from 2,635 venues. It had a screen average of $4,288. The original, Analyze This, opened in March of 1999 to a bigger than expected $18.4 million - it would drop only 15% in its second weekend and become a smash with a total gross of $107 million. The second film should have had a great pedigree: a sequel with two name stars opening in December. The problem here was marketing rather than the release date, but the blame shouldn't lie there if the PR department had nothing to use. Critics seem to support that assumption - RottenTomatoes gathered 102 reviews and only 29 were positive for a rotten rating of 29%. Cinemascores were much kinder, but not fantastic. The average score for Analyze That was a B; the original scored an A-.
Other than Harry Potter and Scooby Doo, Warner Bros. has had very little to be happy about during 2002. The studio has had all kinds of flops this year, ranging from the brutal such as Pluto Nash, to the quieter flops like Collateral Damage and The Powerpuff Girls. Check the chart below to see how the rest of their releases have held up over the year.
<% sqlstr = "SELECT * FROM box WHERE" sqlstr = sqlstr + " movie like 'Collateral Damage' OR" sqlstr = sqlstr + " movie like 'Queen of the Damned' OR" sqlstr = sqlstr + " movie like 'Showtime' OR" sqlstr = sqlstr + " movie like 'Death to Smoochy' OR" sqlstr = sqlstr + " movie like 'Murder by Numbers' OR" sqlstr = sqlstr + " movie like 'Insomnia' OR" sqlstr = sqlstr + " movie like '%Divine Secrets%' OR" sqlstr = sqlstr + " movie like 'Scooby-Doo' OR" sqlstr = sqlstr + " movie like 'Juwanna Mann' OR" sqlstr = sqlstr + " movie like 'Powerpuff Girls Movie, The' OR" sqlstr = sqlstr + " movie like 'Eight Legged Freaks' OR" sqlstr = sqlstr + " movie like 'Blood Work' OR" sqlstr = sqlstr + " movie like '%Pluto Nash%' OR" sqlstr = sqlstr + " movie like 'fear dot com' OR" sqlstr = sqlstr + " movie like 'City by the Sea' OR" sqlstr = sqlstr + " movie like '%Ballistic%' OR" sqlstr = sqlstr + " movie like 'White Oleander' OR" sqlstr = sqlstr + " movie like '%Chamber of Secrets%' OR" sqlstr = sqlstr + " movie like 'Ghost Ship'" sqlstr = sqlstr + " ORDER BY open DESC" max = 100 header = "WB Chart" tstyle = "release" skin = "bop" x = Drawtable(sqlstr,max,header,tstyle,skin) %>

In at third is Harry Potter and the Chamber of Secrets, which suffered a huge fall this weekend. Potter dropped a stunning 69%, drawing only $10.0 million worth of business. Potter dropped 295 venues, presumably to make room for fellow WB pic Analyze That, a strategy that clearly didn't work as the combined grosses of both films are $10 million less than Chamber of Secrets grossed last weekend. Harry Potter and the Sorcerer's Stone had its big drop in its third weekend, as it fell 59% in its post Thanksgiving frame. Following that, though, the first film in the series glided through the December holiday season, totaling $317.5 million. This Potter won't be so lucky. At this point $300 million will be a stretch, but don't completely count it out yet. Its total stands at $213.9 million today.
Surprising in fourth is Empire, a film being released by Universal Pictures and Arenas Entertainment. Empire is a Hispanic film, mainly marketed to Spanish-speaking Americans. Released strategically at only 864 venues, the small film grossed $6.3 million and garnered a great venue average of $7,257, the best in the top ten. It will be interesting to see if Universal tries to turn this film into a crossover hit; reviews weren't kind, as there were 63 reviews at RottenTomatoes and only 14 were positive (22% fresh). Cinemascores were just as ugly - average score was a C+; the lowest mark was a D+ and the highest a B-, not a good sign for potential crossover. I think Universal will have to be happy with this weekend's success, followed by some big drops in the weeks to come.
Fifth spot goes Treasure Planet, the recently maligned animated feature from Disney. Much will be made of the kid flick's drop of 53% this weekend, as the Treasure Island-based feature could only grab $5.7 million from moviegoers over the three-day frame. My question is whether the drop would have been this large if the Disney Corporation hadn't tagged this film as a loser by lowering their earnings based on the box office performance of this single film; I think a lot of viewers picked up on this going into the weekend - you can read about it by clicking here. It seems to me that a few years ago, Disney would have tried to market Treasure Planet out of the hole it is in, this new Disney quit after the first five days of the film's release. Treasure Planet is an animated picture at Christmas time - add some humor to the marketing and Disney could have had at least a $75 million dollar picture. The path that Treasure Planet is on now is alarming - a total of less than $40 million could be in the cards here. The current total for TP is $23.8 million, which isn't much to put up against costs reportedly ranging between $100 and $140 million.
Down two spots to fifth is The Santa Clause 2, which couldn't manage to stay ahead of fellow Disney release, Treasure Planet. SC2 grossed $5.4 million, dropping 55.4% compared to its Thanksgiving weekend haul of $12.1 million. With only two box office weekends to come until Christmas, SC2 could still grab a decent haul over the Christmas week, but its chances of catching the original's $144 million are quickly evaporating. Its current take stands at $120.2 million.
Seventh this weekend is Adam Sandler's 8 Crazy Nights. The animated flick for teens grossed $5.2 million and was another piece of roadkill on the box office path this weekend as the film lost 45% of its audience. The total for the pic has now hit $20.4 million, and it likely won't make it to $30 million.
In at eighth is Friday After Next, another sequel that didn't live up to the reputation of its predecessors. The urban film grossed $2.8 million, down 62% from last weekend. The total stands at $29.1 million.
Ninth and tenth were very close with only $900,000 separating two films, 8 Mile, and The Ring. 8 Mile came out on top grossing $2.61 million and The Ring grossed $2.52 million. Their respective totals have now hit $111.2 and $123.3 million.
Out of the top ten this weekend is one of last weekend's high-profile new releases, Solaris, as well as Wes Craven Presents: They. Opening next weekend are four wide releases: Star Trek is back with Nemesis, J-Lo hits the big screen with Maid in Manhattan, Rob Schneider rules in The Hot Chick, and Drumline, the new teen flick for the holidays also opens. BOP has made their December forecasts, be sure to check them out.
Overall this weekend, things were not good all around. The top ten could only manage $64.8 million. Last year the post-Thanksgiving holiday netted $79.2 million, a decrease this year of 19%.
Top 12 for Weekend of December 6-8

Rank

Film

Number of Sites

Change in Sites from Last

Estimated Gross ($)

Cumulative Gross ($)

1

Die Another Day

3,347

+23

13.0

120.4

2

Analyze That

2,635

New

11.3

11.3

3

Harry Potter and the Chamber of Secrets

3,387

-295

10.0

213.9

4

Empire

864

New

6.3

6.3

5

Treasure Planet

3,227

No change

5.7

23.8

6

The Santa Clause 2

2,356

-170

5.4

120.2

7

Adam Sandler's 8 Crazy Nights

2,503

No change

5.2

20.4

8

Friday After Next

1,450

-171

2.8

29.1

9

8 Mile

2,498

-488

2.6

111.2

10

The Ring

1,642

-270

2.5

123.3