Lord of the Box Office
John Hamann's Weekend Wrap-Up
December 20-22, 2002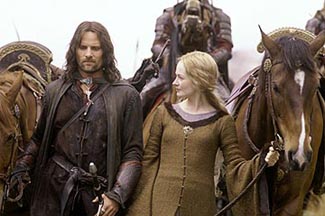 Right now I can picture New Line executives Robert Shaye and Michael Lynne looking at their Lord of the Rings franchise and saying "My Precious" - the epic series of films now has a likeness to The Ring itself; with it comes power, riches and notoriety. The Two Towers, the second installment in the Lord of the Rings franchise, has achieved a feat similar to what George Lucas did with Empire Strikes Back - the film is better in terms of quality than the original in the series, but what's even better is that it looks to be a bigger box office success than the original film, at least at the outset. Not coincidentally, the second film in the new big franchise hits theatres the same weekend the death knell has sounded for another, as Star Trek: Nemesis dropped 76% compared to its gross last weekend.
I love this idea of making three films at once. The worldwide gross of the first picture ($860 million) easily paid for the production, marketing, and distribution of all three films ($600 million). So, with the pressure off, director Peter Jackson was able to spend the last year fine tuning his creation, making it into an even better film that the original, Fellowship of the Ring. The question was whether the second film, The Two Towers, could better the original in terms of box office. TTT was never going to match the opening gross of SpiderMan ($115m), the 3 hour running time (3 hours and twenty minutes with trailers) prohibits the number of screenings needed to overtake the masked webslinger. I'm sure the folks at New Line were more anxious to best the opening of Fellowship - that film grossed $47 million over its first Friday to Sunday period, and grossed $74.1 million over its first five days. The key for the five-day opening of The Two Towers was going to be word of mouth, and the word was definitely good. With packed midnight screenings of Tuesday night, word got out fast.
Lord of the Rings: The Two Towers was obviously the number one film this weekend, but the gross this morning is going to rock the box office world. LOTR:TTT grossed an absolutely stunning $61.5 million over the three day weekend, and has now grossed $101.5 million in its first five days. It is important to remember how long this film is. Exhibitors could have played a double feature of Two Weeks Notice and The Wild Thornberrys Movie in the time it takes for one showing of The Two Towers. New Line execs and theatre exhibitors have obviously learned something from the demand of the first movie; New Line released the film on 300 more screens and exhibitors got smart with scheduling, and with using one print on numerous screens. This led to a 37% increase over the 5 day gross of the first film. Even with all the hype heading into the first film, Two Towers still came out better, which says to me that the first film turned non-fans into fans, and it makes me quiver when I think to next year, when the final film in the trilogy is released.
The Two Towers opened at 3,622 venues and had over 6.600 prints in circulation. The three day opening of $61.5 million equates to a mind boggling screen average of $16,980, and a print average of $9,200. The Two Towers sets records for opening day gross in December, three day gross for December, venue count for December, and opening weekend gross of a three hour film. How is this one going to play in the weeks ahead? There are no significant releases left in December except for the Spielberg/Hanks/Dicaprio film Catch Me If You Can, and at this point, January is looking soft except for expanding Oscar films. Word of mouth for The Two Towers is fantastic, Cinemascores average an A, with A+s coming from both males and females under 21. The first film averaged an A-, with no sector giving the film an A+. Reviews for TTT were simply stunning. RottenTomatoes gathered 135 reviews, and only four were negative, leading to a 97% fresh rating. The first film was slightly less review friendly: nine reviews out of a possible 173 were negative, leading to a 95% fresh rating. Simply put, The Lord of the Rings trilogy is rewriting movie history. Somebody should hand George Lucas a crying towel.
Do any other films in the top ten even matter? Another new film took second spot this weekend, this time its Two Weeks Notice with Hugh Grant and Sandy Bullock. Two Weeks Notice grossed $14.4 million from 2,755 venues this weekend, leading to a so-so venue average of $5,227. Two Weeks Notice fit the Sandy Bullock box office pattern to a T. Ms. Bullock has for the last 8 years been the queen of the $10-15 million dollar open. There are 13 films Sandy has toplined that received at least a modest venue count, and 9 of those have opened between $10 and $15 million. On top of that, two opened to $9 million, and two opened to $16 million. Two Weeks Notice is from Warner Brothers and finishes an awful year for the historic studio. The only real highlight for WB this year is Harry Potter and the Chamber of Secrets, and maybe the opening weekend of Scooby Doo. Warner had disasters in Collateral Damage, The Adventures of Pluto Nash, Ballistic: Ecks vs Sever, and Analyze That - more ugly than good for the studio this year. Even Potter wasn't the hit it was last year. Check the chart below for more info on Warner Brothers releases in 2002.
<% sqlstr = "SELECT * FROM box WHERE" sqlstr = sqlstr + " movie like 'Collateral Damage' OR" sqlstr = sqlstr + " movie like 'Queen of the Damned' OR" sqlstr = sqlstr + " movie like 'Showtime' OR" sqlstr = sqlstr + " movie like 'Death to Smoochy' OR" sqlstr = sqlstr + " movie like 'Murder by Numbers' OR" sqlstr = sqlstr + " movie like 'Insomnia' OR" sqlstr = sqlstr + " movie like 'Divine Secrets of the Ya-Ya Sisterhood' OR" sqlstr = sqlstr + " movie like 'Scooby-Doo' OR" sqlstr = sqlstr + " movie like 'Juwanna Mann' OR" sqlstr = sqlstr + " movie like 'Powerpuff Girls Movie, The' OR" sqlstr = sqlstr + " movie like 'Eight Legged Freaks' OR" sqlstr = sqlstr + " movie like 'Blood Work' OR" sqlstr = sqlstr + " movie like 'Adventures of Pluto Nash, The' OR" sqlstr = sqlstr + " movie like 'fear dot com' OR" sqlstr = sqlstr + " movie like 'City by the Sea' OR" sqlstr = sqlstr + " movie like 'Ballistic: Ecks Vs Sever' OR" sqlstr = sqlstr + " movie like 'White Oleander' OR" sqlstr = sqlstr + " movie like 'Ghost Ship'" sqlstr = sqlstr + " ORDER BY open DESC" max = 100 header = "WB Chart" tstyle = "release" skin = "bop" x = Drawtable(sqlstr,max,header,tstyle,skin) %>


Third spot goes to last week's champ, Maid In Manhattan with Jennifer Lopez and Ralph Fiennes. Maid had a huge drop for a successful romantic comedy as the film dropped 41% compared to its gross last weekend. Maid was only able to serve $11 million worth of business this weekend from 2,866 venues, for an average of $3,838. What this says to me is that J-Lo's fans came out for this on the first weekend (a la 8 MIle) and word isn't strong enough to carry this picture. Maid will not be another Pretty Woman, as the Julia Roberts flick had legs galore. The total for Maid has now hit $35.5 million; it should see good business through the Christmas week, but then disappear in January. Maid In Manhattan should make it to $60 million.
In at fourth we have another new film hitting screens this weekend, this time its Marty Scorcese's Gangs of New York. It took a long time to get to theatres (original release date: Dec. 21st, 2001), but the delay has not seemed to hurt its box office potential. Gangs grossed $9.12 million over the weekend from only 1,504 venues, leading to a great venue average of $6,064; Gangs will expand to 2,000 screens on Christmas Day. This film is going to need big legs to recoup its $100 million dollar cost, and will probably need some help from Oscar to get it. Reviews don't look good enough for Best Picture status - Gangs scored 73 positive reviews at RT out of a possible 97, for a 75% fresh rating. Cinemascores were also somewhat soft, averaging a B. Its tough to tell where a film is headed in terms of total box office by only looking at opening weekend. BOP is currently examining box office on a day to day basis, so check the Front Page of our site for updates over the Holiday season.
Last week's big surprise, Drumline, lands in fifth this weekend. Drumline took several box office analysts by surprise last weekend when it grossed $12.6 million from only 1,833 venues. 20th Century Fox added only 4 screens this weekend, and the result was a moderate drop for the teen/college film. Drumline dropped 40% compared to its gross last weekend, finding $7.60 million worth of receipts this weekend. The total for pic has now hit $22.8 million, beating the film's budget of $20 million. A total of $40 million or more should be in store for Drumline.
Sixth spot is home to our final new release this week, The Wild Thornberrys, the animated kids flick from Paramount. The $35 million dollar picture will be considered a big disappointment this morning, as the film was only able to bring in $6.1 million from a huge venue count of 3,012, leading to an awful screen average of $2,025. Thornberrys didn't come close to grossing what either of the Rugrats films grossed over their opening weekends; the original Rugrats grossed $27 million in its debut, Rugrats in Paris drew $22.7 million worth of opening weekend business. When looking at kid flicks that didn't have the pedigree of the Rugrats films, the Thornberrys gross is still questionable. Recess: School's Out grossed a little over $10 million last February, and even Pokemon 3 found more business ($8.24m open) in April of 2001. Reviews obviously don't matter to a film like this, but word of mouth definitely will. At Cinemascore.com, the under 21 segment absolutely loved this film, with both sides giving it an A+. Even more notable is the fact that Thornberrys averaged an A, meaning that parents liked the film as well as kids. Thornberrys isn't finished yet - check back next week to see if it recovered at all.
Another surprise this week is that The Hot Chick is still in the top ten. Last week the Rob Schneider flick opened softly at number five with $7.4 million. This weekend its only down two spots and 39% to number seven, and grossed $4.51 million this weekend in the process. I would guess that The Hot Chick is excellent counter-programming for the sell outs of LOTR:TTT. After two weekends The Hot Chick has grossed $13.7 million, against a cost that is most likely less that $30 million.
In eighth is another franchise, this time its Harry Potter and the Chamber of Secrets. Harry grossed $4.46 million in its last weekend in the top ten, down 29.5% compared to last weekend. The total for the Chamber of Secrets has now hit $228.9 million and I wouldn't be surprised if the second Lord of the Rings film outgrossed the second Harry Potter film.
Way, way down in ninth spot is last weekend's number two film, Star Trek: Nemesis. Nemesis seems to be its own nemesis, as the film dropped a stunning 76% this weekend, grossing only $4.4 million. Somebody tell me why Paramount would release this film the week before the open of LOTR: The Two Towers? Never has two films had quite the same audience target for two films: Males 35 and under. Why did Paramount not wait and make this a February film, or release it earlier in the year, in say maybe August? Paramount needs to fire the people who put their release schedule together, as they may have finished off one of the most successful franchises in the history of movies. The total gross so far for Nemesis is a paltry $26.5 million, and it should contend with the awful Star Trek 5: The Final Frontier for lowest gross in the series, as that film grossed $52.2 million way back in June of 1989. The budget for Nemesis is $70 million.
In tenth is the last of four pop culture franchises in the top ten this weekend. MGM's James Bond entry, Die Another Day grossed another $4 million in its fifth (and most likely last) weekend in the top ten. Die was down 48.6% as the film lost 1,302 venues compared to last weekend. The total for the number one grossing James Bond flick of all time now stands at $138.5 million, and it should limp to $150 million.
Out of the top ten this weekend are the very successful The Santa Clause 2, the disasters that were Analyze That and Treasure Planet, as well as Empire. Opening on Christmas Day is Catch Me If You Can, and a national release of Robert Benigni's Pinocchio.
Last year, five new films appeared in the top ten, including Fellowship of the Ring, This year's top ten estimates grossed $127.09 million, which is up 6.4% when compared to last year's grosses of $119.54 million. As mentioned above, you can check daily box office over the Holiday season at BOP, as the staff will be preparing daily comments on the daily grosses. Be sure to bookmark our Front Page.
Top 10 for Weekend of December 20 -22

Rank

Film

Number of Sites

Change in Sites from Last

Estimated Gross ($)

Cumulative Gross ($)

1

Lord of the Rings: The Two Towers

3,622

New

61.5

101.5

2

Two Weeks Notice

2,755

New

14.4

14.4

3

Maid in Manhattan

2,866

+28

11.0

35.5

4

Gangs of New York

1,504

New

9.1

9.1

5

Drumline

1,837

+1

7.6

22.8

6

The Wild Thornberrys

3,012

New

6.1

6.1

7

The Hot Chick

2,217

No Change

4.5

13.7

8

Harry Potter and the Chamber of Secrets

2,750

-275

4.5

228.9

9

Star Trek: Nemesis

2,711

No Change

4.4

26.5

10

Die Another Day

2,075

-1,302

4.0

138.5

11

The Santa Clause 2

1,701

-506

3.1

129.7

12

Analyze That

2,011

-624

2.3

23.9