Five Box Office Turkeys
John Hamann's Weekend Wrap-Up
November 27 - December 1, 2002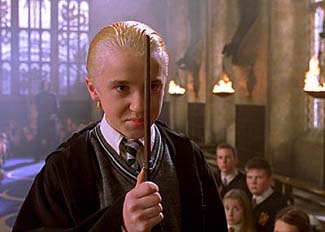 It was an odd weekend at the box office over the US Thanksgiving weekend, as James Bond, Harry Potter and Santa Claus took down five new releases over the holiday frame. The biggest victim this weekend looks to be the Disney Corporation, as Treasure Planet (aka Titan A.E. II) strained to do numbers that compare with its historical Disney cousins. It ended up being a dogfight between Potter and Bond for the number one spot, with Harry Potter coming out ahead by a nose.
Yes, it's another Thanksgiving of soft openers, similar to last year's debuts of Spy Game, OutCOLD and Black Knight; films that opened mildly and quickly went off the radar. Last year was considered weak for openers, and so is this year. For the three-day portion of the long weekend last year, the top ten films grossed $138.7 million. This year the top ten total even fell behind that, only finding $129.1 million in box office receipts. Considering the strength of Harry Potter and the Bond film, this should not be happening. There was a lot of copy written over the last week about how the Thanksgiving weekend marks the beginning of the second most lucrative time of the year for box office. Even with a holiday Friday this weekend, the top ten grossed more one week ago.
This year five films opened, but only four made the chart. The one that got away was Extreme Ops, and it's a definite failure for Paramount Pictures, as the Devon Sawa flick grossed less than $5.5 million over the weekend. It opened at 1,800 venues, almost 200 more than Wes Craven Presents: They, and still couldn't make the chart. I'm not sure why anyone would want to invest in this picture; last year fellow snow picture OutCOLD opened to only $4.5 million over the Thanksgiving frame, and could only manage $14 million by the end of its run.
The honor of being the number one film for the weekend reverts back to Harry Potter, as the young wizard was able to re-take the crown from last week's champ, the Bond flick Die Another Day. Harry Potter and the Chamber of Secrets grossed $32.2 million over the three-day portion of the long weekend, and drew $46.1 million over the five-day holiday. After last weekend's drop of 52%, Potter steadied somewhat this weekend; when comparing the three-day portion of the weekend, Potter dropped only 24%, but it did benefit from the holiday Friday. Chamber of Secrets crossed the $200 million mark today, its 17th day of release. It took the first Harry Potter film only 15 days to reach the same mark. The total for the sequel now stands at $200.2 million.
The runner-up this week is Die Another Day, but don't be sad for James Bond. Die Another Day grossed $31.0 million over the three-day weekend, and becomes the fastest Bond film to $100 million, crossing the line today, only its tenth day of release. The film has had a great go of it since it opened to $47.1 million, it was ahead of Potter over the Wednesday and Thursday portion of the weekend, and actually comes very close to beating Potter for the five-day weekend, $45.8 million for Bond to $46.1 million for Chamber of Secrets. Still on 3,314 screens, Die Another Day had a three-day screen average of $9,354, just ahead of Potter's average of $8,734. Bond should have another healthy frame to come next weekend, as it doesn't face direct genre/pop-culture competition until Star Trek: Nemesis opens on December 13th. With a healthy run over the Christmas period, there's no reason that Die Another Day can't make at least $175 million.
It was a way too close race for third spot between two Buena Vista pics, Treasure Planet and The Santa Clause 2. SC2 has been out for five weeks, and definitely should not be contending with a big-budget animated Disney movie for third spot on the top ten chart over the Thanksgiving weekend. Whatever the reason, in at third is The Santa Clause 2. After five weeks in the top five, SC2 grossed $12.3 million over the three-day portion of the long weekend, even though it dropped 725 screens, bringing its screen count down to 2,526. It had an average of $4,873. Up 20% from last weekend, the total for the Buena Vista flick now stands at $113.9 million, not bad for a film with a $65 million budget. SC2 should surpass the original in total sales; that film grossed $144 million.
Disappointing everyone at Disney, Treasure Planet came up short of The Santa Clause 2, coming in at $11.9 million over the three-day period. Yes, I said $11.9 million for Treasure Planet, only a few million more than the opening of Titan A.E. ($9.7 million). This can't be good for a company that seems to be in a state of disarray, with theme park attendance down and a TV network that continues to struggle. Treasure Planet was released on a huge number of screens at 3,227, and had a very bad opening weekend screen average of $3,678. How bad was the screen average? On Thursday, Treasure Planet grossed $2.1 million, and the tenth place film, They, grossed $1.2 million. They ended up with the better screen average for the day, as it was only playing on 1,615 screens. The reception of Treasure Planet again shows how much the Disney animation and marketing departments have lost their way over the last few years. Yes, the Pixar movies continue to be a license to print money, but the more standard animation just isn't working. The grosses of Treasure Planet are more reminiscent of DreamWorks late '90s animation like Prince of Egypt ($14.5 million open) and Road to El Dorado ($12.8 million open). Check the chart below for some other low-end animation results.
<% sqlstr = "SELECT * FROM box WHERE" sqlstr = sqlstr + " movie like 'Emperor''s New Groove, The' OR" sqlstr = sqlstr + " movie like 'Prince Of Egypt, The' OR" sqlstr = sqlstr + " movie like '%Road to El%' OR" sqlstr = sqlstr + " movie like 'Small Soldiers' OR" sqlstr = sqlstr + " movie like 'Chicken Run' OR" sqlstr = sqlstr + " movie like 'Antz' OR" sqlstr = sqlstr + " movie like '%Atlantis:%' OR" sqlstr = sqlstr + " movie like 'Hunchback of Notre Dame' OR" sqlstr = sqlstr + " movie like 'Hercules'" sqlstr = sqlstr + " ORDER BY open DESC" max = 100 header = "Lower End Animation" tstyle = "release" skin = "bop" x = Drawtable(sqlstr,max,header,tstyle,skin) %>

While box office totals for Treasure Planet weren't great, reviews and Cinemascores were, so this film may still have a chance. At RottenTomatoes, they compiled 93 reviews, 67 of which were positive, for a 72% fresh rating. Cinemascores were also top notch. The overall grade was an A-, and the key under-21 demo came in at an A. Disney movies do strange things. Look at the Emperor's New Groove - troubled production, low opening weekend - but it went on to make almost $90 million, about ten times its opening weekend gross. How? Good word of mouth. Look for the same to happen here.
Adam Sandler's 8 Crazy Nights is fifth this weekend, after opening its run on Wednesday in third. Over the three-day weekend period, 8 Crazy Nights grossed $10.1 million, but over the five- day weekend, the film grossed $15.1 million. The five-day total indicates how front-loaded the Adam Sandler film was, with die-hard fans rushing out to see it on Wednesday. The film opened on 2,503 screens and had an average of $4,035 for the three days, well ahead of Treasure Planet. Reviews were awful for the animated picture; only eight reviews at RottenTomatoes were positive out of a whopping 71, for a rotten percentage of 11%. Cinemascores weren't nearly as bad, averaging a B, but declined from A- to D as the viewer got older.
Estimated at sixth is Friday After Next with a gross of $7.8 million from 1,621 screens. The Ice Cube comedy has the biggest percentage drop in the top ten at 40.4%. The total gross for the third film in the trilogy is now at $25.6 million, well behind the second movie, Next Friday.
Way back in seventh is the Clooney/Soderberg/Cameron collaboration, Solaris. The 20th Century Fox marketing department should be shot, as the sci-fi flick only grossed $6.8 million over the three-day period, and only $9.4 million over the five days. The marketing for this film was terrible; the trailer took forever to appear, and when it did, it made little sense whatsoever. Fox marketed the film as a love story, when really it is more of a psychological science fiction movie. The studio knew they had a product that needed a big opening weekend, as audience reaction since the opening has been hateful in most circles. Cinemascores drew straight F's, a feat I have yet to see - Battlefield Earth got a D+, and recent baddy Ecks vs Sever somehow drew a B-. Even with the F's, reviews were on the upbeat side: 74 out of 111 reviews at RT were positive, for a 64% fresh rating. Solaris cost Fox $47 million, and the chances of them making that back are between slim and none.
8 Mile is in at eighth this weekend, grossing $5.9 million. For the first time in 8 Mile's run, the film didn't drop in excess of 50%, this time falling 31.5%. The Eminem film now has a total of $107.6 million.
In at ninth is They, probably the only opener that will come close to making its production budget back. They grossed $5.7 million over the three-day weekend and $8.0 million over the five-day frame from only 1,615 screens. They had the seventh best screen average in the top ten at $3,529. With a budget of only $17 million, They won't hurt or help Dimension Films in the long run.
The Ring was just able to hold onto a top ten spot, coming in at number ten on this week's chart. The film continued its impressive run, despite losing 716 screens, the film still grossed $5.5 million this weekend, a drop of 27%. The total for the surprise DreamWorks hit now stands at a very lucrative $120 million.
My Big Fat Greek Wedding left the top ten this weekend, but it could be back as early as next week, although the distributor is chopping screens from its total - it's down 335 to 1,250 this weekend. Also out of the top ten are The Emperor's Club, Half Past Dead, and Frida. Opening next week on the traditionally dead first weekend of December are Analyze That, the follow up to Analyze This, and Empire, the new film with John Leguiziamo and Denise Richards. Check out BOP's Release Schedule for more info on these films.
Top 12 for Weekend of November 29 - December 1

Rank

Film

Number of Sites

Change in Sites from Last

Estimated Gross ($)

Cumulative Gross ($)

1

Harry Potter and the Chamber of Secrets

3,682

No change

32.2

200.2

2

Die Another Day

3,324

+10

31.1

101.6

3

The Santa Clause 2

2,526

-725

12.3

113.9

4

Treasure Planet

3,227

New

11.9

16.5

5

Adam Sandler's 8 Crazy Nights

2,503

New

10.1

15.1

6

Friday After Next

1,621

+5

7.8

25.6

7

Solaris

2,406

New

6.8

9.5

8

8 Mile

2,498

-87

5.9

107.6

9

Wes Craven Presents: They

1,615

New

5.7

8.0

10

The Ring

1,912

-716

5.5

120.0

11

My Big Fat Greek Wedding

1,257

-328

4.1

210.7

12

The Emperor's Club

811

+2

3.7

9.4