Tom Cruise on Top
John Hamann's Weekend Wrap-Up
December 16, 2001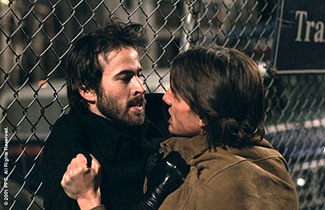 It's all about Tom.
With Vanilla Sky, Tom Cruise has showed once again that he currently is the biggest box office draw in the world. Somehow, the strange marketing for Vanilla Sky clicked, and Tom will be very happy with the result of the weekend. Surprisingly, Vanilla Sky had the worst Cinemascores and general reviews we've seen since OUT Cold. Didn't matter though, as Vanilla Sky wins the weekend with an estimated total of $25 million in box office receipts.
Vanilla Sky opened quite wide on 2742 screens and had a venue average of $9,117. Personally, I thought Vanilla Sky was going to be a bust, as bad word of mouth had leaked before the Friday release. I wouldn't have known that Kurt Russell was even in this movie the way the TV ad played. Tom saved the opening weekend of this film himself through dozens of promotional appearances. This makes me think that there must be a large backend percentage for Tom as he hasn't ever been this active in the promotion of a film.
We haven't seen Tom in a movie since Mission Impossible 2, which opened to $57 million in May of 2000. Before that was Eyes Wide Shut, the Tom/Nicole/Stanley Kubrick collaboration, which was also a tough sell, but at least had the sex angle going for it. With Vanilla Sky, there wasn't the hook that Eyes had, but the names involved (Cruise, Cruz, Crowe and Diaz) definitely helped draw people to theatres, much like Ocean's Eleven did last weekend. Reviews were on the brutal side. Rottentomatoes.com had a rotten rating of 32%, meaning only 32 out of every 100 critics, less than a third, liked it (60% positive reviews qualifies a film as 'fresh') and the Cinemascores were even worse. The overall rating was a D-, and audiences both male and female over 35 gave Vanilla Sky the little seen F as a Cinemascore. As an indicator of legs, both the reviews and the Cinemascores should take Vanilla Sky off at the knee, and with all the releases coming on December 21, this Paramount release should be in serious trouble; however, with a budget of $75 million, and an opening weekend of $25 million, this film should be easily profitable for Paramount, with the Cruise and Cruz superstar pair selling many international tickets.
Tom Cruise has made some interesting choices throughout his movie-making lifetime, never choosing to stick to the Arnold style career but instead selecting many different genres over the last 20 years. It all started in 1981 for Cruise, where he got lucky with some small roles in fairly big movies like Taps, Endless Love and The Outsiders, before getting his big break in Risky Business. Since then, yes, there have been flops, like Legend and Far and Away, but mostly they have been big - a la Rain Man, Jerry Maguire, Mission Impossible and A Few Good Men. Tom seems to choose the heavy dramatic film then flip to a popcorn movie and repeat. His last four in order of release have been Vanilla Sky, Mission Impossible 2, Magnolia, and Eyes Wide Shut. Up next in June 2002 is another popcorn movie - Steven Spielberg's Minority Report.

<% sqlstr = "SELECT * FROM box WHERE movie like '%Mission: Im%' OR movie like '%Eyes Wide%' OR movie like '%Magnolia' " sqlstr = sqlstr + "OR movie like '%Few Good Men%' OR movie like 'Firm, The' OR movie like '%with a Vampire%' " sqlstr = sqlstr + "OR movie like '%Jerry Maguire%' OR movie like '%Impossible%' ORDER BY open DESC" max = 100 header = "Tom Cruise as a box office draw" tstyle = "release" skin = "bop" x = Drawtable(sqlstr,max,header,tstyle,skin) %>

Box office wise, Paramount has had a quiet year. The $80 million budgeted Tomb Raider managed to gross $215.1 million worldwide and the $13 million budgeted Save the Last Dance grossed $91 million. Other than those, it's been a middling year for Paramount at best. But with a smart budget for Vanilla Sky, Paramount will have a Tom Cruise stock title and reap the rewards from that for years to come.

<% sqlstr = "SELECT * FROM box WHERE movie like 'Hardball%' OR movie like 'Rat Race%' OR movie like '%Score, The%' OR movie like '%Tomb Raider%' " sqlstr = sqlstr + "OR movie like '%Enemy At the Gates%' OR movie like '%Along Came a Spider%' OR movie like '%Crocodile Dundee%' " sqlstr = sqlstr + "OR movie like '%Save the Last Dance%' ORDER BY open DESC" max = 100 header = "Recent Paramount Releases" tstyle = "release" skin = "bop" x = Drawtable(sqlstr,max,header,tstyle,skin) %>

In second spot this week was last week's number one film Ocean's Eleven, the star studded flick starring Clooney, Pirt, Roberts, Garcia, Damon and Cheadle. The old school caper movie grossed $23.05 million in its second weekend, dropping a somewhat better than expected 40%. Still on 3075 screens, Ocean's managed a still great theater average of $7,496. Ocean's may still have enough going for it to keep it alive through the Christmas season. Its box office total now stands at $73.28 million, on its way to $150 million.
In third was the other new release at the box office this weekend, Columbia Pictures' Not Another Teen Movie. The parody duped people out of $13.1 million, much like last year's Dude Where's My Car, which opened to $13.85 million over the same weekend in 2000. Teen Movie scored a screen average of $5,539 from 2365 screens. High flying parody films have taken a bit of a dip since the release of Scary Movie, but with a budget of $15 million for Teen Movie, it must be impossible for the studios to say no these types of movies. The two Scary Movies grossed a combined $62.9 million over their opening weekends. The opening gross of Teen Movie suggests that the jokes may be tiring with ticket buyers as ticket sales for the genre have begun to decrease over the last few years.
Columbia Pictures is a division of Sony Entertainment, who is having a rough year, somewhat similar to Paramount. They've had a big release with no legs - America's Sweethearts, and a few flops - Tomcats and Final Fantasy immediately spring to mind. Sony still has another trick in its bag called Ali - which could bring not only big box office but also some award kudos. The Will Smith epic opens Christmas Day.

<% sqlstr = "SELECT * FROM box WHERE movie like '%One, The%' OR movie like '%Riding in Cars%' OR movie like '%Glass House%' OR movie like '%Ghosts of Mars%' " sqlstr = sqlstr + "OR movie like '%Animal, The%' OR movie like '%Final Fantasy%' OR movie like '%America''s Sweethearts%' " sqlstr = sqlstr + "OR movie like '%Knight''s Tale%' ORDER BY open DESC" max = 100 header = "Recent Columbia Releases" tstyle = "release" skin = "bop" x = Drawtable(sqlstr,max,header,tstyle,skin) %>

In fourth this week was Harry Potter and the Sorcerer's Stone. The venerable kid's flick grossed $9.9 million this weekend, dropping 33% and bringing its awesome total to $253.25 million. Potter finally lost some screens this weekend (230) bringing its venue count down to 3422 and accounting for a screen average of $2,893. Potter still looks to be headed somewhere north of $300 million, but how far north is still in question.
Fifth spot goes to Behind Enemy Lines this week, the Owen Wilson/Gene Hackman starrer continued to slide into obscurity grossing $5.49 million from 2791 screens. The film has proved to be not much more than a novelty toy. After grossing $18.7 million in its opening weekend, the war pic has only managed to bring its cume to $38.9 million.
In sixth this week is the other big time kids picture, Monsters Inc. The Disney pic grossed another $5.03 million this weekend, and has survived quite well against Mr. Potter dropping only 24% this week, which brought its total to $218.86 million. Monsters lost another 202 screens this week, bringing its total down to 2682. Life in the top ten is almost over for Monsters as 4 big films will hit the chart next weekend, but Monsters may overtake Behind Enemy Lines during that frame.
For the last few weeks, the bottom four films have brought the total box office down to lower than the previous year levels. What happened was that for two consecutive weeks, studios only released one movie: Behind Enemy Lines opened on the always quiet first week of December, and Ocean's Eleven did the same thing the following weekend. This makes the bottom four spots excessively weak, and populates the list with films that shouldn't really be there. Six films open wide next weekend, chasing the elusive box office dollar, and competition in the marketplace should be ruled out as soon as someone mentions it.
The film in the seven spot this week was Spy Game, the Brad Pitt/Robert Redford matchup. Spy Game grossed a brutal $2.4 million, falling 46% in its fourth weekend. Spy Game is a Thanksgiving flick that had a great opening weekend ($21.7 million five-day weekend), but has crashed in the weeks since. I personally think Universal was nuts opening this film only a few weeks before Ocean's Eleven, which is much less gritty, and a much more female skewing picture. The budget for Spy Game was $92 million, so this will be a big loss for Universal, which up until Spy Game was having a fantastic year.
In eighth was the Fox Comedy Black Knight with Martin Lawrence. BK managed $2.01 million this weekend from 1909 screens. The week to week drop was 36% and the cume stands at $29.72 million. Note to Mr. Lawrence: Better not miss on your next film, National Security, or you may have to go back to doing TV.
In ninth this week was the other Fox comedy Shallow Hal. Hal is now in its sixth week and grossed $1.4 million this weekend. Down 46%, the total for the Jack Black/Gwyneth Paltrow picture is now at $66.87 million.
The bottom rung on the chart this week goes to Amelie, which in its sixth week grossed $0.75 million, bringing its total to $12.5 million.
As for limited releases, we had a couple of strong entries this weekend. The Royal Tennenbaums opened in NY and LA and grossed $0.254 million from 5 screens this weekend for a venue average of $50,813, an average that accurately reflects the price increase in movie tickets in NY and LA. The new film from Wes Anderson will expand further in the New Year. Also getting a limited release is In the Bedroom which grossed $.068 million for a screen average of $11,333. Bedroom has been out for 4 weeks now and has grossed $0.48 million.
The top twelve films grossed $89.216 million this weekend, down 9.47% from last year when What Women Want, Dude Where's My Car, and Emperor's New Groove all opened. Compared to last week, box office was up 8.55%.
As for next week, the mammoth Lord of the Rings opens on Wednesday, and on Friday we get Jimmy Neutron, Kate and Leopold, How High, Joe Somebody, and The Majestic. It will be very interesting to see how the rest of these films open against Lord of the Rings.
Top 10 for Weekend of December 14-16, 2001

Rank

Film

Number of Sites

Change in Sites from Last

Estimated Gross ($)

Cumulative Gross ($)

1

Vanilla Sky

2,742

New

25.00

25.00

2

Ocean's 11

3,075

No change

23.05

73.28

3

Not Another Teen Movie

2,365

New

13.10

13.10

4

Harry Potter and the Sorcerer's Stone

3,422

-250

9.90

253.25

5

Behind Enemy Lines

2,791

-53

5.49

38.88

6

Monsters, Inc.

2,682

-202

5.03

218.86

7

Spy Game

2498

-272

2.40

57.70

8

Black Knight

1,909

-324

2.01

29.72

9

Shallow Hal

1,767

-450

1.40

66.87

10

Amelie

221

No change

0.75

12.50