Star Trek's Nemesis: J-Lo
John Hamann's Weekend Wrap-Up
December 13-15, 2002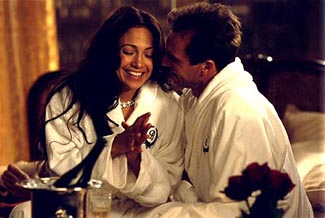 Could this spell the end of the Star Trek franchise? Will Jean-Luc Picard ever return to your local cineplex? Much hinged on the opening weekend gross of the latest Star Trek vehicle, this time aptly named Nemesis, as the box office appears to be the biggest foe of the Paramount series. Despite the fact that the crew of the Enterprise has successfully contended with lots of alien conflict over the years, they could not slay Jennifer Lopez. It was very close, but Maid in Manhattan benefited from an excellent release strategy, becoming the number one film of the weekend.
Jennifer Lopez and Sony teamed up this weekend, delivering a surprise first place finish at the box office for Maid in Manhattan. Sony wisely held sneak previews for the romantic comedy over the last few weekends; audience reaction was very positive from most sectors, which led to fantastic word-of-mouth heading into its opening weekend. Even smarter was J-Lo marketing herself, advertising her engagement to Ben Affleck to anyone who would listen. When Lopez sat down to talk with Diane Sawyer on ABC's Primetime, the interview drew 15.2 million viewers, more folks than last week's episode of Survivor and Monday Night Football. There's a great story from the Detroit Free Press about these types of interviews and how stars may have a second agenda for them, click here to read the story. Whatever the case, Jennifer Lopez knows how to keep her name in the headlines, which may not appear to be movie marketing, but it definitely helps the movie's awareness factor.
Maid in Manhattan is the number one film this weekend, edging Star Trek: Nemesis out by a nose. Maid grossed $19.0 million from 2,838 venues (127 more than Nemesis). The Sony film had a screen average of $6,695. I'm somewhat surprised at how well this film did; yes, J-Lo and her self-marketing both help, but isn't this Pretty Woman formula getting a little tired? Jenny's last two films have failed to excite: Enough opened to $14 million, but that film was buried in the excitement around Spider-Man and Star Wars, and failed to make an impact in terms of total box office as it only grossed $39.2 million total. J-Lo made Angel Eyes the previous summer, another film that didn't catch on (open $9.2 million, total $24 million). But it was the film before Angel Eyes that most likely made her a great choice for Maid in Manhattan; that film was The Wedding Planner. Planner opened in January 2001, and like Maid in Manhattan, it's a film about a woman getting swept off her feet by a wealthier man. That film surprised everyone, grossing $13.5 million in its opening weekend, and finding $60 million overall. Maid in Manhattan also had a great release date. Films aimed at women have been few and far between since Greek Wedding checked out a few weeks ago. In addition, the batch of films it came out with this weekend made it the perfect date movie. Star Trek was too geeky (but in a good way), Drumline flew under the radar, and The Hot Chick was just too stupid. So we're stuck with J-Lo.
<% sqlstr = "SELECT * FROM box WHERE" sqlstr = sqlstr + " movie like 'Enough' OR" sqlstr = sqlstr + " movie like 'Angel Eyes' OR" sqlstr = sqlstr + " movie like 'Wedding Planner, The' OR" sqlstr = sqlstr + " movie like 'Cell, The' OR" sqlstr = sqlstr + " movie like 'Music of the Heart' OR" sqlstr = sqlstr + " movie like 'Antz' OR" sqlstr = sqlstr + " movie like 'Out of Sight' OR" sqlstr = sqlstr + " movie like 'U-Turn' OR" sqlstr = sqlstr + " movie like 'Anaconda' OR" sqlstr = sqlstr + " movie like 'Selena'" sqlstr = sqlstr + " ORDER BY open DESC" max = 100 header = "J-Lo's Previous Films" tstyle = "release" skin = "bop" x = Drawtable(sqlstr,max,header,tstyle,skin) %>

How long will we be stuck with J-Lo? Maybe not as long as Sony would like. Cinemascores were not as good as they should be for such a formulaic film. The romantic comedy averaged a B+ from Cinemascore, with under-21 females liking the film the most (surprise, surprise). Critics were unimpressed. Only 35 positive reviews showed up at RottenTomatoes out of a possible 95, for a rotten average of 37%. I'd expect Two Weeks Notice, the rom-com with Hugh Grant and Sandy Bullock, to knock the queen off her perch next weekend.
Opening in second spot is Star Trek: Nemesis, the tenth film in the venerable Star Trek franchise. Today marks the first time in the 23 years of Star Trek Film history that one of the films has opened in second place. Nemesis grossed a lower than expected $18.75 million from 2,711 venues this weekend, leading to a venue average of $6,916. The gross this weekend indicates a nasty trend for the franchise, as the series now seems to have peaked in 1996 with Star Trek: First Contact. That film opened to $30 million and grossed $92 million overall. I don't understand why the writers and producers of these films don't use known quantities in the villain department. First Contact was able to market the villainous Borg, and the result showed in its opening weekend gross. Where is Q as a villain? Can't they do better than the crew basically fighting themselves? Often we cry for new ideas in cinema, but this is Star Trek for Christmas's sake. Give us the old stuff!
Did the die-hard Star Trek fans like it? Opening-night indications seem to say yes, Cinemascores were very positive, and serious "gotta see it first" Trekkers would have been filling out those surveys. The overall score was an A-, with highest marks coming from males under 21 (surprise, surprise). Reviews are most likely meaningless in terms of word of mouth here, but for the record, critics came out opposed to the new film. Of the 80 reviews gathered, only 35 were positive, leading to a rotten score of 43%. The Two Towers will absolutely snuff out this film next weekend.
The big surprise of the weekend lands in third, a film I know very little about. Drumline, from 20th Century Fox, came out of nowhere and grossed $13.05 million this weekend from only 1,833 screens (avg. $7,119 - best in the top ten). From what I can gather, the film is a fish out of water story. A young student from Harlem wins a scholarship to a university where he has hopes of playing in the drumline, which is part of the marching band. Orlando Jones is in this one as the head of the band department, and has his first hit in what is probably his least marketed role. I have no idea where this film came from, but the Cinemascores are some of the best in recent memory; the film scored A+'s across the board. Reviews were also good. RT gathered 52 reviews, and 40 were positive, leading to the only fresh score of the weekend at 77% positive. It will be very interesting to see how this film holds up over the holiday season; it could be a real sleeper hit. Drumline may have surprised me, but it certainly didn't fool BOP's Kim Hollis, Kim predicted the breakout hit in BOP's Weekend Forecast, you can read it by clicking here.
Fourth spot goes to Die Another Day, which is down three spots from number one last weekend. James Bond and Jinx grossed another $7.5 million this weekend, down 41.6% from their number one finish last weekend. Still at a huge number of locations (3,377), the film had a not-so-good venue average of $2,221. The total for Die Another Day now stands at $131.6 million, headed for at least $150 million.
In at fifth is our final new wide release; this time it's The Hot Chick with Rob Schneider. The Buena Vista release grossed $7.47 million this weekend from 2,217 venues, good for a decent average of $3,369. The Hot Chick is Schneider's third solo film, and carries his lowest opening weekend gross to date. Deuce Bigalo: Male Gigolo opened to $12.2 million in December of 1999, and The Animal debuted with $19.6 million in June of 2001. Both of these films had much funnier ad campaigns than The Hot Chick, as the opening weekend gross would indicate. I'll leave reviews alone, as you can probably figure those out for yourself, but Cinemascores were fair, averaging a B+, with the highest scores coming from males 21 and up; both segments gave the film an A-.
Harry Potter and the Chamber of Secrets finishes in sixth place as it hits its fifth week of release. Potter managed to gross $6.15 million this weekend, down 39% from last weekend. The total for the superpic now stands at $222.4 million. After five weekends, the original had gathered $253 million.
Analyze That slides five spots to number seven this weekend, and drops a huge 52%. The Warner Bros. flick that looked so promising could only gross $5.32 million this weekend from 2,635 venues. The total for the Robert DeNiro/Billy Crystal film has now hit a paltry $19.6 million, and looks to battle Treasure Planet for disappointment of the year.
Eighth spot this week goes to the leggy Santa Clause 2, now spending its seventh weekend in the top ten. This week the family flick grossed $4 million, down only a small 25%. The next ten days should treat SC2 well, so don't count it out against the original's $144 million. Its current total stands at $125.4 million.
Ninth and tenth were close between two very different films. Tenth went to the urban flick, Empire, which grossed $2.78 million, while Treasure Planet took ninth with $3 million. The totals for the respective films stand at $10.7 and $27.8 million.
We have four films this week that have been knocked out of the top ten. 8 Crazy Nights, Friday After Next, 8 Mile and The Ring were all given the boot due to excellent performances from all four openers. On tap for next weekend we have The Lord of the Rings: The Two Towers opening on Wednesday, along with Two Weeks Notice, Gangs of New York and The Wild Thornberrys Movie. It's going to be a nutty couple of weeks with all of this new material.
Totals for the top ten have to have studios and exhibitors feeling much better than they were last weekend, even though numbers are just about flat compared to last year. The total gross for the top ten estimates equals $87.02 million, an increase of less than 1% over last year's $86.78 million.
Top 12 for Weekend of December 13-15

Rank

Film

Number of Sites

Change in Sites from Last

Estimated Gross ($)

Cumulative Gross ($)

1

Maid in Manhattan

2,838

New

19.0

19.0

2

Star Trek: Nemesis

2,711

New

18.75

18.75

3

Drumline

1,833

New

13.05

13.05

4

Die Another Day

3,377

+30

7.50

131.6

5

The Hot Chick

2,217

New

7.47

7.47

6

Harry Potter and the Chamber of Secrets

3,025

-362

6.15

222.45

7

Analyze That

2,635

No change

5.32

19.63

8

The Santa Clause 2

2,207

-149

4.0

125.4

9

Treasure Planet

2,192

-1,035

3.0

27.8

10

Empire

869

+2

2.78

10.7

11

Adam Sandler's 8 Crazy Nights

2,177

-326

1.80

22.6

12

My Big Fat Greek Wedding

1,230

-27

1.67

215.6