Cruise Short at the Box Office
John Hamann's Weekend Wrap-Up
December 7, 2003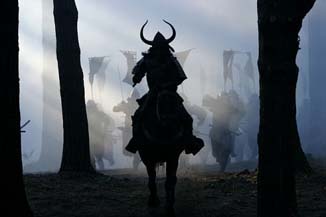 If there is one studio that doesn't mind releasing a film in the usually dead post-Thanksgiving frame, it's Warner Bros. The studio behind the December 7th release of Ocean's 11 also unleashed Tom Cruise and The Last Samurai onto moviegoers this weekend, thinking they could break the usual naptime the box office has over the first weekend in December.
To say that most studios are completely frightened by the first weekend in December is an understatement. By my count, of the top 86 opening weekends in December, only eight debuted between December 1st and 7th: they include Ocean's 11 (open $38.1 million 12/7/01), Star Trek VI: The Undiscovered Country (open $18.2 million 12/6/91), Christmas Vacation (open $11.8 million 12/1/89), Analyze That (open $11 million 12/6/02), The Distinguished Gentleman (open $10.6 million 12/4/92), Psycho (open $10 million 12/4/98), Daylight (open $10 million 12/6/92) and Empire (open $6.3 million 12/6/02). However, with the boffo opening for Ocean's 11, WB certainly didn't shy away from releasing The Last Samurai, the film on which they've pinned their 2003 Oscar hopes. Also debuting this weekend is Honey, the Jessica Alba vehicle that smacks of Flashdance or even Glitter. After the John Leguiziamo vehicle Empire opened last year to $6.3 million versus a production budget of $3.5 million, low budget, no star movies are attracted to the first weekend in December - competition is low so anything can happen.
The number one film of the weekend is The Last Samurai, but like Master and Commander: Far Side of the World, Samurai will not make big headlines for its opening weekend box office, which in turn may slightly hinder its Oscar chances. The Tom Cruise epic grossed $24.4 million from 2,908 venues this weekend, securing a site average of $8,399. Most estimates had the film finishing above $30 million - I'm sure the studio is quickly blaming the weather in the north east over the weekend, but that's debatable. One might think the snow would keep people away, but the argument is that it keeps people close to home and available for movies. As BOP's Tim Briody reported yesterday, Samurai opened on Friday to an inauspicious $8.2 million. The Last Samurai managed a 2.97 weekend multiplier (Friday gross divided by weekend gross), which is not great for this type of film. If the weather kept people away from the Cinema on Friday, the multiplier should have been even higher. While still very early, WB should do everything it can next week to cntinue to market Samurai. The film had a production budget of $100 million, so it will have to do a lot of work both here and abroad to recoup costs.
For Tom Cruise, The Last Samurai may seem like a soft opening for the star, but as far as his more adult-skewing films go, the $24.4 million opening is an average score. Sure, it's no $57.8 million Mission: Impossible II or even a $35.7 million Minority Report, but it does fit closely with opening weekends for Cruise's more adult films like Vanilla Sky ($25 million open 12/14/01), Eyes Wide Shut ($21.7 million open), and The Firm ($25.4 million open). Considering Cruise's tireless promotion for Samurai, he may think he came up short, but he'll only have to wait a couple of years to make box office headlines again in Mission: Impossible III.
The surprise of the weekend goes to the runner up, as Universal's Honey finishes strongly in second place, well ahead of most of the pack, and very un-Glitter-like. The Jessica Alba Flashdance clone grossed an unexpected $14 million from only 1,941 venues this weekend, generating a very strong average of $7,209; only about $1,000 short of The Last Samurai. Universal took the urban route for the release pattern on this one, keeping the venue and print count low, and running the film mainly in urban centers. While the opening weekend isn't quite Save the Last Dance's $27.5 million, I'm sure the production budget is the same or lower. Last Dance cost only $13 million to make, and grossed $91 million by the end of its domestic run.
Holdovers were left with awful post-Turkey weekend hangovers, as the first weekend in December knocked the box office back down to earth. Third spot goes to Disney's The Haunted Mansion, which took a bit of a tumble this weekend, but should come out of the wash okay. THM grossed $9.5 million, down a troubling 61% from last weekend's runner-up score of $24.3 million. The Eddie Murphy kids flick now has a total of $46.1 million, with some big money-making days ahead of it. The film will need every cent it can get as the production budget was a not-cheap $90 million.
Will Ferrell's Elf continues strongly in fourth this weekend, and taking seond place in the tight kid race between Elf, The Haunted Mansion and The Cat in the Hat. Elf grossed $8.1 million in its fifth successful weekend; yes, it was down 62% from last weekend, but that is actually a decent hold for a kid flick following Thanksgiving. The comedy now has an outstanding $139.6 million in the Christmas kitty and a license to print more until December 25th.
Way back in fifth is Universal's The Cat in the Hat which did the expected and caved in over the post-Thanksgiving weekend. The Mike Myers tragedy grossed an estimated $7.3 million this weekend, dropping a woeful 70% (did Universal buy out some theatres last weekend or what?). After a couple of weekends of wonky estimates for Cat, this one also seems high with a 4.1 weekend multiplier - check back to this column tomorrow to see how that estimate held up. Some kid flicks do see some damaging drop-offs following the long weekend, the second Harry Potter flick dropped 69% last year, and the two winter Rugrats movies dropped 63% and 64%, but Cat's 70% puts in on top of that group, and the percentage could grow more tomorrow. The Cat will survive, though, it has a current total gross of $85.5 million against a production budget of $109 million, so it will either see profit after international grosses are counted, or on home video/DVD.
Sixth this weekend is The Cat in the Hat's jovial opposite, Bad Santa (personally, it sounds like a wrestling match to me). Bad Santa proves there is an audience for this sort of "disturbing" comedy, as it grossed $7.1 million in its second weekend, dropping 42%, which was the best hold in the top ten. The anti-Christmas flick now has a cumulative gross of $27.2 million, and will play strongly as it heads toward the holidays.
Seventh spot goes to WB's successful Gothika starring Halle Berry. Gothika grossed $5.3 million in its third weekend, down 59% from the previous frame. The Dark Castle horror flick cost $40 million and has now thrilled up $49.6 million, so you can expect to see the WB/Dark Castle relationship continue.
Sitting down in eighth place is The Missing, which missed having an audience in its second weekend. The Missing grossed a bad $4.4 million from 2,756 venues, dropping a surprisingly high 59%. The Ron Howard flick now has a total of $22.2 million, as it officially drops out of the Oscar race today.
Ninth is Russell Crowe's Master and Commander: The Far Side of the World, as the master's ship begins to sink at an alarming rate. After pulling in $12.4 million last weekend, The Last Samurai took over its audience, and the seafaring epic plunged a nasty 68%, grossing only $3.8 million. This means not only rough seas for the domestic gross, but also for its Oscar chances, as the Lord of the Rings further supplements its chances at Oscar glory this year, and won't be released for a few more weeks. Master now has a total of $72.6 million against an out of this world production cost of $150 million.
Winding out the top ten is Love Actually, the British madcap romantic comedy. Despite strong competition, Love Actually stayed in the top ten this weekend, grossing $3.7 million. The Universal now has a solid total of $48.9 million, but may have pulled the trigger on a wide release too late.
Last year over the same frame, 2002 box office hit a serious low, as box office for the top ten came in at $64.8 million. This year totals were quite stronger, as 2003's The Last Samurai annihilated 2002's Analyze That. 2003 top ten estimates came in at $87.7 million, 35% higher than last year.
Top Ten for Weekend of November 28-30, 2003

Rank

Film

Number of Sites

Change in Sites from Last

Estimated Gross ($)

Cumulative Gross ($)

1

The Last Samurai

2,908

New

24.4

24.4

2

Honey

1,942

New

14.0

14.0

3

The Haunted Mansion

3,122

No change

9.5

46.1

4

Elf

3,119

-83

8.1

139.6

5

Dr. Seuss' The Cat in the Hat

3,409

-55

7.3

85.5

6

Bad Santa

2,091

+86

7.1

27.2

7

Gothika

2,205

-177

5.3

49.6

8

The Missing

2,756

No change

4.4

22.2

9

Master and Commander: The Far Side of the World

2,344

-359

3.8

72.6

10

Love Actually

1,672

-34

3.7

48.9

11

Timeline

2,787

No change

2.8

16.9

12

The Matrix Revolutions

1,257

-798

1.3

135.7