"Signs" of a Hot August
John Hamann's Weekend Wrap-Up
August 2-4, 2002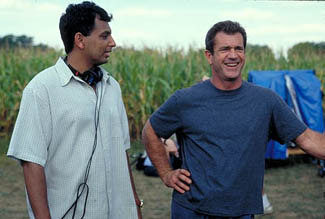 Only a few days old and the eighth month of the year is already smokin'. Like last year, when Rush Hour 2 grossed $67.4 million in the first weekend in August, M. Night Shyamalan's Signs has accomplished a similar feat. August and Shyamalan go hand-in-hand, as August 6, 1999 was the day that Night's The Sixth Sense changed box-office history forever. Prior to Sense, Hollywood wouldn't release many high-profile films in August, as it was assumed that families were vacationing and not seeing movies. After Sense grossed $293 million through August, Hollywood began dropping big hits into the eighth month, like Rush Hour 2, American Pie 2 and Hollow Man. Now that we have Signs, look for even more heavy hitters in Augusts to come.
Yes, studios have found a new favorite month that they can "stretch". In years previous, that month has been May. When Twister came out on May 10, 1996 and turned heads, opening to $41 million, studios jumped on the idea that big movies could make big money before the beginning of the "official" summer movie season. After Twister launched in 1996, The Fifth Element ($17.03 million open) missed in early May 1997, but then Deep Impact opened on May 8, 1998 to $41 million, and was a surprise to everyone. Films that followed in early May in the succeeding years: The Mummy ($43.37 million) in '99, Gladiator ($34.82 million) in 2000, The Mummy Returns ($68.14 million) in 2001 and finally, the capper was Spider-Man ($114.8 million), launched on May 3rd of this year. Like May, August is being exploited. Studios are still a little chicken of the second half of August, but the first half has certainly blossomed over the last few years. The second half of August jinx may end this year, when Blue Crush, the surf movie from Universal Films, opens on the 16th.
Signs was the number-one film of the weekend by a landslide, leaving Austin Powers in the dust. North America loves a scary movie, and they came out in droves this weekend, as Mel Gibson and M. Night Shyamalan vaulted Signs to an out-of-this-world opening weekend gross of $60.3 million. Signs opened on 3,264 screens, and enjoyed a fantastic venue average of $18,474. This blockbuster couldn't beat the August opening weekend record set by Rush Hour 2 at $67.4 million, but does become the biggest open for Mel Gibson, M. Night Shyamalan and Touchstone Pictures. Signs came close to being the biggest open for the Disney machine as a whole, but just missed Monsters Inc.; that film opened to $63.5 million in November 2000.
As a director, M. Night Shyamalan has blown the doors off the box office to an extent not seen since the early Speilberg years. Shyamalan's first North American film, Wide Awake, was ignored by moviegoers, but The Sixth Sense quickly changed everything when it opened in August of 1999. "The Twist" in Sixth Sense kept people talking about the film for weeks, and propelled the film to a total take of $293 million. His next film, Unbreakable, was almost the financial opposite to Sense. It couldn't find the buzz that Sense had, and instead of a smaller opening compared to legs, Unbreakable delivered a slightly bigger opening ($30.3 million compared to Sense's $26.7 million) but had no legs, as it failed to make the $100 million mark during the leggy Thanksgiving/Christmas box-office season. To put it even more plainly, Signs will gross more by Thursday than Unbreakable grossed overall. And there's no reason why Signs shouldn't have decent legs; Rotten Tomatoes has 95 positive reviews out of 123, and the average CinemaScore was a B. I bet this film is still in the top ten come the middle of September.
As for the budget, considering the talent involved, the $62 million production cost is quite low. But then again, if I was involved in an M Night movie, I'd instruct my agent to get as many gross points as possible. It's not often that these big-budget movies make the production cost back in their first weekends, but all of a sudden it's happening more and more. Austin Powers in Goldmember did it last weekend; it had a budget of $63 million and grossed $73 million in its first three days. The Fast and the Furious did it last year with a cost of $38 million and an opening weekend gross of $40 million. This year, Scooby-Doo did it with a $52 million budget and an opening weekend of $54 million. With weekend-to-weekend drop-offs continuing to be huge, it's becoming increasingly imperative for studios to recoup production costs before these films fall off the radar.
Speaking of huge weekend-to-weekend drop-offs, second spot goes to Austin Powers in Goldmember, which fell spectacularly this weekend. The Mike Myers vehicle grossed $32.4 million in its second frame, a huge drop of 55.6%. This was not unexpected. Theatres would have moved Austin out of the big revenue-generating screens to make room for Signs, handicapping it right off the start. Also, New Line spent a fortune marketing Goldmember during its pre-release, so follow-up ad dollars for the second weekend are going to be limited. Goldmember broke the $100 million mark on Thursday, and has now grossed a remarkable $143 million. In comparison, The Spy Who Shagged Me had grossed $116 million after its second weekend.
Sadly, third spot this weekend goes to Dana Carvey's Master of Disguise. The Seventh Sign of the Apocalypse somehow grossed $13 million from 2,565 venues this weekend, for a strangely solid average of $5,068. While the Signs opening-weekend gross is awe-inspiring, the opening weekend of Master is cheerless, due only to the fact that now we will have to see more movies like this (and the advertising that goes with it). TV shows that featured the "turtle turtle" ad lost me as a viewer over the last week; as soon as the ad came, on I'd flip the channel. Due to the blitzkrieg marketing for this flick, I ended up not watching a lot of TV over the past week. Hopefully, the ads will stop now and the film will drop off wildly over the next few weeks, which will hopefully eliminate the chance of a sequel.
Adam Sandler has his fingers in many pies. Starring in the very successful Mr. Deeds was his first hit of the summer. And now, with the success of Master of Disguise, Sandler is victorious again as an executive producer. Hollywood types must have thought he was nuts trying to revive Dana Carvey's career, but it seems the gamble has paid off, much like it did with another SNL vet, Rob Schneider. Check out the list below for other results from films produced by Adam Sandler.
<% sqlstr = "SELECT * FROM box WHERE" sqlstr = sqlstr + " movie like 'Mr. Deeds' OR" sqlstr = sqlstr + " movie like 'Joe Dirt' OR" sqlstr = sqlstr + " movie like 'Animal, The ' OR" sqlstr = sqlstr + " movie like 'Little Nicky' OR" sqlstr = sqlstr + " movie like 'Big Daddy' OR" sqlstr = sqlstr + " movie like 'Deuce Bigalow: Male Gigolo' OR" sqlstr = sqlstr + " movie like 'Waterboy, The'" sqlstr = sqlstr + " ORDER BY open DESC" max = 100 header = "Adam Sandler - Producer?" tstyle = "release" skin = "bop" x = Drawtable(sqlstr,max,header,tstyle,skin) %>

Fourth spot goes to another new release this week; this time, it's the Martin Lawrence stand-up comedy concert film, Runteldat. Opening on only 725 screens, Runteldat is a huge success in the vein of The Original Kings of Comedy. Runteldat opened to $7.5 million, equaling a fantastic screen average of $9,973. Runteldat is a license to print money for Paramount. Production values are going to be obviously low for a stand-up comedy film, meaning this will be the third release in the last two weekends to make its production cost back after its initial opening weekend.
Fifth is Road to Perdition, the gangster movie with Tom Hanks. The DreamWorks drama grossed $6.63 million in its fourth weekend, dropping a steep 40.3%. The total for Perdition stands at $77.2 million. $100 million will be tough to reach, which may handicap its efforts to reach Oscar glory.
Road to Perdition has been haggling with Stuart Little 2 for position on the chart, and the mouse continues to stay behind the adult Perdition after three weeks of release. Stuart Little 2 grossed $6 million this weekend, dropping 43.5%, but lifted its total to $46.8 million. Stuart is going to be at least a $50 million loss for Sony, so xXx better be a huge hit for the studio when it opens next weekend.
Seventh is Men in Black 2. Even with late-in-the-run marketing, MIIB can't hold its audience in the face of such substantial competition. MIIB dropped 44.5% this weekend, eliminating its chance at $200 million, as it grossed $4.7 million from a still very-wide 2,902 screens. Sure, this film only (?) cost $97 million to make, but with the stars, director and producer taking a large percentage of the movie's gross, MIIB needed to make $200 million domestically to be seen as a success. It's total has now hit $182 million.
There is a three way tie for eighth this week. First up is Disney's The Country Bears, an experiment in film gone horribly wrong. TCB grossed $3 million this weekend, down a stunning 43.5%. Production cost is tough to find on this one, but with a total of only $11.7 million, this has to be a dramatic loss for the Disney team.
Next is another big box-office failure, Harrison Ford's K-19. The Russian sub movie also grossed $3 million this weekend, dropping a stunning 58.7% when compared to last weekend. The total for the Paramount flick stands at $30.9 million.
The third film to tie for eighth this weekend is the art-house film that could, My Big Fat Greek Wedding. Still expanding into new markets, the IFC (Independent Film Channel) film grossed another $3 million this weekend from 657 screens. This is the widest this film has run since its opening 16 weeks ago. Its total stands at $40.2 million.
Leaving the top ten this week are Reign of Fire and Minority Report. Reign will be a huge loss for Disney/Touchstone, and Minority Report should break even for Fox and DreamWorks. Next weekend brings Vin Diesel's xXx, as well as Clint Eastwood's Blood Work. The surprise next weekend could be Spy Kids 2; that film opens on Wednesday.
Overall, this is another very successful opening weekend to August, but not enough to keep up with stunning totals displayed last year. In the first weekend of August 2001, Rush Hour 2 and The Princess Diaries did exceptional business, and Planet of the Apes was in its second weekend freefall. The total for the top ten last year came in at $157.45 million, ahead of the $139.53 million generated this year. The year-to-year comparison is down again this week, with this year falling behind last by 11%.
Top 12 for Weekend of August 2-4, 2002

Rank

Film

Number of Sites

Change in Sites from Last

Estimated Gross ($)

Cumulative Gross ($)

1

Signs

3,264

New

60.3

60.3

2

Austin Powers in Goldmember

3,613

No Change

32.4

143.0

3

The Master of Disguise

2,565

New

13.0

13.0

4

Runteldat

752

New

7.5

7.5

5

Road to Perdition

2,332

+82

6.6

77.2

6

Stuart Little 2

3,095

-187

6.0

46.8

7

Men in Black II

2,902

-640

4.7

182.0

8

My Big Fat Greek Wedding

655

+86

3.0

40.2

9

K-19: The Widowmaker

2,634

-196

3.0

30.9

10

The Country Bears

2,553

No Change

3.0

11.7

11

Mr. Deeds

1,966

-343

2.0

120.8

12

Minority Report

1,132

-233

1.7

126.3