The Return of Signs
John Hamann's Weekend Wrap-Up
August 23-25, 2002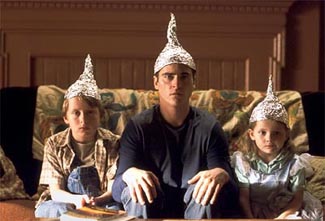 Well, here we are again. Another late August weekend where little is happening at the box office. Three new releases were abandoned at theaters this weekend and made little impact with moviegoers, leaving the overall box office soft for the second weekend in a row. The three openers this weekend, Serving Sara, S1m0ne, and Undisputed only had a combined screen count of 5,176, leaving the also-rans to rule the day.
Even though distributors have recently discovered that the first two weeks of August aren't the death-knell for films, they obviously have no faith in the last two weeks of the eighth month. Last year this weekend, opening films were not memorable. Jay and Silent Bob Strike Back got off to an okay start ($11 million), but the other four(!) releases were dead on arrival. Also opening last year were classics like John Carpenter's Ghosts of Mars, Summer Catch, Curse of the Jade Scorpion, and Disney's Bubble Boy. These films, like this year's crop, were dumped with little to no marketing or push from their respective studios. The year before, Bring it On with Kirsten Dunst brought it on, but the forgettable others were Art of War with Wesley Snipes, and The Crew, starring a bevy of older actors. In 1999, the dumpees were In Too Deep, The Muse, The Astronaut's Wife and the Brendan Fraser classic, Dudley Do-Right. The common thread throughout many of these films is that they are budgeted at or below $20 million, and 90% of them lose money, but not much. This weekend was no different.

<% sqlstr = "SELECT * FROM box WHERE" sqlstr = sqlstr + " movie like 'In Too Deep' OR" sqlstr = sqlstr + " movie like 'Muse, The' OR" sqlstr = sqlstr + " movie like 'Astronaut''s Wife, The' OR" sqlstr = sqlstr + " movie like 'Dudley Do-Right' OR" sqlstr = sqlstr + " movie like 'Bubble Boy' OR" sqlstr = sqlstr + " movie like 'John Carpenter''s Ghosts of Mars' OR" sqlstr = sqlstr + " movie like 'Summer Catch' OR" sqlstr = sqlstr + " movie like 'Crew, The' OR" sqlstr = sqlstr + " movie like 'Curse of the Jade Scorpion, The'" sqlstr = sqlstr + " ORDER BY open DESC" max = 100 header = "Soft August Numbers" tstyle = "release" skin = "bop" x = Drawtable(sqlstr,max,header,tstyle,skin) %>

It was a close battle for number one between the two star-driven pics, xXx and Signs, with Signs pulling out for the lead. The M. Night Shyamalan flick grossed $14.36 million in its fourth weekend, dropping only 26%. It's been a long time since a film for adults has opened at number one and then slipped down the chart, only to become the number one film again later in its run. The closest match to this is The Matrix. After being the number-one film for two weeks in a row, The Matrix slipped behind Eddie Murphy's Life in its third week, but then jumped back into the number one spot against a soft crop of openers the following weekend. Signs, like The Matrix, didn't have to increase its week-to-week gross; it was just lucky that there wasn't any other significant competition to knock it off the top of the chart. The total for Signs has now hit $173.2 million, and is quickly becoming one of the top hits of the summer.
Sony's plans for xXx to rule August are no longer a reality, as Vin Diesel could only muscle up a second-place performance this weekend, dropping 38% compared to last week. xXx grossed $13.7 million this weekend, coming only a close second to Signs, even after adding another 129 venues to its already huge run. Now on 3,517 screens, xXx had a not-so-great venue average of $3,895. The good news is that Sony now has four films that have crossed the $100 million mark. xXx crossed the fabled line late on Saturday; its total now stands at $106.7 million.
Leap-frogging Blue Crush is Spy Kids 2, the leggy kids' flick from Dimension films. Director Robert Rodriguez has served up another profitable film, as Spy Kids 2 landed in third this weekend, grossing $7.8 million from 3,307 screens. Down 32.3% from last weekend, Spy Kids 2 has now grossed $58.8 million against its production budget of $30 million.
The little film that could climbs two spots to fourth this week. My Big Fat Greek Wedding had another increase in business as the independent grossed $7.58 million this weekend; another uptick, this time of 33%. Surprisingly, since its release on April 19th, MBFGW has never had a screen average above $6,000. Adding another 266 screens this weekend, the Greek comedy had a screen average this week of $5,716. With a total now of $64 million, it's hard to say where this little gem is going to end up. While still a long shot, with no signs of slowing, this film could end up with $100 million in box office receipts.
Down two spots to fifth is Blue Crush, Universal's late summer surfing flick. The girl-power picture grossed $6.44 million this weekend, down an alarming 54.5%. Its total stands at $26.4 million, making its production cost back after only two weekends of release.
Sixth spot finally brings us to one of the three films opening this weekend. The winner of the turtle race is Serving Sara, the Mathew Perry/Liz Hurley comedy. With almost zero promotion, SS couldn't keep up with the holdover competition; the Paramount flick could only gather $6.08 million in its debut weekend. Opening on 2,154 screens, Serving Sara had a first-week screen average of $2,822. Thankfully for Paramount, the budget here is only $20 million, so this is only going to be a loss of about $5 million.
In at seventh is New Line's Austin Powers in Goldmember. APinG grossed $5.63 million in its fifth weekend, dropping 35.5%. The Mike Myers flick has now grossed $194 million, which compares well with the second film in the series, The Spy Who Shagged Me. That film had grossed $182.5 million after five weeks of release, on its way to a grand total of $206 million. Goldmember should be able to do that and a bit more. New Line execs should be having a $200 million party next weekend.
Eighth spot goes to another new release this weekend. This time it's the prison boxing movie, Undisputed. The Ving Rhames/Wesley Snipes flick opened small, debuting on only 1,102 screens and grossing $4.7 million. The venue average of $4,265 is the second best in the top ten, next to My Big Fat Greek Wedding, but it's unlikely Miramax will choose to expand this release.
Landing in ninth is another film that is destined to become a financial disaster, Al Pacino's S1m0ne. S1m0ne could only muster up $4.05 million in receipts this weekend from 1,920 venues, giving it a lame-duck screen average of $2,109. S1m0ne's reviews were mixed at best; the Rotten Tomatoes score was a Rotten 48%, with only 46 positive reviews out of a possible 96.
Our last entry through a brutally slow week is Clint Eastwood's Bloodwork. The aging cop drama scored another $2.86 million this weekend, bringing its total up to $20.2 million.
Overall, the box office was chilly this weekend. Even when compared to last year's poor top-ten gross of $76.81 million, box office this year is still down. This year, the top ten could only come up with $73.2 million, a decrease of 4.7%. Leaving the chart this week are Road to Perdition, Master of Disguise, and The Adventures of Pluto Nash. It's going to be soft again next weekend, as the only major feature opening over the long weekend is fear dot com, which looks to do middling business at best.
Top 12 for Weekend of August 23 - 25, 2002

Rank

Film

Number of Sites

Change in Sites from Last

Estimated Gross ($)

Cumulative Gross ($)

1

Signs

3,453

+109

14.4

173.2

2

xXx

3,517

+129

13.7

106.7

3

Spy Kids 2: The Island of Lost Dreams

3,307

No Change

7.8

58.3

4

My Big Fat Greek Wedding

1,326

+263

7.6

64.0

5

Blue Crush

3,015

+13

6.5

26.4

6

Serving Sara

2,154

New

6.1

6.1

7

Austin Powers in Goldmember

2,805

-308

5.6

194.0

8

Undisputed

1,102

New

4.7

4.7

9

S1m0ne

1,920

New

4.1

4.1

10

Blood Work

2,203

-322

2.9

20.2

11

Road to Perdition

1,863

-51

2.8

94.7

12

The Master of Disguise

1,737

-400

2.2

34.3