Ouch! The August Box Office Blues are Here
John Hamann's Weekend Wrap-Up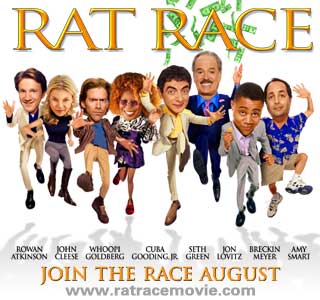 Well, it was only a matter of time before blockbuster season came to a close, and that time is very obviously upon us now.
Of the three openers this weekend, Rat Race, American Outlaws, and Captain Corelli's Mandolin, all performed well below expectations, with the possible exception being Rat Race, which was still the number three film. In addition, the steep drop-off patterns continued this week, affecting almost all the holdovers.
In a move that hasn't been repeated since the sophomore session of Pearl Harbor, the number one film for the second straight week was American Pie 2. Last week, AP2 became the number one R-rated comedy opener of all time, but in its second week, AP2 added itself to the steep drops of summer 2001. American Pie 2 dropped 53.2% to $21.1 million in its second week of release. The original American Pie dropped from $18.71 million to $13.58 million in its second weekend, a drop of only 27.53%. The original went on to do $101.8 million. For Universal, the total for AP2 now stands at a very profitable $87.3 million, against a cost of only $30 million. Its Friday gross alone dropped an astonishing 61%; the biggest second-week drop for a previous number-one opener is Planet of the Apes, which dropped 59.8% after opening at number one in June.
Second Weekend Dropoffs

Film

Opening Friday

Box Office ($ millions)

% Drop

Mummy Returns

May 4

68.1

50.5%

Pearl Harbor

May 26

59.1

50.0%

Tomb Raider

June 15

47.7

58.5%

Fast and the Furious

June 22

40.1

50.0%

A.I.

June 29

29.4

52.0%

Cats and Dogs

July 6

21.7

44.6%

Scary Movie 2

July 6

20.5

53.4%

Legally Blonde

July 13

20.4

45.5%

America's Sweethearts

July 20

30.2

49.0%

Jurassic Park 3

July 20

50.8

55.6%

Planet of the Apes

July 27

68.1

59.8%

Rush Hour 2

August 3

67.4

51.1%

American Pie 2

August 10

45.1

53.2%

As has been extensively reported in the media this week, with big reports in the LA and New York Times, the weekend-to-weekend drops will be the box office story of the summer. In the case of American Pie 2 and Universal, instant gratification gains new meaning. Universal doesn't care that AP2 dropped 53%; their film only cost $30 million dollars to make, so including print and advertising costs, AP2 was most likely bottom-line profitable by Wednesday, August 15th, and anything after is gravy. Now let's look at it through an exhibitor's eye. The biggest cineplexes in North America could have a box office split of 90% to the studios and 10% to the exhibitor for the first two weeks of the AP2 release. For AP2, that number is going to be around $100 million, resulting in $90 million for the studio, and $10 million for the exhibitor. After the first two weeks, let's assume that the split reverts to the fairer 60/40. With only $50 million in box office left to collect, the studio sees another $30 million, and the exhibitors get $20 million. In the end, Universal gets $120 million of the gross (against a cost of $30 million; possibly $60 million with print and advertising costs included), and the people showing the film, doing the accounting, paying the projectionist, taking tickets, etc., get a measly $30 million from a massive $150 million gross. It is absolutely no wonder why ticket prices have been heaving up, up and up. Just look at the average ticket price increase over the last few years: (source: The North American Theatre Organization - NATO - )
2000 - $5.39
1999 - $5.06
1998 - $4.69
1997 - $4.59
1996 - $4.42
1995 - $4.35
1994 - $4.08

In second spot this weekend was another holdover carrying a large drop in its third weekend, Rush Hour 2. RH2 did $19.02 million in its third weekend, a drop-off of 42.3%, bringing its tally to $164.7 million. New Line has been aggressively promoting Rush Hour 2 through TV ads and other promotions, but expect that to fall off now that the third week grosses (and drop-off) are in. New Line at least deserves some credit for their marketing campaign, as they did not abandon the marketing plan for their film after it dropped 51% last week. With a $90 million price tag for RH2, this pic will not be as profitable for New Line as American Pie 2 was for Universal, but when world gross and video receipts are counted, both films will make both companies happy for years to come.
In third this week, we get our first appearance of a film in its opening weekend. The honor goes to Rat Race from Paramount, the broad comedy about a madcap race to find some big money, which opened at $11.66 million on 2,550 screens this week. Rat Race had a screen average of $4,573.37 over the weekend. With a budget of $50 million, and a costly marketing campaign, Rat Race will really have to stretch to become profitable for Paramount. The summer so far has been not so great for the big P, with only Tomb Raider and The Score being semi-hits this year. Rat Race will probably be another film to fall into the cracks at Paramount, although its CinemaScores were good, but not outstanding. Both males and females under 21 gave Rat Race an A-, but both sides of its probable target audience of 21-35 set gave it a lower mark of B+. The so-so reviews of Rat Race may be more indicative of its legs. At rottentomatoes.com, Rat Race was a mixed bag, with 41 out of 72 reviews being negative.

<% sqlstr = "SELECT * FROM box WHERE movie like 'Tomb Raider%' OR movie like 'Crocodile Dundee in%' OR movie like'%Along Came A Spider%' " sqlstr = sqlstr + " OR movie like '%Enemy at the%' OR movie like '%Save the Last %' OR movie like 'Rat Race' ORDER BY date DESC" max = 100 header = "Recent Paramount Releases" tstyle = "release" skin = "bop" x = Drawtable(sqlstr,max,header,tstyle,skin) %>

Dropping to fourth this week is The Others, starring Nicole Kidman. Last week, The Others opened strongly on 1,678 screens, grossing $14.09 million. Dimension Films felt that an expansion was in order and added 475 screens this week, and the move seems to have worked. In its second week, The Others dropped 22.6% to $10.91 million, giving it a screen average this week of $5,065.57 on 2,153 screens. Due to the expansion, The Others' drop is the lowest in the top ten. The $17 million budget will keep the Kidman starrer profitable and its budget is small potatoes compared to some of the other big vehicles crowding the movie market right now. Even though The Others has not turned out to be The Sixth Sense, Dimension has to be happy that it's not another Dracula 2000, and with Jay and Silent Bob Strike Back lurking in the wings, Dimension's summer isn't over yet.

<% sqlstr = "SELECT * FROM box WHERE movie like 'Others%' " sqlstr = sqlstr + " OR movie like '%Dracula 2000%' OR movie like '%Spy Kids%' OR movie like 'Scary Movie 2' ORDER BY open DESC" max = 100 header = "Recent Dimension Releases" tstyle = "release" skin = "bop" x = Drawtable(sqlstr,max,header,tstyle,skin) %>

Slipping a bit into fifth this week is Disney's The Princess Diaries. The summer sleeper grossed $9.65 million, dropping 32.1% this week on 2,726 screens. It had a screen average of $3,526.89. Last week, The Princess Diaries dropped a similar 38%, after opening strongly. In the era of big openings and big drop-offs, the term summer sleeper isn't quite as effective as consecutive 30%+ drops each week are keeping it from true greatness. Where did some other kid/teen films end up? Let's have a look at the chart:

<% sqlstr = "SELECT * FROM box WHERE movie like 'Atlantis%' OR movie like '%Parent Trap%' OR movie like '%Recess%' " sqlstr = sqlstr + " OR movie like '%Honey I%' OR movie like '%Spy Kids%' OR movie like '%The Kid%' OR movie like '%Doug%' ORDER BY open DESC" max = 100 header = "Recent Kid Flicks" tstyle = "release" skin = "bop" x = Drawtable(sqlstr,max,header,tstyle,skin) %>

In sixth was the second opener of the week, Captain Corelli's Mandolin. The wartime romance picture opened this week to a moderate $7.21 million on 1,594 screens, giving it a screen average of $4,519.97. The Nic Cage/Penelope Cruz starrer looks like a tremendous flop considering its epic tale and international setting, but the film only cost Universal about $25 million. Corelli should be able to gather that back before this film heads into obscurity on home video. Nicolas Cage is in the middle of a losing streak. The only standout film out of his last six is Gone in Sixty Seconds, which opened to $25 million in June of last year (see chart below). His four flicks before Snake Eyes were all moderate hits - City of Angels, Face/Off, Con Air and The Rock. Let's hope Mr. Cage is more on his game in John Woo's upcoming movie, Windtalkers.

<% sqlstr = "SELECT * FROM box WHERE movie like 'Family Man' OR movie like '%Bringing Out the Dead%' OR movie like '8mm' OR movie like '%Gone in 60%' " sqlstr = sqlstr + " OR movie like '%Snake Eyes%' OR movie like '%Mandolin%' ORDER BY open DESC" max = 100 header = "Recent Nicolas Cage Openings" tstyle = "release" skin = "bop" x = Drawtable(sqlstr,max,header,tstyle,skin) %>

<% sqlstr = "SELECT * FROM box WHERE movie like 'Con Air' OR movie like '%Rock, The%' OR movie like 'Face/Off' " sqlstr = sqlstr + " OR movie like 'City Of Angels' ORDER BY open DESC" max = 100 header = "Previous Nicolas Cage Openings" tstyle = "release" skin = "bop" x = Drawtable(sqlstr,max,header,tstyle,skin) %>

In the no-big-surprise story of the week, Planet of the Apes drops to seventh, losing 342 screens this week. PotA continues its ungodly descent from glory, dropping another 46.3% in its fourth week to $7.14 million. As has been stated in this column before, no film has seen this kind of huge open followed by such a large drop. The Mummy Returns opened just slightly short of PotA's $68.53 open, but looks like it will finish ahead of the Tim Burton/Mark Wahlberg film by at least $30 million.
Entering the chart in a surprising eighth is the Les Mayfield-directed American Outlaws. Many box office prognosticators voted Outlaws to be the top opener of the week, but it opened softly, generating a poor $4.86 million on 2,348 screens, for a screen average of $2,067.92. The CinemaScores for AO were quite good for its target demographic: A- from under-21 males and a surprising A from under-21 females. Unfortunately, it's hard for word-of-mouth to spread when no one sees the film in question. Outlaws is another blow to the folks at Warner Bros., after having a tough week last week with the Osmosis Jones opening (not on the chart this week). Life isn't going to get better anytime soon as it has two questionable releases upcoming, the Freddie Prinze, Jr., vehicle, Summer Catch, closely followed by Mark Wahlberg's Rock Star, opening September 7. I would say antacid sales are going to skyrocket on the WB lot.
In ninth, Jurassic Park III closely matched Planet of the Apes for the biggest thud in box-office history. The dinosaurs plunged another 41% this week to $4.44 million, losing a massive 659 screens. Will someone please put these films out of their misery? Please?
Lastly, in tenth was MGM's Legally Blonde. The other so-called summer sleeper dropped 31.6% this weekend to $2.58 million. After the strong opening of $20.3 million, Legally Blonde has dropped quickly, having only one weekend with a less than 20% drop. Blonde's total now looks to end up around $90 million.
The top 20 films this week grossed a combined $110.75 million. Last year, the top 20 generated $94.95 million, a difference of +16.6%. Last week saw a 51% increase compared to the similar weekend in August 2000. In terms of openers, the August 18, 2000 weekend saw The Cell open to $17.52 million, The Original Kings of Comedy open to $11.05 million and Godzilla 2000 did $4.41 million. The total for the three was $33 million, compared to $23.71 for the three openers this year. Compared to last week, overall box office was down 30.56%.
Next week, five (yes five!) new releases will hit the market, and the carnage should be notable. At this point, Touchstone's Bubble Boy looks to be the flick to beat, but Dimension's Jay and Silent Bob Strike Back could benefit from a limited built-in audience. Also opening are the aforementioned Summer Catch, Woody Allen's Curse of the Jade Scorpion (although its opening may not make this list) and John Carpenter's Ghosts of Mars.
Top 12 for Weekend of August 17 - 19

Rank

Film

Number of Sites

Change in Sites from Last

Estimated Gross ($)

Cumulative Gross ($)

1

American Pie 2

3,072

+9

21.10

87.28

2

Rush Hour 2

3,080

-38

19.02

164.66

3

Rat Race

2,550

New

11.66

11.66

4

The Others

2,153

+475

10.91

32.17

5

The Princess Diaries

2,726

+20

9.61

70.24

6

Captain Corelli's Mandolin

1,594

New

7.21

7.21

7

Planet of the Apes

3,059

-342

7.14

161.24

8

American Outlaws

2,348

New

4.86

4.86

9

Jurassic Park III

2,516

-659

4.44

168.33

10

Legally Blonde

1,770

-261

2.58

83.35

11

Osmosis Jones

2,305

No Change

2.50

10.26

12

America's Sweethearts

1,948

-738

2.31

87.76