Eddie Murphy, Fire Your Agent Already
John Hamann's Weekend Wrap-Up
August 16-18, 2002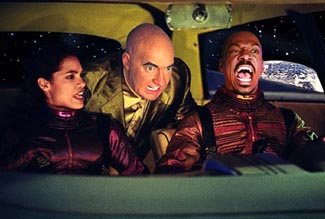 Right now, as you read this, Brian Grazer is on the phone to Nikki Rocco, the Universal Films chief, and is simply saying, "I told you so." Producer Grazer originally wanted his film, Blue Crush, to open in July, but the dreaded (and mostly unseen) competition factor forced Rocco to move Blue Crush from July 12th to August 16th. Not a smart move, as Blue Crush came in this weekend with at best a middling gross, missing its chance at breakout success. The real story this week, though, is the flop that is Pluto Nash. The Eddie Murphy movie crashed and burned this weekend, and will undoubtedly become one of the biggest flops in box-office history.
There's a great story in the LA Times this weekend about the squabble between Oscar-winning producer Brian Grazer and Universal about the switch in release dates for Blue Crush. The great fear of perceived competition got in the way when it shouldn't have. The original date of July 12th carried these films: Road to Perdition, Crocodile Hunter: Collision Course, Reign of Fire, Halloween: Resurrection, and the second weekend of Men in Black II. We all know what happened; Perdition got out of the gate okay, but the rest of the releases certainly did not blow the cover off the box office, and the second weekend of MIIB was down 53%. The LA Times article quotes Universal Vice Chairman Marc Shmuger as saying that Blue Crush "wasn't on the pop-culture radar" at that point, hence the move. Don't the studios play a large part in what's on the pop-culture radar and what isn't through marketing and promotion? A more proper sentiment might have been that the marketing up to the move had sucked, and Universal didn't do a whole lot to change that. If I were Brian Grazer today I would be pissed, even though I now have a film that will be profitable by next weekend. Blue Crush could have been huge, but Grazer and Universal will have to settle for having a profitable picture. Considering what's happening at Warner Bros. this morning with Pluto Nash, maybe they should be happy. The link to the LA Times article is here.

<% sqlstr = "SELECT * FROM box WHERE" sqlstr = sqlstr + " movie like 'Crocodile Hunter, The: Collision Course' OR" sqlstr = sqlstr + " movie like 'Halloween: Resurrection' OR" sqlstr = sqlstr + " movie like 'Reign of Fire' OR" sqlstr = sqlstr + " movie like 'Road to Perdition'" sqlstr = sqlstr + " ORDER BY open DESC" max = 100 header = "July 12th Openers" tstyle = "release" skin = "bop" x = Drawtable(sqlstr,max,header,tstyle,skin) %>

The winner of Box Office Survivor this weekend is again xXx, Vin Diesel's rock 'em-sock 'em James Bond movie. Vin and Sony's franchise hopes were dashed a bit more this weekend as the high-testosterone flick dropped 48.3% in its second frame, taking a gross of $23 million. The $100 million feature has now grossed $84.9 million, on its way to recouping its production budget, but not much more. Sony will now keep a close eye on how the home video/DVD sales go before green-lighting the sequel to Vin's action movie.
Second spot this frame again goes to Mel Gibson's Signs. Still a big water-cooler subject, Signs dropped a better-than-last week 33.8%, grossing $19.5 million. M. Night Shyamalan now has three different types of box-office grosses to his credit; the leggy Sixth Sense, the no-legs Unbreakable and now Signs, which dropped hard at first but currently is recovering somewhat. The $19.5 million gross this weekend brings the total to $150.7 million, and should have an outside shot at reaching $200 million. The simple setting kept costs down on this one; as with Panic Room, much of Signs uses one location, the family house. This helped keep the budget at a little over $60 million, making Signs one of the big winners of the summer, no matter what kind of back-end deal Shyamalan and Gibson had.
Third this weekend is the aforementioned Blue Crush. The surfer-girl flick grossed $15.18 million from 3,002 screens, giving it a screen average of $5,057. Director John Stockwell brought this pic in for less than $30 million, so a better-than-average drop next weekend will put Blue Crush into the black. It hasn't been a great year for the folks at Universal. Multiple successes happened for Universal in summer 2001, and after a fantastic summer, their year was capped off with a Best Picture Oscar for A Beautiful Mind. This year has been the complete opposite. Their only real hit has been The Bourne Identity, which grossed a little over $100 million. Check out the chart below for more info on the year that Universal has had so far in 2002.

<% sqlstr = "SELECT * FROM box WHERE" sqlstr = sqlstr + " movie like 'Big Fat Liar' OR" sqlstr = sqlstr + " movie like 'Dragonfly' OR" sqlstr = sqlstr + " movie like 'Scorpion King, The' OR" sqlstr = sqlstr + " movie like 'About a Boy' OR" sqlstr = sqlstr + " movie like 'Undercover Brother' OR" sqlstr = sqlstr + " movie like 'Bourne Identity, The'" sqlstr = sqlstr + " ORDER BY open DESC" max = 100 header = "Universal Films Chart" tstyle = "release" skin = "bop" x = Drawtable(sqlstr,max,header,tstyle,skin) %>

Fourth this weekend carries some good news. Spy Kids 2, from garage director Robert Rodriguez, held somewhat well for fourth spot on the chart. The kid flick dropped only 30% this weekend, coming up with a gross of $11.6 million. BOP's Reagen Sulewksi made a great point in his weekend forecast column that the budget of $30 million for Spy Kids 2 is actually down from the $35 million spent on the original, a feat that doesn't happen much at all in Hollywood these days. Usually, sequels get greedy and need a bigger budget than the original film. It's not the case here. Spy Kids 2 is another big financial success for Dimension Films and Miramax; its total now stands at $45.7 million, on its way to at least $80 million.
Fifth is Austin Powers in Goldmember, which finally had a weekend where its weekend-to-weekend drop didn't start with a five. The Mike Myers comedy dropped a much better 33.4% in its fourth frame, grossing $8.7 million. APinG may have an outside shot at making the $200 million mark; its total stands at $183.9 million. Like Signs, APinG has a budget in the low 60s, so again no matter what the back-end deal is for Myers and director Jay Roach, this film is still going to be very profitable, with a highly successful run on video still to come.
Up two spots to sixth is the success story of the summer, My Big Fat Greek Wedding. Expanding to 1,060 venues, Greek Wedding is now at the widest point it has seen in its 17 weeks of release. The small independent film grossed $5.82 million this weekend, which is an astounding increase of 86%, a feat that just doesn't happen anymore. Wedding was shot for only $5 million and has now grossed $52.9 million, with more still to come. Congratulations to all involved.
Seventh is Clint's Blood Work, a film that is getting lost at the box office. Down 34% this weekend, Blood Work grossed $4.8 million from 2,525 screens. The box-office total now stands at a lukewarm-at-best $15.3 million.
Down one spot to eighth is Road to Perdition, the Tom Hanks/Paul Newman period piece. Perdition grossed $3.83 million this weekend, down only 9%, the best hold it's had since its release. The total now stands at $90.3 million.
Ninth is Master of Disguise. It grossed $3.3 million, down 35%, and has a total $30.4 million. Die, Master, Die!
Finally, at long last, in tenth we have The Adventures of Pluto Nash. Shot back in April 2000, and carrying a budget of a little over $100 million, Pluto Nash will be referred to with the great flops of all time like Ishtar, Town & Country, and Heaven's Gate. Pluto Nash grossed only $2.15 million from 2,320 screens for a terribly-low first-weekend venue average of $927. This film won't come close to making back the amount paid to Eddie Murphy to star in this trash ($20 million), let alone the marketing budget. This is simply a disaster that Warner Bros. can't afford to have right now. Any money made on November's Harry Potter sequel will now go to paying off the losses incurred by Pluto Nash. Not a nice weekend for the folks at Warner Bros. (or for the poor people that mistakenly paid to see this garbage).
Overall, things aren't as bad as one might think. Last year, American Pie 2 dropped 53.2% in its second weekend, leading the pack with a $21.1 million gross. The top ten in 2001 grossed only $98.53 million. That compares with this year's top ten tally of $97.88 million, putting 2002 behind by only 0.7%.
Out of the top ten this weekend are Martin Lawrence's Runteldat and Stuart Little 2. Next week brings another crop of losers, including S1m0ne and Undisputed. My lone hope for next weekend is Serving Sara, as it marks the return of Bruce Campbell to a role beyond that of a Spider-Man cameo. None of these flicks should make waves at the box office, so look for xXx to repeat for a third week in a row next week.
Top 12 for Weekend of August 16-18

Rank

Film

Number of Sites

Change in Sites from Last

Estimated Gross ($)

Cumulative Gross ($)

1

xXx

3,388

+14

23.0

84.9

2

Signs

3,344

+34

19.5

150.7

3

Blue Crush

3,002

New

15.2

15.2

4

Spy Kids 2: The Island of Lost Dreams

3,307

No change

11.6

45.7

5

Austin Powers in Goldmember

3,113

-395

8.7

183.9

6

My Big Fat Greek Wedding

1,072

+349

5.8

52.9

7

Blood Work

2,525

No change

4.8

15.3

8

Road to Perdition

1,914

-297

3.8

90.3

9

Master of Disguise

2,137

-431

3.3

30.4

10

The Adventures of Pluto Nash

2,320

New

2.2

2.2

11

Stuart Little 2

1,714

-668

1.9

57.0

12

Martin Lawrence Live: Runteldat

774

No change

1.7

16.0