The Birth of a Franchise
John Hamann's Weekend Wrap-Up
August 9-11, 2002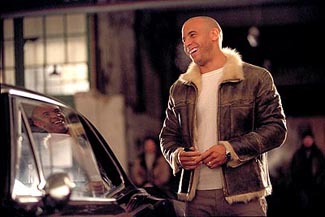 Vin Diesel's new film xXx blew the doors off of movie theatres this weekend; it becomes the fourth Sony event film released since May to open dramatically at the box office. Vin Diesel has catapulted his name into homes across North America, and after the visceral blowout of xXx, it's doubtful his name will be forgotten. For Sony, opening weekends have totaled $301 million so far for eight films this summer, earning an average of $37.63 million since May of this year. Not bad for a company that released six films last year that only averaged $15.12 million during the May-to-August summer-movie season.
The number-one film at the box office this weekend is Vin Diesel's xXx; it grossed a good-for-August $46 million over the Friday-to-Sunday period from 3,374 screens. That equals a screen average of $13,634; obviously the top average of the weekend. Sony was smart here and garnered the very lucrative PG-13 rating, allowing the whole gamut of demographics to see this film. Also, for the younger set, it forces the parent to attend with the child, meaning that even more tickets are sold. Even with the rating, this movie has been sold as violence, sex, explosions and humor with a coolness factor that is second to none. To miss the X would be sinful if one is under the age of 25, making the want-to-see factor here also second to none.
Marketing was the name of the game for xXx and Sony. TV ads seemed to control the biggest part of Sony's advertising push, but they also bought some out-of-the-box marketing ideas as well. At pogo.com, a site for online gaming, xXx is featured extensively in a snowboarding game called SSX Snowdreams; every time the snowboarder hits a jump or crashes into a wall, there's the xXx logo, along with the release date and the tagline. Very savvy stuff. Sony has been pushing this film hard since the Superbowl way back in February, where the studio purchased an expensive 30-second spot for a release over six months away. Since then, it's been non-stop marketing action. The trailer has been attached to all the huge Sony films over the summer, the TV ads seem to be carpet-bombing the networks and cable, and now Vin seems to be on every news and interview show there is. Sony worked for this win, and they deserve it. We are witnessing the birth of a franchise, what could be a very big one.
xXx is the last film released this year that had a Superbowl ad. Here's a list of other movies that ran their TV ad during the Superbowl, with varying results:
<% sqlstr = "SELECT * FROM box WHERE" sqlstr = sqlstr + " movie like 'Hart''s War' OR" sqlstr = sqlstr + " movie like 'Austin Powers in Goldmember' OR" sqlstr = sqlstr + " movie like 'Signs' OR" sqlstr = sqlstr + " movie like 'Blade 2' OR" sqlstr = sqlstr + " movie like 'Men in Black II' OR" sqlstr = sqlstr + " movie like 'Scorpion King, The' OR" sqlstr = sqlstr + " movie like '40 Days and 40 Nights' OR" sqlstr = sqlstr + " movie like 'Collateral Damage'" sqlstr = sqlstr + " ORDER BY open DESC" max = 100 header = "Movies with Super Bowl Ads" tstyle = "release" skin = "bop" x = Drawtable(sqlstr,max,header,tstyle,skin) %>


There will be talk that the $46 million open is a disappointment due to all the marketing mentioned above. Don't believe it for a second. Sony has already green-lighted xXx2, which will surely be a bigger film. One of the few things MGM has going for it right now is the James Bond franchise, which a xXx series could certainly replace. I hope that, for Sony, xXx won't hemorrhage audience numbers like Vin Diesel's previous film, The Fast and The Furious, did last summer. The bad news for Sony is that xXx scored worse at Rotten Tomatoes than Furious did. xXx scored a 47% Fresh rating while Furious drew a 49% Fresh rating. The good news is that CinemaScores were better; xXx averaged an A-. Women liked it more than men, scoring nothing worse than an A- on the female side. Furious scored a B+, but couldn't find a grade over C in the over-35 demographic.
Second spot this weekend goes to last weekend's champ, Signs, the M Night Shyamalan flick that opened larger that xXx. Signs is no Sixth Sense; the Mel Gibson starrer dropped 50% this weekend, grossing $30 million from a still-powerful 3,310 screens. The sci-fi suspense flick had a venue average of $9,063. While troubling, the big drop for Signs is almost expected these days, no matter what the product. Again this weekend, the biggest venues carrying Signs last weekend would have given up those huge-seat screens for xXx, making it a very tough assignment for any picture that opens above $50 million to carry an audience through two weekends, especially when the new entry also opens on more than 3,300 screens. I'd expect Signs to not have a bigger drop-off than this one throughout its run. Signs crossed the $100 million mark on Saturday, and has a total now of $118.3 million.
Third this weekend is Spy Kids 2, the brain-child of Robert Rodriguez of El Mariachi fame. The kid-spy flick grossed $17 million over the Friday-to-Sunday period, and an impressive $25.3 million since its Wednesday open. At Rotten Tomatoes, Spy Kids 2 received a Fresh rating of 68%, with 56 positive reviews out of 82. Audience reaction was even better; CinemaScores averaged an A-, with both of the key under-21 demos giving straight As. The first film scored slightly better than the second; its average CinemaScore was an A. The original also scored better critically; Rotten Tomatoes has only eight negative reviews out of a possible 106, for a 92% Fresh rating. Reviews here are meaningless; it's all about kid word-of-mouth. I think Spy Kids 2 will play very well throughout August.
Another "Ouch! Baby that hurts, and not in a good way" weekend for the third installment in the Austin Powers franchise. Goldmember ends up fourth this weekend, and in the process again lost 58% of its audience. The Mike Myers comedy grabbed only $13.07 million to bring its total up to a massive $167.8 million. Goldmember is going to be another film that flies high for three days and then disappears from the pop-culture radar. In its third weekend, The Spy Who Shagged Me grossed $18.3 million and brought its gross to $150.6 million. Looks like Goldmember will gross less overall, even though it opened to much more. And a nod to the New Line Marketing Department; nice job on the faux xXx print ads that started on Friday. They never quit.
Blood Work, the new film from Clint Eastwood, debuted in fifth this weekend, earning a not-completely terrible $7.24 million. The thriller debuted on 2,525 screens and averaged $2,867. Probably extremely cost efficient; the Warner Bros. flick should end up with at least $25 million.
<% sqlstr = "SELECT * FROM box WHERE" sqlstr = sqlstr + " movie like 'Space Cowboys' OR" sqlstr = sqlstr + " movie like 'True Crime ' OR" sqlstr = sqlstr + " movie like 'Absolute Power' OR" sqlstr = sqlstr + " movie like 'Bridges of Madison County, The' OR" sqlstr = sqlstr + " movie like 'Perfect World, A' OR" sqlstr = sqlstr + " movie like 'In the Line of Fire' OR" sqlstr = sqlstr + " movie like 'Unforgiven'" sqlstr = sqlstr + " ORDER BY open DESC" max = 100 header = "Recent Clint Eastwood flicks" tstyle = "release" skin = "bop" x = Drawtable(sqlstr,max,header,tstyle,skin) %>


Master of Disguise could not disguise its crappiness as it free-fell to sixth, dropping 59.4% compared to last week. The critically-despised flick from Sony and Dana Carvey had a second weekend gross of $5.1 million, and its total stands at an implausible $23.8 million. Hopefully, Master will peter out before making $35 million.
Seventh this weekend is Road to Perdition, the Sam Mendes/Tom Hanks period drama that couldn't find a crossover audience. RTP grossed $4 million, down a disappointing 39.4%. The total for Perdition stands at $84.1 million, with $100 million out of reach, save for an Oscar or Christmas re-release.
Falling hard into eighth is the Martin Lawrence stand-up comedy, Runteldat. The concert flick dropped an amazing 57% compared to last frame, grossing only $3.17 million compared to last weekend's gross of $7.37 million. Runteldat now has a combined gross of $13.2 million, and is most likely profitable.
Ninth this week is My Big Fat Greek Wedding, the indie film that could. Wedding grossed $3.15 million this weekend from 723 screens, 66 more than last weekend. The IFC film had a screen average of $4,356, and now has grossed $45.1 million after 17 weeks of release.
Tenth spot this weekend, after another hard drop, goes to Stuart Little 2. Stuart could only manage $2.7 million this weekend, and its combined gross is $53 million, which is about half of its production cost. Maybe it will be huge on video.
Voted off the Top Ten Island this week are two dogs and a top earner. The two dogs were K-19 and The Country Bears, two seemingly sure things that weren't. Men in Black II, which is the real under-performer of the summer, also dropped out of the top ten, but with about $185 million in the bank, the Sony sequel can't be deemed a dog. Due up to the plate next week are Universal's Blue Crush and the horrid-looking and much-delayed Pluto Nash.
Overall, even with the big openers and the big holdovers, this weekend is a bust compared to last year. American Pie 2 led the pack in 2001 with a $45 million open, and The Others with Nicole Kidman got off to a fair start on its way to over $100 million. The top ten last year grossed $143.9 million, while this year could only manage $131.43 million; that's a drop of 8.6%.
Top 12 for Weekend of August 9 - 11

Rank

Film

Number of Sites

Change in Sites from Last

Estimated Gross ($)

Cumulative Gross ($)

1

xXx

3,374

New

46.0

46.0

2

Signs

3,310

+46

30.0

118.3

3

Spy Kids 2

3,307

New

17.0

25.3

4

Austin Powers in Goldmember

3,508

-105

13.1

167.8

5

Blood Work

2,525

New

7.2

7.2

6

The Master of Disguise

2,568

+3

5.1

23.8

7

Road to Perdition

2,211

-121

4.0

84.1

8

Martin Lawrence Live: runteldat

774

+22

3.2

13.2

9

My Big Fat Greek Wedding

723

+68

3.1

45.1

10

Stuart Little 2

2,382

-713

2.7

53.0

11

Men in Black II

2,076

-826

2.1

186.5

12

K-19: The Widowmaker

1,781

-853

0.9

32.9