2001: A Box Office Review
Part Four: April
By John Hamann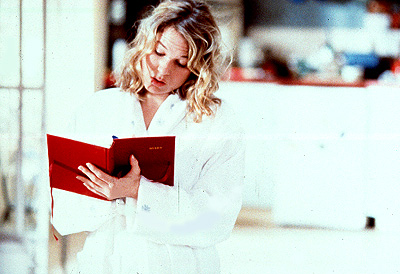 At the box office, April 2001 was a car accident that no one saw coming. Coming off a very successful February and March, April was a dark spot on what was trending toward a very excellent year for movie studios and exhibitors. While ugly and spawning the biggest flop ever, without this dog of a month, a record-breaking month of May would not have happened.
There were 14 wide releases in April of 2001, and of course, a semi-sequel was one of the few winners for the month. That sequel was Along Came A Spider, starring Morgan Freeman in his second stab at Detective Alex Cross. The first Alex Cross movie, Kiss the Girls, was sold as an Ashley Judd movie, and the second was sold as a Morgan Freeman movie. The first in the series, Kiss the Girls, opened to $13.22 million from 2,271 screens, the second opened to $16.71 million from 2,530 screens, proving that sometimes a successful character can open a film instead of a super-star actor.
Another film opened well over the April 4-6th weekend in 2001, and that was Blow, from the late, great director Ted Demme. Blow was about, well, Blow, and starred Johnny Depp and Penelope Cruz in a role that should have garnered Depp an Oscar nomination and Cruz a Razzie nomination. Blow didn't blow, and opened to $12.4 million.
Also in the first week of April were two big disappointments. The first was Pokémon 3, which, after two very successful films in that series, was a huge turkey. The first two films in the series grossed almost $70 million in their combined opening weekends, and the third could only manage $8 million. The lower than usual opening wasn't the story here though, it was the legs. The first two films had opened on more family friendly dates, November and July, and even with the great release dates, still had very poor legs. Pokemon 3 was no different, and after opening to just over $8 million, the film died four weeks later, grossing only $17 million.
The second large disappointment in the first week of April was probably a film you've never heard of: Just Visiting starring Jean Reno and Christina Applegate. This dog opened on 1,590 screens, with zero promotion, and managed to gross only $2.27 million in its opening weekend. That's a screen average of only $1,428. JV went on to gross a whopping $4.78 million, a little over 10% of the $40 million budget. What's really surprising is that of the films released in April, Just Visiting wasn't the biggest wipeout financially, that film was still three weeks away.
While a lot of moviegoers were anticipating big things from Josie and the Pussycats, the result wasn't scandalously bad but wasn't profitable for Universal either. Josie was almost the only blight for Universal over the year 2001. Josie and the Pussycats opened to $4.5 million, and could only manage $14.25 million in total sales and carried a cost of $22 million.
The best film released in April was Bridget Jones' Diary, starring Renée Zellweger, and is probably the only film released last April that will still be talked about this April. Bridget started small and strong, taking third spot over the April 13-15th weekend, grossing $10.73 million from only 1,611 screens. And like the central character of the film, the returns for this flick could not be stopped. The film lost only 5% in its second weekend, and never lost more than 30% from weekend to weekend until June 1st, more than seven weeks after its release. Bridget went on to gross $71.5 million, and then cashed in on $36.8 million in home video sales so far (this number will go way up if Renée manages to win the Oscar). Keep your eye out for word on the sequel.
What comes next is so dark and heinous, I'm not sure I should mention it.
Six films were released in the last two weeks of April. They all crashed and burned. Both Crocodile Dundee In LA and Freddy Got Fingered opened between $7 and $8 million, and quickly disappeared. Freddy dropped over 65% of its audience its second weekend, and could only inspire a total of $14.21 million. The racing flick Driven, with Sly Stallone, managed to open above $12 million, but was another victim of crash and burn after opening weekend. It ended up grossing $32.6 million. This is nothing compared to what's to come.
Town and Country, a Warren Beatty flick, flopped hard on the weekend of April 27, 2001. The huge star vehicle that consisted of Beatty, Garry Shandling, Diane Keaton, Andie MacDowell, and Goldie Hawn (just to name a few), opened to only $3.03 million from 2,222 screens. It went on to gross only $6.71 million. The cost of the flick has been somewhat up for the debate. Some sources say $80 million, some $90, and some even higher than that. And that's without prints and advertising (not that there was much advertising). Town and Country now has the great honor of being the biggest flop in history.
While the last two weeks in April were ugly, the two very slow weeks at the box office proved to be the perfect spawning ground for what was to come in the first mega-month of the summer movie season. The staggering number of films that flopped made exhibitors and movie goers even more hungry for The Mummy Returns and the soon to come Shrek.
<% sqlstr = "SELECT * FROM box WHERE y=2001 AND m=4 ORDER BY open DESC" max = 200 header = "Films that opened in April 2001" tstyle = "release" skin = "bop" x = Drawtable(sqlstr,max,header,tstyle,skin) %>