Identity Riles Anger
John Hamann's Weekend Wrap-Up
April 25-27, 2003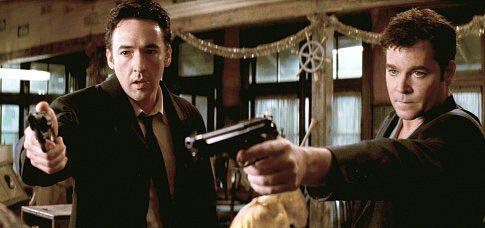 The April 25th -27th weekend closed the chapter on the Spring movie season, which often signals movie companies to dump their crap heading into the lucrative summer season. Keeping with tradition, four films came out of the gate this weekend, enjoying a free weekend before X-Men 2 takes 90% of the market in the first weekend of May. Would New Line's The Real Cancun surprise like Jackass did last year? Would Sony's stock woes continue with results from Identity? The simple answer to both questions is no.
On Thursday, Sony posted their year-end financial results and stockholders were not impressed. The massive company missed estimates by a mile, and the stock dropped from about $32 a share on Monday to about $24 on Friday. How odd it must have been for executives on the movie side of the company to watch the stock drop 25% while Anger Management ruled the box office roost for two consecutive weekends, and prepared to cross the $100 million dollar mark this weekend. Sony's earnings news release didn't blame the movie division, but a stock is a stock, and a 25% drop has to hurt executives and employees in the successful movie division. 2002 was a great year for the studio. They had obvious hits with Spiderman and Mr. Deeds among others, but also had successful smaller pictures with Panic Room, The New Guy, Master of Disguise and Maid in Manhattan. 2003 has been a tougher year so far with misses like Tears of the Sun, and the Travolta flop Basic, but it's been propped up by decent results from Darkness Falls (cost $7 million, total gross before video $32.4 million) and Anger Management (cost: $56 million, gross should hit $140 million easy). The better news for the company is twofold; Sony has a hot summer season coming up that includes Daddy Day Care, Charlie's Angels 2, Bad Boys 2, Hollywood Homicide and S.W.A.T. The other good news for Sony? Keep reading and you'll find out.
<% sqlstr = "SELECT * FROM box WHERE" sqlstr = sqlstr + " movie like 'Spider-Man' OR" sqlstr = sqlstr + " movie like 'New Guy, The' OR" sqlstr = sqlstr + " movie like 'Enough' OR" sqlstr = sqlstr + " movie like 'Mr. Deeds' OR" sqlstr = sqlstr + " movie like 'Men in Black II' OR" sqlstr = sqlstr + " movie like 'Stuart Little 2' OR" sqlstr = sqlstr + " movie like 'Master of Disguise, The' OR" sqlstr = sqlstr + " movie like 'XXX' OR" sqlstr = sqlstr + " movie like 'Stealing Harvard' OR" sqlstr = sqlstr + " movie like 'I Spy' OR" sqlstr = sqlstr + " movie like 'Adaptation' OR" sqlstr = sqlstr + " movie like 'Maid in Manhattan' OR" sqlstr = sqlstr + " movie like 'Darkness Falls' OR" sqlstr = sqlstr + " movie like 'Tears of the Sun' OR" sqlstr = sqlstr + " movie like 'Basic' OR" sqlstr = sqlstr + " movie like 'Anger Management'" sqlstr = sqlstr + " ORDER BY open DESC" max = 100 header = "Recent Sony Flicks" tstyle = "release" skin = "bop" x = Drawtable(sqlstr,max,header,tstyle,skin) %>

The last weekend in April has always been a tossup for studios. Should we jump the queue and release a summer blockbuster? Or, should we play it safe and either dump the crap in the schedule or just take the weekend off? Universal tried to get a jump on things in April 2000 with Flintstones in Viva Rock Vegas, but their play failed as the film opened to only $10.5 million from 3,040 opening weekend venues. The following year, Warner Bros. tried with Driven, the Sly Stallone racing movie. That film also flopped (but it could have been worse), grossing $12.2 million from 2,905 venues. Smaller films have either worked well or failed completely opening on this weekend. Along with Identity, another John Cusack film opened on this date in 1999. It was Pushing Tin, and it was a loud flop scoring only $3.6 million in its opening weekend. Other terrible flops? Warren Beatty's Town & Country ($3.0 open, cost $90 million) and Angelina Jolie's Life or Something Like It ($6.2 million opening weekend). With results like this, it's a wonder any studio touches this weekend, which makes it a bit of a surprise that four films opened in wide release this weekend.
Sony scored a victory again for their stock, and trumped history with their release of Identity, the new number one film at the box office that just outpaced Anger Management. Identity scored a large $17 million from 2,733 venues, generating a hot venue average of $6,220. Identity has a great cast of actors, but none of them except maybe Cusack could open a film on their own. The cast includes the aforementioned John Cusack, Alfred Molina, Ray Liotta, Rebecca DeMornay, Amanda Peet, and the always great John C. McGinley. For Cusack, Identity is his third best opening ever, behind Con Air and America's Sweethearts. Sony did a great piece of casting for this movie, as the entire lineup has been in some very big films. Identity's $17 million open is only the biggest for Alfred Molina. Amanda Peet beat out Identity in last year's Changing Lanes ($17.1 million open) and came close with The Whole Nine Yards ($15.9 million open).
Why the strong opening weekend? Identity had a great trailer and TV ad, which obviously penetrated the marketplace. Also, this weekend was ripe for a hit, as Anger Management was aiming for a third straight weekend on top, and most of last week's (and this week's) openers were soft, so the market was primed for a hit. Reviews were also somewhat promising, which has been a challenge for Hollywood lately. Of the 98 reviews at RottenTomatoes, 59 were positive, leading to a just-fresh rating of 60% (below 60% = Rotten). Cinemascores are very telling on a film like this. Under 21 females gave the film an A, their male counterparts gave a B+. Both males and females in the 21-34 range gave Bs, and older males gave a B- and older females gave a C+. The downhill pattern of the scores is interesting, as the viewer got older the score went down. I'd say the older folks are better at solving the mystery earlier in the film.
Second spot is of course also a Sony film; this time it's Anger Management from Joe Roth's Revolution Pictures. Anger grossed $16 million this week, keeping its nose above $10 million for the third weekend in a row. Anger dropped 36%, which is not bad considering the fact that it is coming off Easter weekend. Sony did increase the screen count by 86 to 3,656, maybe hoping to suck as much revenue out of this one before X-Men 2 gobbles up 3,500 venues next weekend. Anger is the fourth film released in 2003 to cross the $100 million mark behind Daredevil, How to Lose a Guy in 10 Days and Bringing Down the House. Its gross after three weekends is $104.5 million.
Last week's number two film drops one spot to third this weekend, as Disney's Holes grossed $13.0 million. Considering last week's holiday, Holes drop of 20% is incredible. Buena Vista decided to not widen the mini-hit much this weekend, adding only 18 screens to bring the total up to a still-small venue count of 2,349; the film had a per screen average of $5,517. The production budget number being thrown around is $20 million, so the film's total so far of $36.8 million is great news for the studio.
Fourth is Malibu's Most Wanted, a film I figured would finish in the lower tiers of the top ten after a debut in third last weekend of $12.6 million. Well, the Jamie Kennedy experience didn't do too badly, dropping 39% and grossing $7.7 million. Whatever the case, the film is now profitable (cost: $20 million, gross so far: $24.2 million) and looking good for overflow business against X2 next weekend.
In fifth is another new release, the Lions Gate film Confidence. Although it was another film with an all-star cast, Confidence couldn't fill seats like Identity. The caper flick grossed only $4.8 million in its debut weekend from 1,871 venues (average: $2,539). The James Mangold film features Dustin Hoffman and Edward Burns among many others, and reviewed very well. RT gathered 94 reviews and 68 were positive, leading to a fresh rating of 72%.
Bulletproof Monk, the MGM film that wasn't sold well enough, comes in sixth for the weekend. The Chow Yun Fat flick grossed $4.7 million in its sophomore weekend, dropping 46% compared to last weekend's gross of $8.7 million. Bulletproof Movement is going to be an expensive miss for MGM, who is reliant on box office to keep it afloat. The $58 million dollar picture has only grossed $19.2 million after two weekends.
Seventh goes to the quietly successful What A Girl Wants, WB's latest attempt at the teen girl market. The Amanda Bynes flick grossed $3.4 million in its fourth weekend and can thank a slow market for a gross of $33 million.
Phone Booth gathered only $3.1 million to finish in the eighth position this weekend. The Fox film dropped 45% in its fourth frame and brings its total to $40.3 million, not bad for a film that cost about $10 million.
Ninth proves that the entire state of Florida was busy this weekend as It Runs in the Family, starring three generations of Douglases, could only muster $3 million this weekend. Most likely made for a song, the MGM film will probably fade quickly as its Cinemascores were dubious at best. In the 21-34 category, males gave the film a D, while females gave an A. Its overall score was a B-.
Winding up at number ten is the reality show that wasn't, The Real Cancun, a spin-off of MTV's Real World. Thankfully the film tanked, grossing a minute $2.3 million. I hate to say it, but if Survivor found a way to do this, I'd probably pay to see it.
Out of the top ten are some big films, which shows again how ready the marketplace is for X2: X-Men United. Gone this weekend are Bringing Down the House and Chicago, two films that made more than $120 million, and two films that didn't come close to that figure, A Man Apart and House of 1000 Corpses. Opening along with the X-Men sequel next weekend is The Lizzie McGuire movie, with Cody Banks costar Hilary Duff.
Overall, the last weekend in April is way ahead of the same weekend last year. The top ten this year finished with $74.8 million, which is an 11.5% increase over last year's $66.2 million total.
Top 10 for Weekend of April 25-27, 2003

Rank

Film

Number of Sites

Change in Sites from Last

Estimated Gross ($)

Cumulative Gross ($)

1

Identity

2,733

New

17.0

17.0

2

Anger Management

3,656

+86

16.0

104.5

3

Holes

2,349

+18

13.0

36.8

4

Malibu's Most Wanted

2,503

No change

7.7

24.2

5

Confidence

1,871

New

4.8

4.8

6

Bulletproof Monk

2,955

No change

4.7

19.2

7

What a Girl Wants

2,540

-390

3.4

33.0

8

Phone Booth

2,113

-335

3.1

40.3

9

It Runs in the Family

1,207

New

3.0

3.0

10

The Real Cancun

2,261

New

2.3

2.3