Anger Wins, but BV Has Hole Card
John Hamann's Weekend Wrap-Up
April 18-20, 2003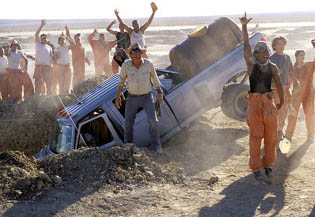 What an odd weekend for movies at the box office - patrons had a day off Friday, but some had a busy Sunday; some films opened on Wednesday, some Friday. It was the long Easter weekend, and three films opened wide, Holes from Buena Vista, Malibu's Most Wanted from Warner Bros. and Bulletproof Monk from MGM. To me, all three of these titles look perfect for the garbage bin of late August, but somehow they took in a combined $38.8 million over the three-day weekend. The good news for the box office is that while all of the opening titles finished in the top five, Sony's behemoth Anger Management hung onto the top spot.
Easter is one of those long weekends I just don't get. The date jumps around like the holiday's fabled bunny. Over the last five years, Easter has happened as early as March 31st and as late as April 23rd. Eighteen films have been released over those five years, with 2002's Panic Room holding the record for top Easter three-day gross at $30.1 million. The Matrix holds the sophomore spot, it opened on April 4, 1999 and had a $27.8 million three-day gross and a $37.4 million gross over its five-day opening. Other strong openings over the holy weekend: U-571 (2000) $19.6 million open, The Rookie (2002) $16.0 million open, City of Angels (1998) $15.4 million open, and Bridget Jones's Diary (2001) $10.7 million open. As you can see, there hasn't been a lot of strength at the box office over Easter Weekend through the past five years.
<% sqlstr = "SELECT * FROM box WHERE" sqlstr = sqlstr + " movie like 'Panic Room' OR" sqlstr = sqlstr + " movie like 'Rookie, The' OR" sqlstr = sqlstr + " movie like 'Clockstoppers' OR" sqlstr = sqlstr + " movie like 'Death to Smoochy' OR" sqlstr = sqlstr + " movie like 'Bridgit Jones''s Diary' OR" sqlstr = sqlstr + " movie like 'Joe Dirt' OR" sqlstr = sqlstr + " movie like 'Kingdom Come' OR" sqlstr = sqlstr + " movie like 'Josie and the Pussycats' OR" sqlstr = sqlstr + " movie like 'U571' OR" sqlstr = sqlstr + " movie like 'Love and Basketball' OR" sqlstr = sqlstr + " movie like 'Gossip' OR" sqlstr = sqlstr + " movie like 'Virgin Suicides, The' OR" sqlstr = sqlstr + " movie like 'Matrix, The' OR" sqlstr = sqlstr + " movie like '10 Things I Hate About You' OR" sqlstr = sqlstr + " movie like 'Out of Towners' OR" sqlstr = sqlstr + " movie like 'City of Angels' OR" sqlstr = sqlstr + " movie like 'Species 2' OR" sqlstr = sqlstr + " movie like 'Player''s Club, The' OR" sqlstr = sqlstr + " movie like 'Odd Couple 2' OR" sqlstr = sqlstr + " movie like 'My Giant'" sqlstr = sqlstr + " ORDER BY open DESC" max = 100 header = "Easter Openers" tstyle = "release" skin = "bop" x = Drawtable(sqlstr,max,header,tstyle,skin) %>

The number one movie of the weekend was again Anger Management from Sony and Revolution Pictures, and now it looks like this movie could be really big. Even with a opening in excess of $40 million last weekend, Anger dropped only 39% this weekend, grossing a whopping $25.6 million. For Adam Sandler, this is his best hold ever other than The Waterboy's 38% drop. Sony added 19 venues to Anger's run, which would have propped the drop up a bit; its venue count has now hit 3,570, and the film had an average of $7,170. Anger's total is now at $80.3 million, and should cross the $100 million mark next weekend.
In second spot we have our first new entry of the week, and it's Holes from Buena Vista Pictures. Holes flew way under the radar, but struck strongly, grossing a very powerful $17.1 million. The kid flick started its run with a relatively low screen count as well - only 2,331 venues, and it had a great average of $7,335 - the best in the top ten. From what I gather, Holes is based on a very successful kids' novel written by Louis Sachar, and is about a kid who is wrongly sent to Camp Green Lake, a juvy-type camp, where the warden (Sigourney Weaver) forces the troops to dig holes in the desert. From that description, how the heck did it open to $17 million? The film has no stars that can open a movie, marketing that wasn't designed to cross-over, and a release date that isn't known for big business. Whatever the case, Holes is a winner, and we'll have to see how it holds next weekend before making a final gross prediction.
Kids and adults alike love Holes. Cinemascores for the Under 21 set were both A+, and scores didn't suffer much as the viewer got older. Parents (over 35) gave the film an A- and an A, so the overall score was able to stay at an A. Reviews were also stellar. Of the 84 reviews collected, 63 were fresh, leading to a fresh rating of 75%. With the big open, Holes really has a great chance to excel. This gross should be newsworthy, so buzz building around it is probable.
Third spot goes to another movie that I thought would tank in a large way, Malibu's Most Wanted. Sold as Eminem meets Scary Movie, Malibu's Most Wanted was able to gross $13.1 million over the Friday-to-Sunday portion of the weekend. MMW debuted at a quiet 2,503 venues and pulled a three-day average of $5,250. One has to give credit to WB for promotion of this one. It was hard to avoid the dumb-looking TV ad, but the campaign worked. This film probably cost the least of the new releases, but you'll have to check back next weekend for a budget estimate.
Bulletproof Monk slides into fourth spot, way behind its also opening competitors. I thought Monk would be the number two flick this weekend behind Anger Management, but it wasn't to be, as the MGM curse continued. Monk grossed only $8.6 million from 2,955 venues, and had a so-so at best average of $2,910. Since its debut on Wednesday, Monk has grossed $11.7 million.
MGM is already having a tough year. They got out of the gate with A Guy Thing (budget $20 million, gross $15.5 million), then had Dark Blue (budget $15 million, gross $9.2 million), and had better fortunes with Agent Cody Banks (budget: $26 million, gross so far: $42.8 million). Cody Banks might have put them above the line for a while, but Monk's $52 million cost and probable gross of less than $30 million, will put them back down. MGM does have three sequels coming up: Legally Blonde 2, Jeepers Creepers 2 and Barbershop 2, which may bail them out for 2003.
Fifth spot marks the starting line for the also-rans as they grapple with each other for position on the chart. The five spot was a race between Phone Booth and What a Girl Wants, two films that debuted together two weeks ago. Phone Booth won the race this weekend, as the Fox film dropped only 26%, bringing in a gross of $5.7 million. The Colin Farrell flick has now grossed $35.1 million. WB's What A Girl Wants followed close behind with a gross of $4.8 million, down 24% from its gross one weekend ago. Its total sits at $27.5 million against a production cost of $25 million.
Seventh this weekend goes to Bringing Down the House, the comedy that won't quit (no matter how much we'd like it to). Bringing Down the House scored another $3.3 million this weekend, down 27% from last frame. The Steve Martin/Queen Latifah super-comedy has now grossed $122.7 million.
Sitting in eighth place is New Line's miss, A Man Apart. The Vin Diesel flick could only find $2.6 million over the long weekend, and now has a gross of $22.6 million.
Ninth belongs to Chicago, which is not so slowly cutting back on its dance card. Chicago grossed $2.5 million from a venue count that's been pillaged down to only 1,711. Still, the Miramax musical declined only 23% compared to last weekend. Chicago's total now sits at $160.7 million as Miramax announced this week that Chicago has become its highest grossing movie ever, outpacing Scary Movie, which grossed $157.1 million.
Tenth spot goes to House of 1000 Corpses, making a mind-boggling second appearance in the top ten. Corpses drew $2.4 million worth of flies this weekend, and has actually almost made its $7 million production budget back. It's gross has hit a high-flying $6.9 million.
Next week brings an interesting crop of movies to theatres, but the question is whether any of them will draw or not. I hate to say it, but the film that will likely score the best is The Real Cancun, a Real World spinoff that will test the Reality TV market on their willingness to leave the couch. Also opening are Confidence from Lions Gate, the John Cusack-starrer Identity from Sony and It Runs in the Family with Michael and Kirk Douglas.
Overall this weekend, the box office wasn't as hopping as one might think. If we compare the estimates for this weekend's top ten films to last Easter's debuts over the weekend of March 31st, last year comes out on top. 2003's top ten grossed $85.7 million over the three days, down a massive 21% over 2002's Easter gross of $109.3 million.
Top 12 for Weekend of April 18-20, 2003

Rank

Film

Number of Sites

Change in Sites from Last

Estimated Gross ($)

Cumulative Gross ($)

1

Anger Management

3,570

+19

25.6

80.3

2

Holes

2,331

New

17.1

17.1

3

Malibu's Most Wanted

2,503

New

13.1

13.1

4

Bulletproof Monk

2,955

New

8.6

11.7

5

Phone Booth

2,448

-41

5.7

35.1

6

What a Girl Wants

2,930

-34

4.8

27.5

7

Bringing Down the House

2,284

-546

3.3

122.7

8

A Man Apart

2,174

-321

2.6

22.6

9

Chicago

1,711

-403

2.5

160.7

10

House of 1000 Corpses

847

+302

2.4

6.9

11

Head of State

1,844

-412

2.3

34.7

12

Chasing Papi

585

New

2.2

3.0