Box Office Smiles with Anger
John Hamann's Weekend Wrap-Up
April 11-13, 2003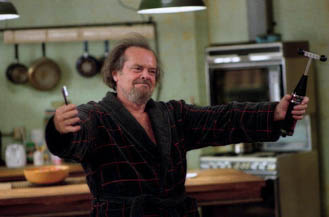 Depending on perspective, the April 11-13th weekend is either an eye-opening achievement for Anger Management or just a simple victory. The Adam Sandler/Jack Nicholson comedy has always been a lock to hit the number one spot; the question has been how big it would open. Well, it was huge, but it was slightly overshadowed by a small success that no one thought would happen: Rob Zombie's House of 1000 Corpses actually made the top ten.
Rubbed with a touch of action, the "buddy-comedy" genre is usually easy money. My earliest memory of the buddy comedy goes back to 1982, when Eddie Murphy and Nick Nolte put out 48 Hours, Eddie's first attempt at the genre. The success of 48 Hours was stunning. In 1982 dollars, the comedy grossed $75.9 million, which equates to about a gazillion of today's movie dollars. Other examples of big box office hits that fall into the genre: Bad Boys, Bulletproof (also with Adam Sandler), the Lethal Weapon series, the Men In Black series, the Rush Hour series, and the Shanghai Noon series. And of course there are buddy comedies that didn't work; I Spy and Bad Company would be two recent examples, The Cable Guy with Ben Stiller and Jim Carrey is infamous as is Ishtar with Dustin Hoffman and Warren Beatty, and we will always have the classic Spade/Farley films like Tommy Boy and Black Sheep.. My favourite buddy comedy? The under-appreciated Midnight Run with Robert DeNiro and Charles Grodin. If you haven't seen it, go rent it. You'll thank me.
<% sqlstr = "SELECT * FROM box WHERE" sqlstr = sqlstr + " movie like 'Bad Boys' OR" sqlstr = sqlstr + " movie like 'Bulletproof' OR" sqlstr = sqlstr + " movie like 'Lethal Weapon' OR" sqlstr = sqlstr + " movie like 'Lethal Weapon 2' OR" sqlstr = sqlstr + " movie like 'Men In Black' OR" sqlstr = sqlstr + " movie like 'Rush Hour' OR" sqlstr = sqlstr + " movie like 'Rush Hour 2' OR" sqlstr = sqlstr + " movie like 'Shanghai Noon' OR" sqlstr = sqlstr + " movie like 'I Spy' OR" sqlstr = sqlstr + " movie like 'Bad Company' OR" sqlstr = sqlstr + " movie like 'Cable Guy, The' OR" sqlstr = sqlstr + " movie like 'Tommy Boy' OR" sqlstr = sqlstr + " movie like 'Black Sheep'" sqlstr = sqlstr + " ORDER BY open DESC" max = 100 header = "Buddy Comedies" tstyle = "release" skin = "bop" x = Drawtable(sqlstr,max,header,tstyle,skin) %>
It's no surprise at all that Anger Management is the number one film of the weekend. The Dynamic Duo of Sandler and Nicholson tore apart the April box office record book as the laugh-fest grossed a powerful $44.5 million this weekend, putting the shine back in the box office. The Sony film opened at an ultra-wide 3,551 venues this weekend, the second widest opening ever for a comedy, just behind Austin Powers in Goldmember, which holds the record with 3,613. Anger's venue average was $12,531, which should make theater owners/corporations happy all across our fair continent. Other records for Anger Management: biggest open for Jack Nicholson (which previously was Batman at $40.5 million in 1989), biggest open for Sandler (previously was Big Daddy at $41.5 million), and biggest open for now huge director Peter Segal (was Nutty Professor 2 at $42.5 million). A couple of records it didn't break were for top gross for a buddy comedy (still is Rush Hour 2 at $67.4 million) and top opening for Sony (still is Spiderman with $114.8 million). Anger Management has a budget of $56 million before its extensive marketing campaign, so to come so close to making the expensive production budget back in a weekend is great news for Sony and Revolution Studios.
How was critical reaction to the teaming of Sandler and Nicholson? I'd say fair at best, but that's not the worst news. RottenTomatoes gathered 105 reviews, and of those, only 53 were positive, earning the film a rotten score of 50%. But as I said, that's not the worst news. Cinemascores were horrible. Females over 35 gave the film a D+, and males in the same bracket only scored Anger a C+. This was balanced off a bit by an A- from males under 21, and the film averaged a C+. For comparison, let's look at the scores of Austin Powers in Goldmember. The scores are almost identical, but Austin Powers got the better average score, although it got a similar A- from males under 21, a C+ from males over 35, and a C from women in the same bracket. Goldmember opened to $73.1 million, but only grossed $213.1 million overall, leading to a soft 2.9 overall multiplier. Yes, some of that softness is due to the sequel effect, but it also shows that word of mouth can have an extreme effect on box office.
Second spot goes to a film that affirms the rule about word-of-mouth and box office, and that film in Phone Booth. Phone Booth had some rough Cinemascores last week as well. It's average score was a C+, and questionable word-of-mouth led to a 50% drop from its top spot gross last weekend. The 20th Century Fox film grossed $7.5 million in its second weekend from 2,489 venues; it had an average of $3,025. Whatever the gross, this film is extremely profitable for Fox. The film cost only $10 million to make, and probably another $15 million to market it, and so far the thriller has grossed $26.6 million.
What a Girl Wants dropped to third spot this weekend. The Amanda Bynes Facts of Life Go to Europe clone grossed $6.7 million this weekend, down 41% compared to its open last weekend. The Warner Bros teen flick has now grossed $20.4 million, not bad against a production cost of about $25 million.
In at fourth this weekend is Bringing Down the House, hanging around in the top five for the sixth straight weekend. The high-grossing comedy seems to be losing steam as it dropped 45% this weekend, pulling in a gross of $4.6 million. Bringing Down the House had some things working against it this weekend; the same genre/huge opening by Anger Management might have stolen some potential viewers, and Buena Vista reduced the screen count by 80 heading into the weekend. So far, House has grossed $117.7 million, putting it in the top 200 highest grossing movies ever. It should end up with about $130 million, with a production cost somewhere between $20-$30 million.
Vin Diesel and A Man Apart get the award for biggest drop of the weekend. The New Line flick tumbled hard this weekend, dropping 60% with a second weekend gross of $4.5 million. That's an ouch of a very large degree for the successful studio, as the Vin pic cost them $36 million, and it only has a gross so far of $18.3 million with a final gross of $25 million being its longshot number.
Sixth spot goes to Head of State. Head of State got hammered hard by Anger Management, as it dropped 53.5% in its third weekend, grossing $4.0 million. The Chris Rock/Bernie Mac DreamWorks picture has now grossed $30.9 million against a budget of $35 million.
Seventh is a big surprise. Rob Zombie's House of 1000 Corpses rose from the ashes this weekend with little push and little marketing, but was still able to gross $3.4 million from only 595 screens. That equates to a $5,714 venue average, which is second best in the top ten behind Anger Management. 1000 Corpses is from rocker Rob Zombie; the lead singer of White Zombie directed this $7 million dollar flick way back in May 2000 and it had a bumpy ride getting to the screen. Universal was the first studio to control this feature, but after viewing some footage, they dropped it over fears of the dreaded NC-17 rating. Zombie then shopped the film around, and it ended up at shock studio Lions Gate, who braved Catholics with Dogma and Columbine fearers with "O'. Even with a low budget, don't think that Zombie and Lions Gate are going to get rich off this one. Expect it to be out of the top ten next weekend as it struggles to make its budget back.
Eighth this weekend is Oscar winner Chicago, which is slipping pretty quick now. Chicago grossed $3.3 million this weekend from 2,114 venues (down 281 compared to last weekend) and had a drop of 35.5%. So far, the Miramax musical has grossed $156.9 million domestically and over $85 million internationally, and will make a lot more on DVD.
Down to ninth is the movie mistake The Core. The $85 million dollar picture grossed only $3.2 million this weekend, bringing its tiny gross up to $25.7 million. Whoops!
Finally, in tenth is Basic with John Travolta. Basic only scored $2.2 million in it third and final weekend in the top ten. Its poor total has hit $23.8 million.
Next weekend brings the Easter Bunny with a basket of movie treats. On Wednesday, Bulletproof Monk with Chow Yun Fat opens, along with Chasing Papi from Fox, although it will most likely be fairly limited. On Friday, the dumb-looking Malibu's Most Wanted opens, along with Disney's Holes, another film aimed at the teen market. To win the weekend, one of these films will have to gross at least $30 million to get by Anger Management, and I'd say that's doubtful at best.
Overall, Anger Management stops a the trend of down weekends at the box office. This year, estimates for the top ten films came in at $84.8 million, up 7% over last year's $78.7 million.
Top 12 for Weekend of April 4-6, 2003

Rank

Film

Number of Sites

Change in Sites from Last

Estimated Gross ($)

Cumulative Gross ($)

1

Anger Management

3,551

New

44.5

44.5

2

Phone Booth

2,489

+8

7.5

26.6

3

What a Girl Wants

2,964

No change

6.7

20.4

4

Bringing Down the House

2,830

-80

4.6

117.7

5

A Man Apart

2,495

+36

4.5

18.3

6

Head of State

2,256

+101

4.0

30.9

7

Rob Zombie's House of 1000 Corpses

595

New

3.4

3.4

8

Chicago

2,114

-281

3.3

156.9

9

The Core

3,019

No change

3.2

25.7

10

Basic

2,246

-630

2.2

23.8

11

Agent Cody Banks

2,007

-324

1.7

42.5

12

Piglet's Big Movie

1,859

-162

1.4

19.0