Schumacher Phones It in and Wins
John Hamann's Weekend Wrap-Up
April 4-6, 2003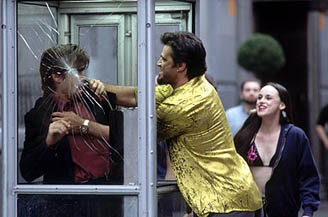 Here we are, the month of April. The Oscars are gone, March Madness is in its final weekend, and film choices aren't great, but they aren't terrible either. Three high profile releases hit theatres this weekend, and all scored more than $10 million. What a Girl Wants looked to be the queen of the ball heading into the weekend as the teen demographic got its first girl flick since maybe Maid in Manhattan. For men, Vin Diesel's first major non-summer, big budget test hits screens this weekend, along with Colin Farrell's latest effort, Phone Booth. Could Vin make Man work in April? After Batman and Robin and 8MM, could Joel Schumacher direct a film that wasn't a flop?
Things were interesting last April. There was no war, and business was good at the cineplex. Over the April 4th weekend in 2002, four films finished with double digits, but most were holdovers: Panic Room did in excess of $18 million in its second weekend and was followed by Ashley Judd's High Crimes, which was actually a bit of a miss as it opened to "only" $14 million. Ice Age grossed over $13 million in its fourth frame, and The Rookie grossed $11.7 million after only dropping 27% in its second weekend. As for this year, we knew going in that all of the films that grossed over $10 million last weekend weren't going to repeat that feat this weekend, so keeping up with 2002 was destined to be tough.
In a story on Friday by the Associated Press about the affect war is having on entertainment, Jim Tharp of DreamWorks said, "There's strong evidence that comedies are on people's minds." That philosophy didn't hold true this weekend as Joel Schumacher's Phone Booth was embedded in North American minds. The high suspense flick grabbed the top spot, grossing an excellent $15.0 million from 2,481 screens and had an excellent average of $6,056. A great trailer and fantastic TV ad put Phone Booth in the top of mind position and it won the weekend. The topper for Phone Booth's win may have been the Kiefer Sutherland voiceover in the TV ad, as that voice has sunk into the consciousness of viewers of 24, Fox's very popular real-time TV show.
The lead up to Phone Booth's release date is an interesting story. The film was shot way back in November 2000, and at one time had Will Smith, Jim Carrey and Brad Pitt interested in playing the male lead. Schumacher finally settled on Farrell, who appeared in the director's art film (and his best film in a decade), Tigerland. After the film was shot, it was screened at the 2002 Toronto Film Festival and Fox set a release date of November 15, 2002. Then tragedy struck with the sniper shootings in the Washington, D.C. area, and Fox delayed the release yet again. Whatever the release date, this film is profitable already. Phone Booth cost only $10 million to shoot, so a $15.0 million open and a potential total gross of $50 million will make Fox execs very happy. Phone Booth makes Fox a perfect three for three in 2003, as Just Married, Daredevil and now Phone Booth have worked to different degrees of success.
Critically, Phone Booth is quite a change for Joel Schumacher. Phone Booth got high ratings at RottenTomatoes - of the 109 critics that reviewed the film, 80 liked it, resulting in a 73% fresh rating. Somewhat surprising, though, are Phone's Cinemascores, as they came in much lower than what the reviews might indicate. Under 21 males gave the best score, a B+, but audience reviews fell sharply after that. The lowest scores came from females over 35. That bracket gave the film the little seen C-, and the film ended up with an average score of C+, which isn't that great in Cinemascore land.
Second spot this weekend goes to the teen-girl flick What a Girl Wants, with the supposedly up-and-coming Amanda Bynes. The Warner Bros. comedy grossed $12.1 million this weekend from 2,964 venues, scoring a fairly good venue average of $4,069. The film became a small topic of discussion this week as WB chose to change its marketing from Bynes giving the peace sign to something more geo-politically correct. Newcomer Bynes starred next to Frankie Muniz last year in the surprise hit Big Fat Liar (total gross: $47.8 million), and is the voice of Taffy on Rugrats. Her Nickelodeon following paid off this weekend for WB, as this flick most likely had a budget in the area of the age of its young star.
Third this weekend goes to Vin Diesel's A Man Apart, directed by F. Gary Gray. Vin couldn't make this non-summer action flick work as well as Fast and the Furious and xXx as it grossed $11.2 million from 2,459 venues. Like Phone Booth, A Man Apart was shot in late 2000 on a budget of $36 million, and saw a series of delays before making it to the local cineplex. Critics were merciless. Of the 86 reviews gathered, only eight were positive, leading to a fresh rating of only 9%. What's worse is that RT has a Cream of the Crop section at their site made up of the supposed "best" reviewers, and it got zero positive reviews from those critics. Did Vin fans like the film more? You know, it baby. At Cinemascore.com, scores were fantastic compared to the critical drubbing it received. The highest scoring demo was from females under 21, which gave the film an A. Its average came out at a B+, which shows that the Vin fan club showed up on Friday night.
Down in fourth is last weekend's big winner, Head of State. The Chris Rock/Bernie Mac political comedy held quite well this weekend, losing a not bad 35% compared to last weekend. The DreamWorks comedy grossed $8.8 million, which brings its total up to $25.3 million. The film still has a little work to do before it makes it to the profit column - the comedy cost $35 million to make before marketing costs.
Knocked down to fifth this weekend but still going strong are Steve Martin and Queen Latifah in Bringing Down the House. In its fifth weekend, the $100 million plus comedy grossed a still-strong $8.5 million, dropping only 32%. The Buena Vista release has now somehow scored a fantastic $111.3 million. How can word-of-mouth be as good as the numbers indicate for such a bad film?
Sixth this weekend is The Core, the big sci-fi flick that couldn't. This monster cost a whopping $85 million to make, and it now looks like Paramount is going to eat most of it. After opening to $12 million, the disaster pic could only find $6.3 million in its second weekend, equaling a massive drop of 48%. The total so far is a painful $20.9 million. Somebody at Paramount is going to get turfed for this one.
In at seventh is John Travolta's Basic, after coming off a ho-hum-at-best opening weekend. Basic could only find $5.4 million this weekend from 2,876 venues, leading to a not-so-good second weekend average of $1,878. It looks like this Travolta flick is Basically toast; it dropped 53% and so far only has a gross of $20 million. John, call Tarantino and get to work on The Vega Brothers - fast.
Landing in eighth is Best Picture winner Chicago, as its popularity begins to wane somewhat after the big show two weekends ago. Chicago grossed $5.3 million from 2,395 screens (306 less than last weekend) and dropped 26% compared to the previous weekend. The best news for Chicago and Miramax is the total gross of $152.2 million - can there be a Chicago 2? Are Michelle Pfeiffer and Maxwell Caulfield available?
Agent Cody Banks comes in at ninth this weekend. The junior spy flick took in $3.7 million in its third weekend, and now has a total of $40.1 million.
Finally, Piglet's Big Movie is in at tenth. The kid flick grossed $3 million, bringing its total up to a so-so $17.0 million.
The lone film up for discussion next weekend is Anger Management from Sony, and by the looks of the marketing, it could set the record for opening gross in April, currently held by The Scorpion King. The Mummy spin-off grossed $36 million over its opening weekend last year. Also opening next weekend is the first new film for James Cameron since Titanic; the director still has his head under water with Ghosts of the Abyss, which opens at both IMAX and regular theatres next weekend. Overall this weekend box office is down again. The estimates for the top ten came in at $79.2 million, down 16% from last year's top ten tally of $91.3 million.
Top 12 for Weekend of April 4-6, 2003

Rank

Film

Number of Sites

Change in Sites from Last

Estimated Gross ($)

Cumulative Gross ($)

1

Phone Booth

2,481

New

15.0

15.0

2

What a Girl Wants

2,964

New

12.1

12.1

3

A Man Apart

2,459

New

11.2

11.2

4

Head of State

2,155

+4

8.8

25.3

5

Bringing Down the House

2,910

No change

8.5

111.3

6

The Core

3,019

+2

6.3

20.9

7

Basic

2,876

No change

5.4

20.1

8

Chicago

2,395

-306

5.3

152.2

9

Agent Cody Banks

2,331

-455

3.7

40.1

10

Piglet's Big Movie

2,021

-63

3.0

17.0

11

Dreamcatcher

2,360

-585

2.6

30.2

12

The Pianist

790

+17

2.1

26.6