Sexy Beast DVD Review

By Walid Habboub
March 19, 2002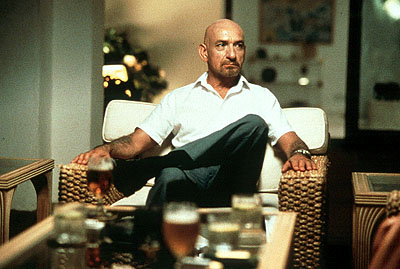 It is quite easy to see why Ben Kingsley has been nominated for an Academy Award® for his excellent performance in Sexy Beast. It certainly is the best part of a very low-key film that relies on subtlety and a flat tone to tell its story. It is when the movie explodes that is it the most interesting and unfortunately, it delivers very little bang outside of Kingsley's performance.
The brilliance of Kingsley's performance is in bringing across the lunacy of his character through subtle gestures and change of tone in his voice. It is not necessary for him to do anything crazy nor is it necessary for other characters to recount any contrived stories that show how unbalanced his character is. It all comes through in the way he carries himself, his demeanor, his aura, his eyes and every fiber in his being. You truly believe that Kingsley is Don Logan and you thoroughly believe that he is a man who you do not want to cross paths with. And when he does blow up, he does it with a controlled rage that is all too realistic.
The rest of the cast does an admirable job with what they are given. The challenge for them is to stay composed and focused with such a larger than life character is on screen with them. And it is their reactions to him that help convince the viewer of how dangerous he is and of that, they do a very good job. Unfortunately, they are not given much to do when Don Logan is not involved and that is where the movie stalls.
The direction is quite tight as the use of music, subtle humor and irreverent imagery makes the film quite unique. The film is quite ambitious in some places but that ambition seems a bit misdirected as it strays from the central narrative. This is to be expected from director Jonathan Glazer, who made a living directing stylish and very popular music videos before this, his first foray into feature films. Glazer has a great handle on framing a pretty picture and presenting some really interesting visuals. His use of the camera is at times wonderful and attention to detail seems tight and the only real complaint about the direction is the pacing of the film.
Overall, the film is definitely worth seeing. It is original enough and interesting enough to warrant a first viewing. Kingsley alone makes it worth the money.
The DVD itself is decent with a few nice features. There is a quite interesting commentary track by Kingsley and producer Jeremy Thomas. Most effective is seeing Kingsley arrive on screen and hearing him normally versus his Don Logan character; quite an eerie experience. The behind the scenes featurette while interesting is run-of-the-mill and offers a standard behind the scenes look at the film. Additional features include International Trailers and TV spots as well as trailers for upcoming new releases.
The DVD is decent overall, though you might need to use subtitles for some parts of the movie as the accents are laid on pretty thick. The digital transfer is excellent and the sound quality is respectable though the DVD only provides a standard set of extra features. A strong debut for a young director and a well-deserved Oscar nomination performance from Ben Kingsley make this DVD very interesting and quite worthwhile.