Phone Booth
Review by Walid Habboub
October 17, 2002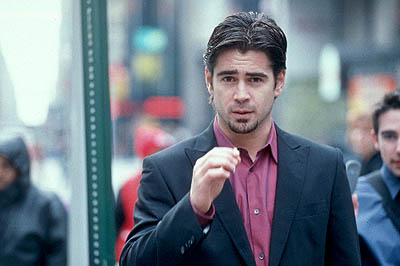 The most intriguing question about Phone Booth - after the obvious "Why the hell am I in a movie theater watching a Joel Schumacher film?" - is which Joel Schumacher made this film? Is it the star-maker who makes tight, intense and somewhat personal films like Falling Down, St. Elmo's Fire, The Lost Boys and Flatliners, or is it the schlock-master who gave Batman nipples and gave us films such as Bad Company and 8MM? It's usually easy to tell which Schumacher shows up by looking at a film's budget; the smaller the budget the more likely that the film will be good. Phone Booth, Schumacher's latest effort, continues that trend.
The premise of the film is that Stu Shepherd, a typically sleazy publicist who could very well be mistaken for a Hollywood agent, is held hostage in a phone booth by a sniper who is out to make Stu's life a living hell under the guise of helping him find redemption. This is the set-up we get in the first five minutes of the film which continues from there, almost in real time, and unfolds at a brilliant pace. The strength of the film is that it takes a good premise and slowly unfolds the what and how before it gets to the true mystery of why.
Colin Farrell stars as Shepherd, a man who's fast-talking professional lifestyle has still not fully crossed over to his personal life. Farrell does an excellent job in the film, as his reactions to his situations are very believable. He keeps his character realistically afraid and stays grounded throughout the picture. The other main character in the film is Kiefer Sutherland, who plays the sniper keeping Shepherd hostage. His voice acting is chilling and scary enough to make you feel truly frightened for Shepherd. In what is basically a two-man piece, both actors deliver, especially Sutherland, who does not benefit from any true screen time.
Coming in at just under an hour-and-a-half, the film is perfect in length. Schumacher never falls into unnecessary exposition. He realizes that the center of the piece is the situation that the main character is in and how others feel about it. One of the film's strengths is its ability to make us sympathize with the character's situation. Early on, the film sets up a real element of danger, and when that is mixed with Sutherland's excellent acting and how we hear his voice like he is in the room next door, the film does truly offer up a taut and suspenseful atmosphere.
Phone Booth has been receiving some press recently about its potential delay due to the real-world sniper killings in the Washington/Maryland area, but it is accurate to say that the film will bear little resemblance to real life except in the method of madness being used. Without giving too much away, there is a motivation for Sutherland's sniper character and what he does is not a random act of madness. Terror is what is at the heart of this film, and that is something that people in North America have become accustomed to over the last year, so it would be unfair to the film to receive any sort of negative criticism due to its subject and timing.
Ultimately, Phone Booth is a popcorn thriller that will keep you on the edge of your seat for 90 minutes. The film unravels its mystery economically and entertainingly. And while it might not be as clever as Panic Room, it's certainly less elaborate and more personal. By the end of the film, it is obvious that the good Joel Schumacher shows up and that's such a rare occurrence that it's almost worth the money just to see it happen. Either way, Phone Booth delivers, and audiences should not be disappointed once they eventually get to see the film.