Rings continues reign at #1;
A Beautiful Mind builds steam
Walid Habboub's Weekend Wrap-Up
January 6, 2002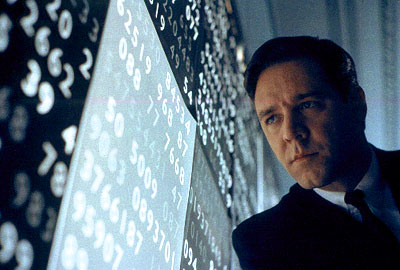 This weekend will be the demarcation line that will distinguish Lord Of The Rings from being a mere blockbuster to being an all time mega-hit. And with New Line watching and waiting intently, it looks like Rings will remain a blockbuster and not reach mega-hit status. With an estimated weekend draw of $23 million, Rings saw a drop of 41% from the previous weekend. While this puts Rings on track to almost fully recover New Line's total investment in the Lord Of The Rings trilogy, it does point to normal legs for what will most probably end up being the second biggest movie of 2001.
The drop is quite severe and is probably not what New Line was hoping for. When compared to last year's big holiday steamroller, Cast Away, Rings' weekend-to-weekend drop is almost 70% percent more. Really, anything between 20 and 30% would have been solid and anything under 20% would have been tremendous but as it stands, the numbers are normal at best.
Rings is by no means dead at the box office; far from it. In addition to having wonderfully phenomenal reviews across the board, it is also a contender for many major film awards and will likely stay around for a long time. This is a significant separator between it and Cast Away and it is a trait it shares with Titanic though a repeat of Titanic's staying power is surely impossible. Overall, this has been a tremendous year for New Line as Rings will be its second $200+ million film, a first ever feat for a single studio (notwithstanding 1999 when two branches of Disney, Pixar and Buena Vista, each released a $200 million movie; Toy Story 2 and The Sixth Sense respectively). New Line will follow up its success with an even more successful year next year with the releases of Blade 2, Austin Powers: Goldmember and Lord Of The Rings: The Two Towers.
Following Rings in second place is Ron Howard's critically acclaimed A Beautiful Mind, which debuted at 1,855 venues and pulled in an estimated $17.02 million making it the highest new wide release this weekend. Mind had been slowly platforming its release and has been picking up steam through word of mouth and critical buzz, including many major award nominations. All this has paid off as it now looks to reap the rewards of being a well-made film. While its release pattern seems to mirror that of Crouching Tiger, Hidden Dragon, its increase wasn't as dramatic as when Dragon finally made the huge expansion jump.
This is certain to be the first of a many expansions for Mind as the early Oscar buzz will most likely keep the film around for a while. While this will probably be the most dramatic rise on a weekend-to-weekend basis, the film will likely lose little steam as it is most assuredly on its way to a north of $100 million total. The film will most likely join what is quickly becoming a Hollywood holiday tradition; a small film that platforms and rides the wave of critical acclaim and buzz to gross excellent numbers. The list includes the following films:

<% sqlstr = "SELECT * FROM box WHERE movie like '%crouching tiger%' OR movie like '%as good as it gets%' OR movie like '%english patient%' " sqlstr = sqlstr + " OR movie like '%shakespeare in love%' ORDER BY open DESC" max = 100 header = "Platforming Releases" tstyle = "release" skin = "bop" x = Drawtable(sqlstr,max,header,tstyle,skin) %>

Holding strong at number three this weekend is Ocean's 11, the George Clooney, Brad Pitt, and Julia Roberts starrer. Continuing its excellent hold, it grossed an estimated $11.76 million, dropping 30%. The total for the film now stands at $152.68 million and it is well in its way to $175 million, a tremendous success for all involved.
As January rolls in, no film will likely be as sharply hit as Jimmy Neutron: Boy Genius. Kids' films do not tend to do well in January and Neutron has already been experiencing a bit of a slide already. With its current total at $62.52 mill, Neutron will likely finish at $90 million. In fifth is another movie that expanded into semi-wide release, The Royal Tenenbaums. Bringing in a total of $8.78 million, Tenebaums had a strong per screen average of $11,686. The film has been getting lukewarm reviews and less than favorable word of mouth and will most likely not experience any great jumps when it expands further into the new year. This weekend's performance is very strong, however, and the per screen average cannot be dismissed. The studio should be very happy as the total for Tenebaums is at $21 million after this weekend. Considering that the budget for Tenebaums was the same $21 million, the film can be considered a hit.
Ali comes in at number six this weekend, grossing $6 million with a weekend-to-weekend drop of 48%; a severe drop that does not bode well for the film's future. Considering that the film has only been in theatres for 13 days, it is certainly dying away fast. At this pace, Ali will struggle to reach $60 million, a tremendous disappointment considering its $100 million budget and the talent attached to the film.
Vanilla Sky's recent strong performance seems to have taken a turn for the normal (ironic considering the film), and the film is falling once again into the familiar weekend-to-weekend drop-off pattern. At this point, it is difficult to say whether the film can struggle to reach the magical $100 mill mark and though it seems doubtful, Paramount might give one final push for it as that coveted mark is a matter of ego and shareholder confidence.
The only romantic comedy on the list this weekend is Kate And Leopold which grossed $6.7 million. The Hugh Jackman/Meg Ryan starrer has grossed $31.1 million and will probably end up just short of $40 million as a box office total. This is quite a disappointment for Meg Ryan who has seen her last few movie fail miserably, no matter what the genre. Has Ryan lost her star stature or is this merely a reflection of some truly low-quality films?

<% sqlstr = "SELECT * FROM box WHERE movie like '%Kate and Leopold%' OR movie like '%proof of life%' OR movie like '%hanging up%' ORDER BY open DESC" max = 100 header = "Recent Meg Ryan Films" tstyle = "release" skin = "bop" x = Drawtable(sqlstr,max,header,tstyle,skin) %>

Harry Potter has become the tenth movie in history to eclipse the $300 million domestic gross mark and seems to be aiming to overtake The Lion King as the highest grossing kids' film of all time. The Disney release finished at $312 million, a mark that is certainly achievable for the little wizard from Hogwarts. You can bet that Warner Brothers will do its damndest to wrestle that mantle away from Disney.
Finishing tenth this weekend is another kids' film, Monsters, Inc. This Disney hit now sits at just shy of $245 million, so it should pass the total final box office of Toy Story 2 within the next two days.
Finishing outside the top ten is the Gary Sinise film Impostor which grossed $3.2 million on what was a moderate screen count of 1,877 screens. The often-moved film debuted miserable and will fight with Glitter for title of box office joke of the past several months. Next week sees the debut of Orange County, the MTV film which looks to corner the teen market. The fight for the top spot should be an interesting one as A Beautiful Mind and Lord Of The Rings will do battle to see who can stay number one. When you factor in Mind's potential staying power and Rings' drop, the fight should be very close.

Top 12 for Weekend of January 4-6, 2001

Rank

Film

Number of Sites

Change in Sites from Last

Estimated Gross ($)

Cumulative Gross ($)

1

Lord of the Rings: Fellowship of the Ring

3,381

+22

23.00

205.50

2

A Beautiful Mind

1,853

+1.328

17.03

38.24

3

Ocean's 11

2,770

-305

11.77

152.68

4

Jimmy Neutron: Boy Genius

3,151

No change

9.20

62.52

5

The Royal Tenenbaums

751

+460

8.78

21.00

6

Ali

2,446

No change

7.60

50.06

7

Vanilla Sky

2,842

+98

7.40

81.36

8

Kate and Leopold

2,467

+8

6.70

31.10

9

Harry Potter and the Sorcerer's Stone

2,681

-505

6.10

300.57

10

Monsters, Inc.

1,425

-276

4.02

244.76

11

How High

1.273

+2

3.46

24.33

12

The Majestic

2,361

No change

3.39

23.66