Weekend Forecast For October 5-7, 2001
By Walid Habboub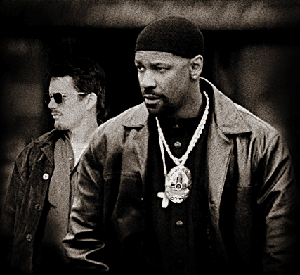 Before I get into my expectation for this weekend's openers, I'd like to touch on the state of the box office these past few weekends. While it's based simply on opinion, I feel that ever since the events of 9-11, the box office has been inflated and has seen a sharp increase as people head to the cinemas for a bit of escapist fun. The strong performances of last week's openers was not unprecedented but was a very sharp performance indeed. Considering that the marketing pushes pale in comparison to those of summer blockbusters, I would guess that the respective studios are more than happy with the outcome of the September 28th weekend. I believe that trend will continue this weekend as we are about to see possibly the 2nd biggest opener in October history.
I need to qualify that first. The biggest October opener in history is 2000's Meet The Parents, which opened to $28.6 million during the first week of October. A distant second, however, is Antz with only $17.2 million, so Training Day only has to beat that number to come in second overall for the month of October. With the great marketing and strong star power, Training Day can very easily achieve that mark.
Originally scheduled for release on September 21st, Training Day was moved back two weeks due to the tragedies of 9-11. My initial thought regarding the film was that it would get an extra two weeks of heavy advertising in addition to the month-long campaign it had enjoyed. The very effective ads were abundant throughout September but their serious tone and violent feel probably made the studio shy away from continuing the heavy push. Budgetary constraints were likely a factor as well but nevertheless, my expectations, as optimistic as they are, were much higher before the advertising had waned a bit.
As it stands, Training Day has what I think to be an incredibly original and effective advertising push. The film has also been getting rave reveiws after its debut at the Toronto International Film Festival. Combine that with the star power of Denzel Washington and a heavy appeal to the African-American community and what we have is a a potential for a very strong October opening that will be aided by an entertainment hungry public. I would expect an opening of $22 million and would not be surprised if it opened higher and gave Meet The Parents a run for its money.
Among new openers, Serendipity and Joy Ride will likely battle for second place this weekend. It's difficult to guage how the public will react to a romantic comedy. Serendipity will be the first movie to test these waters in a healthy, but still unpredictable, box office climate.
The John Cusack-starrer has really picked up momentum late in the game but the genre doesn't usually perform well and I would consider this film a wild card at this point. Cusack is not a tremendous draw even though he has a strong fan base and the advertising has been quite incosistent with really no tone set on whether the film focuses on romance or on comedy. Still, it might still be what the doctor ordered for a still grieving public.
I would expect Serendipity to not blow away the box office and pull in $11 million.
Joy Ride is not such a wild card. The film looks like your basic, creepy, teen thriller and the early reviews indicate that it's not a very good one at that. While the reviews are a personal disappointment, me being a big John Dahl fan, the quality, or lack thereof, is reflected in the advertising. The lack of star power reallly hurts as well and with the recent market saturation with teen thrillers, Joy Ride should not stick out and do any real damage in the box office race.
I would expect Joy Ride to limp in with approximately $6 million.
The final entry this weekend is Disney's Max Keeble's Big Move, a live-action kids movie. The profile of the movie when combined with time of release sounds like a death knell and sends up red flags all over the place.
It's always a challenge for a kids movie that isn't animated or based on an established franchise to do well. It's doubly difficult to do it during the fall period. As previously mentioned, Antz did quite well in October but Antz was a CGI animated kids film and argument can be easily made that it could have done much better if it opened during a different time. Max Keeble is not Antz and I think it will be very difficult for it to find an audience at this time.
The film itself looks weak and uninteresting. The low screen count would indicate that expectations for this movie are not high and I really would not be surprised if it bombed. I would expect Max Keeble to mouse its way to a $6 million opening.
Forecast: Weekend of October 5-7, 2001

Projected
Rank

Film

Estimated Gross ($)

1

Training Day

22.0

2

Serendipity

11.0

3

Don't Say a Word

10.0

4

Zoolander

8.5

5

Hearts in Atlantis

6.5

6

Joy Ride

6.0

7

Max Keeble's Big Move

6.0