Holiday Box Office Analysis
By Walid Habboub
December 30,2003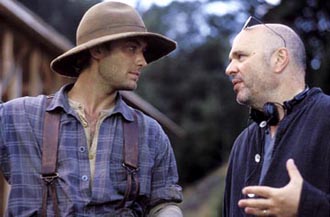 Monday marked the beginning of that critical weekday gap between Christmas and New Year's Day, with kids' films emerging as the big winners.
Naturally, The Lord of the Rings: Return of the King finished first on Monday with a weekday take of $10.49 million. This represents a day-to- day drop of 26.1% and points to solid legs for the remainder of the week. The film's total box office now stands at $232.76 million.
Putting this number into perspective, films will usually drop an average of 70% between their second Sunday and second Monday. Finding Nemo, this summer's behemoth, dropped 69% during that time span; Pirates of the Caribbean, the other summer juggernaut, dropped 48%. So we see the effects of the holiday season on the box office as most other films behave in the same manner when not in release during this time of year.
To better understand where Return of the King might be headed, we can compare it to the previous Rings films. Fellowship dropped 30.7% on its second Monday and Two Towers dropped 31.7%. There are two things to keep in mind: first, Fellowship's second Sunday was New Year's Eve, so the drop is slightly higher than it would normally be; secondly, the trend is for each successive movie in a series to be more front-loaded. These two things would have led us to expect that Return's drop should have been in the 30-32% range, yet it was not. Therefore, we should be expecting stronger legs for Return than the first two films. Expect Return to bring in approximately $8.9 million on Tuesday.
Holding strongly in second place is the Steve Martin comedy Cheaper by the Dozen. Grossing an impressive $6.68 million, the film dropped a mere 14.6%, bringing its total to $42.07 million. Dozen is the second best day-to-day holdover and will perform strongly for the rest of the week. The film is trending exactly as expected and should see a Tuesday total of around $6.2 million.
Third on Monday is Cold Mountain, Miramax's 2003 Oscar contender. The Jude Law/Nicole Kidman/Renee Zellweger starrer grossed $2.69 million, which represents a 33.7% drop from Sunday. The drop is slightly more than what an Oscar-contender would hope, but they are solid numbers nonetheless. Cold Mountain should come in at around $2.4 million on Tuesday. The film's total now stands at $21.77 million.
Finishing out of the medals is Something's Gotta Give, the Jack Nicholson comedy about an aging playboy who falls for his girlfriend's mother. The film dropped a relatively hefty 34.1%, grossing $2.57 million. The decline seems a bit steep; however, this is the film's third week in theatres so more dramatic drops are not an indication of a weaker performance. Something's Gotta Give now has $53.22 million in the bank.
Fifth is Peter Pan, another kid flick that held on strong, dropping only 21.5%. The boy who could fly barely registered on radar screens as the film pulled in $2.55 million, making its total $17.17 million and thus continuing its disappointing box office run. The real money will be made on home video/DVD for many, many years to come.
In sixth is Mona Lisa Smile, which held on very strongly by dropping 23.9%. Its decline is the second lowest amongst adult-skewing films. Monday's $2.52 million brings its total to $30.06 million.
The day's big loser is the seventh place finisher Paycheck, the Ben Affleck starrer that is capping off a down-trending year for its star. Paycheck fell 37.4% and looks to disappear from theaters quickly after grossing a mere $2.29 million. The film's total now stands at $20.92 million.
Faring better is eighth place finisher The Last Samurai, which sliced up $1.78 million on Monday, a drop of 30%. Considering that the film is beginning its fourth week in release, this performance is not shabby.
Ninth belongs to the best holdover of the day and this year's biggest surprise, Elf. The Will Ferrell film dropped a mere 13.8%, continuing its amazing performance. The film's total now stands at $163.22 million and it likely finish with just above $175 million.
Stuck on You is stuck in tenth place with a take of $830,000, representing a day-to-day decline of 23%. The Farrelly Brothers comedy has collected $25.24 million so far and will hope that it can make up the weak box office performance when it hits videos next week…err, this Spring.