Daily Numbers Analysis
By Walid Habboub
December 30, 2001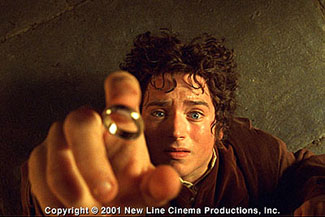 All's well that ends well. With estimates in, it seems that much of the numbers fell in line historically and there were some really encouraging numbers for one big people movie and all little people movies. The estimate projects an overall increase in box office of 20% from last weekend. Rings continued to be a juggernaut but not as big as New Line would have hoped and Ocean's 11 did indeed take the second place spot away from Jimmy Neutron: Boy Genius, while The Greatest made a solid second round comeback to take over third spot.
Lord Of The Rings' weekend estimate has come in at $37.35 million, a drop of 21% from last weekend. While this is a solid number during any other weekend of the year, it's only decent for this time of the year. The only other film to drop more than Rings was How High, which dropped 27%. The third biggest dropper was Not Another Teen Movie at 16%. Considering that there were only four major movies to lose revenue, Rings' performance is satisfactory at best. This is no cause for panic, however. Rings is still on its way to being one of the three biggest movies of the year.
The reason Rings is relegated to a top three movie and not a contender for top movie is because Harry Potter experienced a tremendous upturn at the box office as it increased its weekend earning by 61% and grossed an estimated $11.45 million. This tremendous increase was bested by Potter's direct competition, Monsters, Inc., which rose 71% on its way to grossing an estimated $6.5 million. The other kids film, Jimmy Neutron: Boy Genius, only rose 8% and as discussed previously, its rise wasn't as dramatic due to it being the new kid on the block.
A huge winner this weekend is Ocean's 11 which rose an estimated 18% and is showing surprisingly strong staying power despite lukewarm reviews and seemingly very slight fanfare. The film has now eclipsed the $125 million mark and is well on its way to a minimum $170 million. The film wraps up an excellent year for Julia Roberts who again shows that she is the biggest movie star in the world as she will have three releases this year that have grossed over a total of $300 million domestically.
Ali slowed down even more. Yesterday's forecast of $16 million seems a little bullish now as the film's estimated weekend gross is $15.3 million. The discouraging thing about Ali's numbers is that, if we go back to the very first columns written in this series, that Ali's forecast started at $20-25 and worked its way down to $16, which is still a bit high with respect to this weekend's estimates. With the holiday season coming to an end and the inflated weekdays ending, Ali will have a hard time in the last few rounds of this fight. The good news for Ali? It had an internal multiplier of 3.15, one of the higher multipliers of the weekend (compare it, for example, to O11's 3.06). So not all is lost for Ali.
A Beautiful Mind came in as expected in yesterday's forecast as it grossed an estimated $7.3 million. It had a weekend per screen average of $13,785, which was bested only by the skyrocketing numbers of The Royal Tenenbaums (other than films in extremely limited release on ten or fewer screens). Though it is a bit early to make such forecasts accurately it seems quite reasonable to say that it will should be a $100 million grosser by the end of its run which should include a big push during Oscar time.
The numbers are very encouraging and the very strong 2001 year is ending with a blast as this weekend's total weekend take was up over 20% from last year. Keeping in mind that we are using estimates, there will be some changes to the numbers and most large variance should decrease towards zero in their respective directions.