Daily Numbers Analysis
By Walid Habboub
December 29, 2001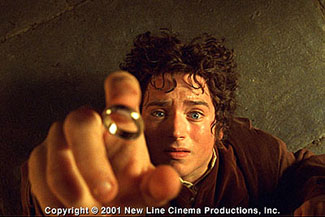 Well, you can't get them all right. With Friday's numbers in, projections were close pretty much across the board.
Lord Of The Rings pulled in $12.1 million on Friday, a miniscule 15.3% decrease from its first Friday take. Rings looks to pull in $40 million over the weekend. If it does gross this number it would mean a 15.2% drop for this juggernaut. This would mean that Rings would have an approximate gross of $157 million by end of day Sunday, its 12th day of release.
The box office picture for Ali is much clearer now that the Friday numbers are in. Ali grossed $4.87 million in its first Friday which is a small 17.8% increase from its Thursday number. Ali is on pace to gross $16 million this weekend and this shows that yesterday's extrapolation of $17.6 million and expectation of $20 million were a little optimistic. Its box office total will be probably be in the $37 million range by end of weekend. The small Thursday to Friday increase is not very encouraging for Ali especially considering that the other adult-targeted top ten films increased from their Thursday number by no less than 28% each.
The big winner this weekend is A Beautiful Mind which had a one-day per screen average of $4,428 and seems headed for a weekend per screen average of $14,018; very strong numbers indeed. Word of mouth has been excellent on Mind and as it heads for a $7.5 million weekend, it seems like Universal's platform release strategy will payoff big. Universal would love to see another large hit to what has been an incredible year for them; Mind's box office success only strengthens its Oscar chances and Universal would consider an Oscar the perfect cherry on top of the sundae that has been 2001.
Coming in at a very strong second place for Friday was Jimmy Neutron: Boy Genius. In defiance of marginally positive reviews and backed by large hype, Neutron grossed $5.66 million on Friday, an increase of 51% from last Friday's take. While impressive, it is important to note that Neutron is a kids movie and its weekend multiplier will not be as large as the adult-targeted films. I only expect an increase of 15 to 20% over the weekend and a total weekend take of $16.5 million.
Kate & Leopold showed some grit as well and faired much better than Ali did when it grossed $3.26 million. Considering that Ali opened to four times as much business as Kate & Leopold on Christmas Day and that on Friday K&L grossed two thirds of what Ali did, the romantic comedy is doing much better than expected. With a 31% increase from Thursday to Friday, K&L looks like it will be headed for a $10.8 million weekend, just north of yesterday's $10 million expectation.
Other things to note are that Harry Potter increased its F-F number by 107% while Monsters Inc. increased its number by 112%. As well, both Ocean's 11 and The Majestic saw increases in their F-F numbers. While this is small comfort for The Majestic, it is excellent news for O11 as it brings its box office total to $116 million. It will be interesting to see if O11 beats Neutron for the number two spot for the weekend.