Daily Numbers Analysis
By Walid Habboub
December 28, 2001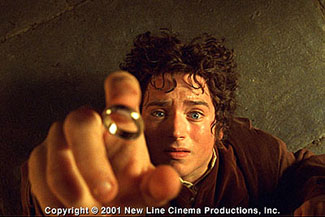 With Thursday's numbers in, the box office picture really does not get any clearer. Lord Of The Rings performed as expected while Ali continued to be the first movie on record to open on a Tuesday Christmas Day, surely an asset for future analysis.
Lord Of The Rings had a drop of just over 20%, which was within the previously forecast range. The Star Wars Episode I comparison has to end at this point. Clearly Rings' box office is receiving a tremendous boost and while it can't be accurately attributed to either the holiday season or good word of mouth, the probability is that it's a mixture of the two. It is very likely at this point that Rings will pull in Friday numbers similar to last week's Friday. Expect it to pull in a take of around $14 million. The overall weekend drop should be minimal; looking at Episode I's first to second weekend drop of 20.69%, we can assume a stronger Sunday performance for Rings due to the impending New Year's Eve Day and we will probably see a very small, if any, drop. Yesterday's prediction of a minimum of $40 million still seems to be a realistic estimate and a more solid number to predict would be $44 million.
Ali also saw a drop of 20% and at this point its weekend total is up for grabs. If we suppose that its Christmas day take was inflated, relative to Rings' take, we can assume that Ali will mirror Rings percentage changes going into the weekend. If it keeps mirroring Rings numbers, which is a definite possibility if we factor in said supposition, then Ali is on pace to have a Friday take of $5.29 million and a weekend take of $17.6 mil. There is no really compelling reason to be bullish or bearish with an estimate except for the fact that its strong opening day numbers show strong demand for the product. With that in mind, Ali seems likely to have a weekend take of $20 million.
A Beautiful mind held strong with only a 1.2% drop. This gives it a three-day per screen average of $10,584; a very strong number. Working on supposition here to compensate for the inflated Christmas Day take, we can bring that number down to $9,800 per screen and use that to estimate the movie's potential.
Something we didn't touch upon yesterday was Jimmy Neutron: Boy Genius. After an impressive weekend take, Neutron suffered a less than average Wednesday drop of 38.9%. Now after being the only top ten film to see a drop from Monday to Tuesday, Neutron returned with a vengeance in becoming the biggest day-to-day gainer on Wednesday with a gain of 83.5%. It continued that trend as it gained another 28.1% percent on Thursday.
The numbers are neither encouraging nor disappointing when taken into context. The three top ten kids films, Neutron, Monsters Inc., and Harry Potter, were the three worst gainers from Christmas Eve to Christmas Day and were also the three biggest gainers from Christmas Day to Boxing Day. Neutron experienced the most dramatic fluctuations due to the fact that it was the newest movie on the block. These numbers also mirror past years performances and are nothing out of the ordinary. Much like summer time, kids films outperform other films due to kids being out of school and having free time.
If history is any indication, Neutron will most likely see a healthy take this weekend. While last year's kids films numbers saw increases across the board (Emperor's New Groove +18%, 102 Dalmatians +26%, Rugrats In Paris +45%) we have to keep in mind that this Sunday last year was New Year's Eve so do not expect such a dramatic rise for Neutron due to the extremely inflated Sunday numbers. This is also valid for Monsters and Potter. Expect Neutron to pull in approximately $15 million and Potter and Monsters to pull in $7.5 million and $4.5 million respectively.
Kate & Leopold seems to still be headed for a weekend pull of $8 to $10 million with the caveat that, like Ali, it opened on a Tuesday and gauging what it will do is very difficult and any expectations are just an educated guess. The Majestic seems to be facing an active disinterest from audiences and a weekend-to-weekend drop of 10% is not out of the question. Expect The Majestic to have a weekend take of $4.7 million.
This weekend has historically seen movies not deviate too drastically from the previous week's box office. Expect most movies to hold last week's numbers or have marginal drops or increases. The really intriguing numbers will be those of Ali, Kate and Leopold and A Beautiful Mind.