Thursday Numbers Analysis
By Walid Habboub
December 27, 2002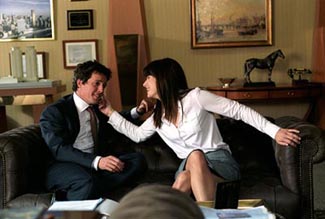 We might be starting to sound like a broken record but the success of The Two Towers continues at an undeniably solid pace. Towers held strong in its Boxing Day total as it increased its daily take by 24%, while Steven Spielberg's cat-and-mouse film Catch Me If You Can held firmly at second by dropping only 14%. The daily changes saw the kid-friendly films take giant leaps forward while the adult targeted films saw moderate to minimal gains.
The Two Towers pulled in $15.5 million on Thursday, December 26th, its ninth day of release. With a total of $151.2 million, the film has averaged a whopping $16.8 million per day over that time span. Comparatively, The Phantom Menace's average over its first nine days was $15.5 million and the average for Fellowship of the Ring in that same time span was $13.2. Clearly, we are talking about massive numbers here. The Two Towers has that rare box office blend of huge early gates and strong, strong legs.
The 24% increase by Towers easily beats the increase of Fellowship from last year and is definitely a positive sign for New Line. What is currently unclear is whether the snowstorms on Christmas Day are inflating the film's Thursday totals. The strong holdover might be solely due to unmet demand or it could be an indication that holiday box office was negatively impacted by inclement weather. If it's the former, we have a portent of an excellent second weekend for the epic film.
Simply stated, Towers' two-day trend from December 24th to December 26th beats Fellowship's by 81% to 78%. This number helps us see the forest for the trees; the verdict so far is that Towers is holding on just as strong as Fellowship did.
Catch Me if You Can also did very well yesterday as it only dropped 12% when a drop of 25% would have been considered a positive sign; the film held on to second place by pulling in a strong $8.9 million. When compared to Ali, last year's big Christmas film, we can see that this is a strong sign for the Tom Hanks/Leonardo DiCaprio starrer. Ali dropped 43% in the same time frame last year and went on to fizzle at the box office. On the other side of the coin is The Talented Mr. Ripley, which dropped only 1.5%; however, it is important to note that in 1999, the year of Ripley's release, the 26th was a Sunday, thereby inflating the number. With the total for Catch Me if You Can falling in between those two films, this frolicking thriller seems to have a strong future ahead.
The rest of the pack falls in line with what our expectations were. The kids' films increased dramatically; The Wild Thornberrys and Harry Potter led the way with 150% and 100% gains respectively. Another film proving to be popular with the younger set is Star Trek, which increased its total by 60%. Star Trek was one of the kid-friendly films that were hurt on Christmas Day but have now rebounded masterfully as expected. Maid in Manhattan also saw a steady rise as it increased its total by 43%.
Finishing up the top ten, we see that the less a film is targeted towards children, the less dramatically it increased its total. More adult-skewed pictures such as Gangs of New York didn't see that much improvement. With Gangs sitting at $18.9 million and its best days possibly behind it, only one thing is clear: the movie needs Academy Award wins to make back its huge budget. It only increased 6% and was the weakest day-to-day performer of all the top ten films.
Two Weeks Notice maintained a strong presence in third place, increasing by 25% as it pulled in a decent $4.7 million. The romantic comedy's total currently stands at a respectable $27.5 million. Drumline came in sixth as it increased 21% and pulled in $2.2 million for an overall total of $28.5 million. Rounding out the list at number ten is Rob Schneider's The Hot Chick, which increased 18% to $1.2 million and currently stands at a not-so-hot $17.4 million.
Friday marks the beginning of a very exciting weekend for The Two Towers and Catch Me If You Can. The ultimate fate of both films rests in these numbers. While huge daily takes will fade away with the holidays, weekends become more and more critical. The weekend will be the true barometer for the word of mouth that Towers is receiving and Catch Me's first weekend will define whether the interest in the film is real and goes beyond its initial release, which was the case with Ali. All in all, Towers should hang onto the top spot, dropping between 15 and 20%, while Catch Me should be in second place with a take of approximately $25 to $30 million. Tune in tomorrow for our regular Friday Numbers Analysis feature and find out the results.