Monday Numbers Analysis
By Walid Habboub
December 24, 2002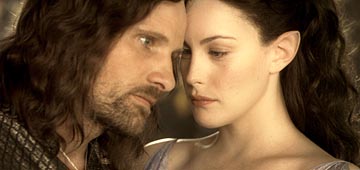 After dropping only 12% between Saturday and Sunday's take, Lord of the Rings: The Two Towers looks to be poised to challenge Spider-Man for the honor of being the highest-grossing film of 2002. While this notion might have seemed a little far-fetched a month ago, there is no denying that the $102 million five-day performance of The Two Towers has been incredible so far and gives New Line hope in the race for number one.
The numbers work out as follows: Fellowship of the Ring's ratio of final box office total to its three-day weekend total is approximately 6.05. If we extrapolate this same ratio to The Two Towers' weekend take and then add in its $40 mill total from Wednesday and Thursday, we get a Spider-squashing total of $411 million. This feat, if achieved, would be an extraordinary performance considering the length of the film.
The early signs point to Towers making a real run at such a number. After a Saturday-to-Sunday drop of only 12%, Towers has taken in just over $102 million. This percentage certainly points to the possibility of a huge performance, as it virtually mirrors Fellowship's 11% drop from the same two days last year. With Towers closely mimicking the trends set forth by Fellowship, it would be easy to jump to the conclusion that the $411 million theory is a lock, but it isn't quite yet. First, we must consider the weekly numbers that come through over the next few days.
The Two Towers pulled in $13.5 million on Monday, December 23rd, dropping only 32.5% from its Sunday total. It would be a mistake to compare it to Fellowship's first Monday as that day was Christmas Eve, a traditionally weaker day at the box office. Instead, we can compare Towers' numbers to the performance of other films from this weekend. Not including children's films, Towers showed the second-lowest drop of any top ten film as it was only beat by Rob Schneider's The Hot Chick, which came in at 31%; Two Weeks Notice dropped 34%, Maid In Manhattan dropped 34%, Drumline 34.5% and Die Another Day dropped 36%.
The other important thing to keep in mind about this number is that the early indication is that Towers will probably not be too front heavy. The Phantom Menace, Attack of the Clones and The Matrix all dropped over 50% between Sunday and Monday. To make further comparisons, Jurassic Park III dropped 60% and Men in Black II dropped 57%. While Towers benefits from the impending holidays, it is clearly a strong indicator that interest in the film will be high until at least the New Year.
Tuesday should see a drop for Towers' numbers as Christmas Eve is traditionally the weakest box office day of the holiday season. A drop around 25-30% should be in order if we observe typical Christmas Eve depreciation. Anything higher than that might give New Line reason for pause. With this percentage in mind, we will most likely see Towers pull in around $9.5 to $10 million.
As for the other releases, they all performed as expected. Two Weeks Notice's drop of 34% was within the weekend's average so everything is A-OK for the romantic comedy. On the positive end of the scale, Nickelodeon's The Wild Thornberrys Movie dropped only 9%, a truly strong number even for a children's flick; the latest Harry Potter film dropped 18.5% in the same time frame. The bad news of the weekend belonged to Miramax, as its Gangs of New York dropped a whopping 49%. A combination of long running time and less than stellar fan response seems to have hit the film hard very early in its run. While critical reviews for the film have been on the positive end of average, the fan response has been quite mixed and Gangs will now need a lot of help from Oscar to turn things around. With some heavy hitters being released on Christmas Day, the day Gangs expands its theatrical run, Miramax needs to see some positive movement quickly or the film could be dead in the water.
The final story worth noting among the top ten films is the performance of The Santa Clause 2, which pulled in $1.35 million on Monday, a marked increase over its Sunday take of $1.23 million. The film has definitely been a giant hit for Disney, a studio which has experienced many ups and downs this year. This daily result brings The Santa Clause 2's total to $131.2 million. The film will likely stay in the top ten for the remainder of the holiday season and is a lock to beat its predecessor's box office total (though it is important to note that the inflation-adjusted total for The Santa Clause is $200 million.)
To sum up this basic wrap-up of Monday's numbers, The Two Towers did very well and is looking like a serious contender for Spider-Man's overall box office total, while kids films, led by The Santa Clause 2, did well and Gangs Of new York appears to be in trouble. Tomorrow's update will include Tuesday's box office take and we will very likely see drops for films across the board as everyone spends their holidays at home.
Everyone except Miramax, perhaps.