The Two Towers Makes
$14 Million Thursday
By Walid Habboub
December 20, 2002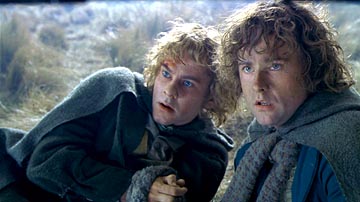 Welcome to BOP's daily numbers analysis for the holiday season. Since this is the time of year when cineplexes are most active, we will be taking a daily look at how films in release are doing starting with Wednesday (December 18) numbers. We will continue this column through New Year's Day.
The second day of our coverage again will focus on Lord of the Rings: The Two Towers, as it remains the only film of any significant presence in the weekday box office. The film did more or less what was expected as outlined in yesterday's update. Yesterday, we expected The Two Towers to bring in roughly $13 million, or approximately half of what the movie grossed on its opening day. The slightly better than anticipated performance of $13.9 million it accrued should bode well for the film and will cause us to be a little more aggressive than usual with our estimates.
The Two Towers' box office dropped 47% from Wednesday to Thursday, which falls in line with the 40% drop that The Phantom Menace had experienced (with midnight showings excluded as we discussed yesterday. The number is slightly more aggressive than the Fellowship of the Ring's drop of only 36%, but that is to be expected as The Two Towers will naturally be a more front-loaded movie and it had a much larger first day tally.
So far, the film is behaving par for the course, but it remains to be seen if it will buck the trend this weekend. All signs indicate that it won't and that we should expect The Two Towers to increase its Friday number by roughly the same percentage that Phantom Menace did. A 50% increase would have The Two Towers pulling in $21 million on Friday.
Estimating the weekend take is significantly more speculative. Fellowship had a 3.32 Friday-to-Sunday multiplier as it grossed $47.21 million for the three-day period with a $14.23 million Friday. Menace, on the other hand, grossed $64.81 million with a $18.47 million Friday for a 3.51 Friday to weekend multiplier. The Two Towers should fall slightly below those two data points. The sequel should be more anticipated, and therefore more front-loaded overall than its predecessor, but not as highly anticipated as the 16-years-in-the-waiting Phantom Menace. Assuming a 3.15 weekend multiplier applied to the $21 million Friday estimate we have made, the film would have a weekend total of $66 million and an overall five-day weekend total of approximately $106 million.
Of course, at this point these numbers are very rough estimates and nothing will be clear until Friday's numbers are released. Come back tomorrow as we will have a more complete and accurate weekend extrapolation at that juncture.