BOP 25 of Summer 2005: 15-6
By BOP Staff
April 28, 2005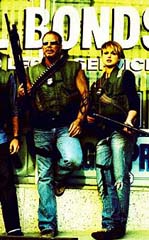 15. Domino

The premise sounds like a bad Fox television show. A beautiful model disavows herself of the spotlight. She decides to fight crime in the most disreputable fashion available. This vixen becomes an inglorious bounty hunter, a slight woman who ensnares the most dangerous criminal elements and returns them to justice. But this is not a show where buxom Pamela Anderson types go on wacky adventures, get in shootouts, and return home in time to sex up their lucky men. No, Domino Harvey is not an unbelievable caricature created for television. She is a successful Ford model who decided that a life of makeup, silly outfits and starvation was not for her. So, Domino chose a career path centered upon tracking nefarious felons and now Tony Scott directs a strange semi-biographical re-telling of her story. The fact that our favorite Brit, Keira Knightley, has been cast in the title role makes this a near-perfect project. We had been describing it as a perfect project, but then that lousy trailer was released. That dialed down our expectations a bit. Hopefully, that guy has been fired and all is right with the quirky world of Domino Harvey once more.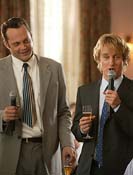 14. The Wedding Crashers

Vince Vaughn and Owen Wilson are two of the funniest guys working in Hollywood today. They've worked together in the past in Starsky & Hutch and even Zoolander, but The Wedding Crashers will mark the first time that Wilson and Vaughn have been the two main guys. Previously, Wilson has found pretty solid success in teaming up with brother Luke, Jackie Chan and Ben Stiller, though he's pretty frequently the guy who steals the show with his talent for deadpan humor. Vaughn, on the other hand, has typically been a bit more over-the-top, though he's shown he can do subtle in Dodgeball, too. Top it all off with Christopher Walken ("don't make me tell you again about the scooching") and Mean Girls cutie Rachel McAdams and it adds up to a recipe for absolute hilarity.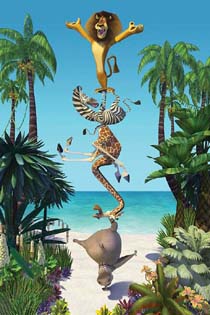 13. Madagascar

In the realm of CGI animation, two camps have emerged as the front-runners in the industry. Pixar, of course, set the standard, and has been continuing its majestic run of success by capturing both critical and popular success. DreamWorks sits solidly in second place. While both Shrek and its sequel were wildly popular and attained plenty of acclaim, Shark Tale was lackluster and lame. Now, DreamWorks is looking to set itself apart again with the release of Madagascar, an animated film with a singular look and feel. Where the past CGI films have focused heavily on either making things realistic or taking the capabilities of the medium to the extreme, Madagascar will attempt to look more like a moving painting.

In fact, much of the inspiration for the character design and backgrounds comes from the paintings of Impressionist Henri Rousseau. It's perhaps a risky approach to try to attempt something so unique in a sanitized industry where status quo seems to perform the best, but the trailers and previews show a fluid looking film with hilarious characters to boot. Although there's a great voice cast that includes Ben Stiller, Chris Rock, David Schwimmer and Jada Pinkett Smith, the real stars of the film appear to be the penguins, who embody pure malevolence in one adorable package. And really, evil penguins are enough to sell the film to anyone.
---
---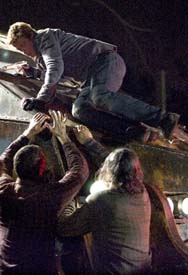 12. George A. Romero's Land of the Dead

Seeing that venerated name in the movie's title is really all you need to know about this upcoming zombie pic. For those who have perhaps been buried under a tombstone for the past 20-30 years, Romero is the true godfather of the zombie film, with his 1968 classic Night of the Living Dead considered by many to be one of the scariest movies ever - and also one with some incredibly intelligent socio-political commentary. Nonetheless, he followed that movie several years later (1978) with Dawn of the Dead, again considered a horror standard that further eviscerated societal norms of the time. He ostensibly finished off the series in 1985 with Day of the Dead, a hyper gory movie that is particularly memorable for a squeamish shot of a man being realistically pulled in two.

We say ostensibly, of course, because this year Romero continues the series with Land of the Dead, a prospect that has any bona fide horror fan foaming at the mouth with anticipation. This chapter takes the zombie story to its next logical point - the zombies have taken over the world, with only a few humans surviving in a walled city. The "wealthy" reside in skyscrapers away from the danger, while the "poor" have the responsibility of keeping the living dead out of the city. The problem is, the zombies are steadily evolving into something even more powerful and the rift between the "classes" of humanity is becoming a serious issue.

Romero will almost certainly one-up himself and everyone who has attempted to do a zombie film in his wake. Land of the Dead is legitimately one of the most exciting projects on the calendar for the summer.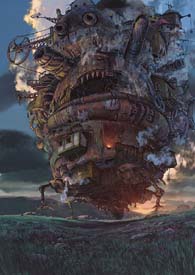 11. Howl's Moving Castle

With the North American release of Spirited Away in 2001, renowned animation director Hayao Miyazaki received deserved acclaim as he picked up the Academy Award for Best Animated Picture. With that win, the door was opened for Walt Disney Pictures to release various Studio Ghibli films from the past several years on DVD, and for countless new fans to learn more about the genius of the man behind such films as Nausicaa of the Valley of the Wind, Kiki's Delivery Service and Castle in the Sky.

Now, despite rumors that he would retire after Spirited Away was completed, Miyazaki returns with an adaptation of the Diana Wynne Jones children's fantasy novel Howl's Moving Castle. The story centers on a young girl who inadvertently insults a witch. As revenge, the child is turned into an old woman. Our heroine runs away from home, embarrassed by her appearance, and eventually takes a job as housekeeper to an eccentric wizard known as Howl. While Howl is certainly peculiar in his own right, his castle is a marvel of both construction and magic, and the trailer seems to show that the film has done a remarkable job of capturing the structure's "personality".

We've fallen in love with Miyazaki for the wonderful characters and stories he's created, and Howl's Moving Castle sure looks to be a film that will continue in that strong tradition. We can't wait to see the enchanting world he's fashioned this time around.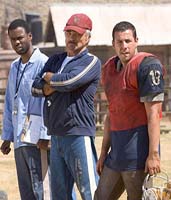 10. The Longest Yard

Adam Sandler was never more successful than in The Waterboy. What the comedian appreciated long before Terry Tate ever made a name for himself in a Super Bowl commercial is that violent tackles are funny. A single power bomb did not satiate Sandler, though. He has decided to return to the gridiron once again, but not in a true sequel. Instead, he is handling a cleverly cast re-make of the Burt Reynolds classic of the same title. Even better, he has brought everyone's favorite Florida State Seminole turned actor/Loni Anderson plaything along for the ride. Reynolds will switch off from playing the heroic but incarcerated quarterback to become the coach who leads the prisoners in the big game. For his part, Sandler continues to demonstrate that he has his finger on the populist pulse. Including cameos for famous football players and various sports icons makes this project one of the broadest appealing machismo productions since, well, The Waterboy.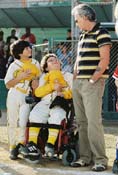 9. The Bad News Bears

Billy Bob Thornton has an interesting side career building for himself, one in which he stars in films with kids where his character gets drunk a lot and have "Bad" in the title. Where Bad Santa was a wonderfully cynical take on the Christmas season and just an all-around brilliant black comedy, The Bad News Bears is a remake of the classic 1976 film about Little League misfits and their alcoholic coach. Frankly, I can't think of anyone better than Thornton to take over the reins from Walter Matthau as Morris Buttermaker. Wonderfully inappropriate in its sensibilities, it's directed by Richard Linklater, who has already shown he knows how to make a non-saccharine kid's movie with School of Rock. This could be a remake that's made for a reason.
8. The Brothers Grimm

It's been a long time between films for auteur Terry Gilliam. After completing Fear and Loathing in Las Vegas, a trippy adaptation of Hunter S. Thompson's already trippy book, he moved on to his dream project, a movie version of the Don Quixote tale. As anyone who has seen Lost in La Mancha knows, that project couldn't have been more troubled. Between weather destroying sets and the nagging illness of one of the lead actors, the movie was eventually scrapped, and Gilliam was left devastated.

In its place, Gilliam moved forward on what would eventually be another contentious project - The Brothers Grimm. Starring Matt Damon and Heath Ledger as the titular fairy tale writers, the movie promises to be as dark as the stories they left behind. We're looking forward to seeing the strange new world that Gilliam will create for this saga.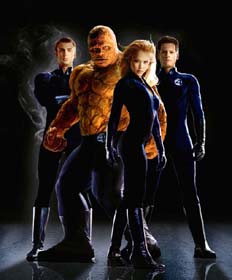 7. Fantastic Four

For a time, comic book adaptations appeared to be can't-miss tentpole releases. Spider-Man and X-Men titles did ungodly box office, and innumerable smaller projects were thrown into the queue. Studio execs saw the money train exiting the stations. So, they bought as many tickets as possible before the train left the gate. The backlash has been swift. Overhyped, underwhelming titles such as The Hulk were soundly denounced by movie critics and film fans alike. Largely unknown would-be franchises such as The League of Extraordinary Gentlemen and Elektra were flatly rejected. In short, a message was sent loud and clear. Comic book movies need to have more steak than sizzle.

Fast forward to the summer of 2005, and we are left with a simple question. Where does this leave Fantastic Four? This is the half-billion dollar question facing Fox and Marvel. Will audiences accept a husband/wife crime fighting duo who allow her brother and his best friend to tag along? Are these characters along with seminal super-villain Dr. Doom ubiquitous enough to capitalize on the high tide of blockbuster comic book adaptations? Or is Fantastic Four doomed (no pun intended) to be relegated to second class citizen status due to its lack of full acceptance in geekdom?. Whatever the answer to this question proves to be, we are excited to see a film with such inspired casting choices as The Shield's Michael Chiklis as The Thing, Ioan Gruffudd aka Lancelot as Mr. Fantastic and Nip/Tuck's Julian McMahon as the steel tyrant called Doom. Making Jessica Alba portray the Invisible Woman seems like such a waste, though. Even so, we are stubbornly optimistic that this comic book production will be the rare outing that lives up to the hype. And if the film proves successful enough to give BOP's own Chris Hyde his long-requested Inhumans movie, so much the better.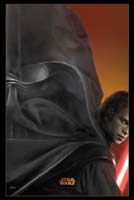 6. Star Wars Episode III: Revenge of the Sith

You know what? We just can't help ourselves. There's still something in those words Star Wars that inspires a kid-like glee. Sure, after the last two prequels, there's an equal mix of fear and loathing (self- and otherwise), but somewhere deep down inside of us, we still think – hope - pray that Revenge of the Sith can carry a second subtitle, Redemption of the Lucas. Action, excitement, we crave these things, and the main trailer has been cut to emphasize them, along with the tantalizing thought that this is de facto the darkest entry of the series. Of course, Lucas has to go and call this one "Titanic in space" – I thought the last one was the love story – although maybe that's just fair warning. We're starting to think that even the people that didn't want to see it voted for it here, simply because after this one, we won't have to hear about this series anymore.