Weekend Wrap-Up for March 30 - April 1, 2007
Blades and Robinsons On Top; Turtles Shelled
By John Hamann
April 1, 2007
BoxOfficeProphets.com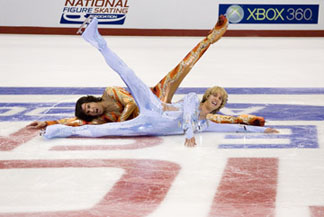 ---
It was another strong weekend at the box office, as two large openers got off to great starts over the pre-Easter frame. Blades of Glory, the new figure skating comedy starring Will Ferrell, opened strongly as did Meet the Robinsons, Disney's latest CG animated product. On the downside, the fortunes of those Teenage Mutant Ninja Turtles crashed this weekend, as the Warner Bros. movie lost a whopping 62% of its audience from the last frame.

Skating into first place is Blades of Glory from Paramount and MTV Films. The star power of Will Ferrell and Jon Heder was on display this weekend, and the result was an opening weekend gross of $33 million from 3,372 venues. It had a venue average of $9,786. This is an excellent start for any comedy, and is another strong title in what has been a fantastic March for movies. Without the releases of 300 and Wild Hogs this month, Blades of Glory would have been in the top five for biggest March openings. Without Wild Hogs ($39.7 million opening) and February's Norbit ($34.2 million opening), Blades of Glory would have been the biggest start for a comedy since Ferrell's Talladega Nights: The Ballad of Ricky Bobby ($47 million opening). Overall for Will Ferrell, Blades of Glory is his second biggest debut ever, coming in behind the aforementioned Talladega Nights and ahead of Elf ($31.1 million opening). For Jon Heder, this was an excellent career move. After doing most of the work to get The Benchwarmers to open to $19.7 million, he now has a strong credit with a $30 million plus opening. Heder's connection to the MTV audience from his days of Napoleon Dynamite made this a $33 million debut instead of a $20 million start.

Reviews for Blades of Glory were better than expected, which may help this comedy in the legs department. At RottenTomatoes, 120 reviewers chimed in and of those, 82 had Blades of Glory reaching the podium, which resulted in a 68% fresh rating. That's right on par with Talladega Nights and Anchorman, which hit fresh ratings of 72% and 64% respectively. For MTV Films, which has had hits recently with Jackass: Number Two ($29 million opening) and The Longest Yard ($47.6 million opening). Blades of Glory should end up being a $100 million film, although Grindhouse and Are We Done Yet? may rob Blades of the demographic it is trying to court next weekend.

Finishing second is Meet the Robinsons, Disney's latest foray into CG animation. Meet the Robinsons earned $25.1 million in its debut weekend, which isn't an exciting number, and not the end of the world either. The animated feature debuted on 3,413 venues, and had an average of $7,343. While no Happy Feet ($41.5 million opening), Meet the Robinsons debuts in the same vicinity as Sony's Open Season ($23.6 million opening), a film that finished with $84 million after running through the treacherous fall box office season. Disney has now had Bridge To Terabithia ($22.6 million opening, $79.7 million domestic so far), Wild Hogs (which I'll get to below) and now Meet the Robinsons over what is usually a painfully slow season. Next up, Walt Disney Pictures will release Pirates of the Caribbean: At World's End, which is probably going to make a couple of bucks.

Meet the Robinsons came out okay in the review department, but I'm sure the studio was looking for better, as this one couldn't get past Blades of Glory in terms of positive reviews. The Robinson's had 83 reviews counted, and of those, 55 were positive, giving the film a 66% fresh rating. That's better than Open Season, but still yards away from the Disney symbol of quality. It will be interesting to see how this one performs in the coming weeks.

Down one spot from last weekend is the juggernaut 300, which appears to be losing a bit of steam. This much more adult entertainment earned $11.2 million this weekend from 3,004 venues, and dropped 44% compared to last weekend. After opening to over $70 million, 300 dropped a respectable 54%, and followed that up with a 40% drop last weekend. So far, the spectacle has grossed an impressive $179.7 million, and should have no problem topping $200 million domestically.

Finishing fourth after spending one weekend on top in the last frame, is TMNT. Showing no legs like the first incarnation of this franchise, the Warner Bros. take on the turtle story earned only $9.2 million after debuting to over $24 million last weekend. That equals a drop of 62%, which could be a blow to the studio's franchise hopes (opening the blockbuster wannabe so close to a Disney animated product may have not been the best idea in studio history). So far, the Ninja Turtles have pulled in $38.4 million, and Warner Bros. just saw its chances at $100 million go up in smoke.

In fifth, we have Wild Hogs, the Disney film that won't die. Wild Hogs earned another $8.4 million and was off 39% from last weekend. Now in its fifth weekend, the comedy has earned $135.4 million. Expect it to fade even harder against Are We Done Yet? next weekend.

Shooter heads out with the tide as it falls from third place last weekend to sixth this weekend. The Mark Wahlberg conspiracy flick earned $8 million in its second frame, and was off 45%. So far, this Paramount entry has earned $27.2 million.

In seventh is Sony and Sandra Bullock's Premonition, a film that is dropping quickly down the top ten ranks. After pulling in $9.5 million last weekend, Premonition dropped by 47% to $5.1 million (I had a feeling that was going to happen). After a decent $17 million opening, this one fallen quickly, and should be out of the top ten by as early as next weekend. So far, Premonition has earned $39.3 million for Sony.

Eighth place goes to The Last Mimzy, the odd-looking kid flick that has to be a disappointment for New Line (though who's going to say so when the head of the studio is the director?). Mimzy took in another $4 million this frame, dropping a rough 60% from last weekend. It simply fell in the face of better competition from the Robinsons. The Last Mimzy's domestic total now sits at $16.2 million.

The Hills Have Eyes 2 finishes ninth, which is a surprise, as I thought it would be completely out of the top ten this weekend. The horror sequel earned $3.9 million, and was off the standard horror second weekend percentage drop of 60%. So far, this waste of time and money has earned $15.8 million.

Tenth spot goes to Reign Over Me, a film that I thought might hold better this weekend. The Adam Sandler drama earned $3.7 million and was off 50% from the previous frame. Maybe it's the wrong time of year to release something like this. Reign Over Me has earned $13.3 million and will probably be out of the top ten next weekend.

Failing to make the top ten was another (fairly) wide release in The Lookout. After receiving little support from its distributor either in terms of marketing or theaters, it won't even be a blip on the radar. The heist flick will have to look to home video for viewers.

Overall, box office was off from last year, but was up against an extremely tough weekend from 2006. The top ten this weekend earned about $111.4 million, which is a more than solid total, but was up against the debut last year of Ice Age: The Meltdown, which earned $68 million over its first three days. It brought the 2006 top ten up to $127.1 million, an almost insurmountable total.