Friday Box Office Analysis
By Tim Briody
March 31, 2007
BoxOfficeProphets.com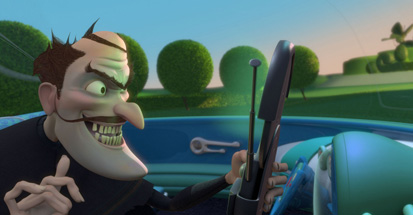 ---
Even the French judge would give Blades of Glory a 9.0 based on its Friday performance.

Blades of Glory

The heavily-advertised Will Ferrell/Jon Heder ice skating comedy earned $12 million on Friday, $6 million below what Talladega Nights opened with back in August, but slightly ahead of Anchorman's opening night of $10.7 million from 2004. Both films were summer releases, but both had weekend multipliers around 2.6, signaling that there's a decent fanboy following for both Ferrell and Heder (his last big comedy was last year's The Benchwarmers, opening with $6.8 million on its way to $19.6 million, a 2.88 multiplier). Since Blades of Glory is a spring release, Benchwarmers is oddly the best comparison for it rather than the summer releases that the movies of Ricky Bobby and Ron Burgundy saw. I'll give it a 2.85 multiplier for the weekend, placing Blades of Glory at the top with a solid $34.2 million.

Meet the Robinsons

The also heavily-marketed animated film from Disney landed solidly in second with $7.5 million on Friday. Bridge to Terabithia has run its course and TMNT and The Last Mimzy have been kneecapped (more on that in a bit), so this is solidly the number one family option out there and it's going to cash in over the rest of the weekend. A weekend estimate of about $27 million should be in the cards for Meet the Robinsons this weekend, with very good legs over the next couple of weekends.

Notable Holdovers

It's kind of hard to qualify any of last weekend's six wide releases as notable. Last week's champ, TMNT, suffers one of the largest Friday-to-Friday declines in a good while, dropping 71% from last Friday. In fact, of the five out of the six still in the top ten, the best holdover from the previous Friday is Shooter, off a mere 48%.