Weekend Wrap-Up for March 16-18, 2007
By David Mumpower
March 18, 2007
BoxOfficeProphets.com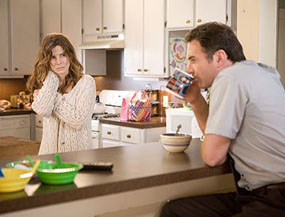 ---
Three new entries entered the marketplace this weekend, but none of them was going to beat the reigning 800 pound gorilla of box office. One of them was surprisingly competitive (relatively speaking), though.

After a record-shattering March opening of $70.9 million in its debut, 300 was ceded a second weekend victory. The only questions to be determined were how much it won by and how strong it maintained after a scintillating debut. The latter question was assumed to be 'not very well', and the results bore that out. The first sign was on Friday. Whereas its first day of release saw Zach Snyder's epic earn $20.2 million more than the second place entrant, Wild Hogs, its eighth day had a gap of $3.8 million between 300 and the film in second place. That was a Friday-to-Friday decline of 64%. The depreciation is a bit misleading, however, since last Friday's sales included several million in Thursday midnight showings. A recovery was expected over the entire weekend, and that occurred for the most part. The Frank Miller comic book adaptation has won the weekend with an estimated $31.2 million, winning the top spot by a hefty $12.4 million. That total also represents almost the same amount as all three new openers combined (they earned $31.5 million combined).

Consecutive weekends of victory for 300 mean a huge success for Warner Bros. Some analysts might be overly critical of the second weekend depreciation of 56%, but I am not one of them. My point of view is that the gladiator action film made as much in its second weekend of release as many experts had projected it to make opening weekend. Given that the blockbuster already had $96.3 million in the bank before adding the $31.2 million to the coffers, it's hard to nitpick about a percentage decline. Given the budget of $60 million and a ten day total of $127.5 million, 300's success is such that even the finest accountants at Warner Bros. are not going to be able to hide the profits on this one. The Spartan epic has a respectable chance to be the biggest success story of 2007, no small feat for a title released in mid-March.

Wild Hogs continues to be a shocking success story for Disney. The washed up actors sharing a cross country mid-life crisis comedy rakes in another $18.8 million, good enough for second place. This is a decline of only 32% from its second weekend, following an initial decline of 30%. The film's steady legs are not quite as surprising as its $39.7 million opening weekend, but the entirety of the situation is still hard to grasp. The running tally of $104 million means it has unexpectedly crossed the $100 million barrier. None of these actors, their immediate families, and their agents would have predicted this, no matter what any of them may be claiming now. The scary thought is that a sequel as well as several low budget knock-offs featuring other past-their-prime actors as well as marginal celebrities who will take any gig should be expected in the next few years. That's bad news for anyone not named Tom Arnold.

We should have had an inkling that the surprise of the weekend would be Premonition. The movie might star Sandra Bullock, but it feels like it came straight out of the Ashley Judd playbook. The story of fractured time romance and mystery can't quite duplicate the University of Kentucky super-fan's success with Double Jeopardy ($23.2 million), but it's definitely in that range for Judd's divine Ya-Ya sister. A predominantly female audience flocked to theaters to the tune of $18 million, making the film a nice success story for Sony. Its per-venue average of $6,358 from 2,831 locations is quite respectable. As has been the trend throughout early 2007, this title proved bulletproof against atrocious reviews. Only nine out of 105 reviewers at Rotten Tomatoes found something they liked in the project but as is oftentimes the case with the genre, the target audience didn't care. The question from here on in is whether word-of-mouth kills the product, but even that appears dubious.

The second most successful new opener is Dead Silence, the latest disposable horror film to come down the pike. This project from Universal earned an estimated $7.8 million from 1,803 venues, a per-exhibition average of $4,326. This slasher flick had a pedigree in that Saw creators James Wan and Leigh Whannell were the masterminds behind the project. Their names in the advertising didn't hurt any, but in the end, there was not enough about the premise of evil dolls to make it stand out in a heavily saturated genre. As is almost always the case with body count horror movies these days, reviews were unkind. At least, those who made the effort to see the movie on opening day felt so. Universal didn't bother with early screenings for critics, accepting that their fate was already sealed in this regard. With lackluster box office and little by way of critical of populist buzz to drive it to further heights, any notoriety Dead Silence will earn has to come from ancillary markets, particularly cable programming and DVD sales.

Chris Rock surprised box office analysts with a show of strength in February of 2001 when his romantic comedy, Down to Earth, earned $20 million in its opening weekend. Since then, the comedian has had huge disappointments such as Bad Company and Osmosis Jones, but has never managed to duplicate the success of his biggest star vehicle. The release of I Think I Love My Wife was a blatant attempt to make lightning strike twice, but alas, it was not to be. The fifth place movie earned only $5.7 million with critics disliking it to the tune of a 22% fresh rating at Rotten Tomatoes. The small number of exhibitions (1,776) and lousy reviews led to an unpleasant per-venue average of $3,215 for Fox Searchlight. Given that the comedian's wonderful weekly sitcom, Everybody Hates Chris (please watch it, I'm begging you), has an average audience of roughly 1.8 million and that the average ticket costs $6.55, less than half of his fan-base made the effort this weekend. I blame The CW for being too low profile for the marketing campaign to boost awareness. In fact, I always blame The CW for any showing of incompetence in Hollywood, whether it's TV-related or not.

Continuing the theme of huge surprise successes is Bridge to Terabithia. The Disney family film's fifth weekend of release brings a sixth place finish as well as an estimated $5.1 million. That's a decline of 24% from last frame. The current box office of $75 million makes it the third of five films in the top ten to have already earned that amount or more. Having this level of success after only 11 weekends in 2007 is a box office feat bordering on the historically unprecedented. Winter is the new summer.

Continuing the theme of huge early year blockbusters is the weekend's seventh place finisher, Ghost Rider. The Nicolas Cage flaming biker flick had been the number one film of the year until Saturday. Its diminishing return of $4 million, a decline of 40%, means that it's running out of box office steam at its current total of $110.2 million. With Wild Hogs right on its tail, the Sony comic book adaptation will likely to fall to third for the year by this time next week. What's odd is that while Ghost Rider is the second biggest movie of the year right now, it's only the second biggest comic book adaptation of the year. 300 has stolen its thunder in every way imaginable.

Zodiac continues its plunge out of the top ten this week. After debuting in second place, it fell to fifth place last week and continues the 'three spots at a time' slide to eighth this weekend. The serial killer drama earned an estimated $3.1 million, a depreciation of 54% from last weekend. Zodiac has earned a grand total of $28.9 million after 17 days of release. Given its budget of $80 million, there is no way to describe this one as anything other than a dud for Paramount.

Rounding out the top ten are Norbit and Music and Lyrics. The Eddie Murphy fat suit comedy is the fifth film in the top ten to have already earned at least $75 million. Its estimated weekend box office of $2.7 million gives it a total of $92.4 million with $100 million remaining a distinct possibility if it can hold momentum a bit longer. The news for the Hugh Grant/Drew Barrymore comedy isn't quite as sunny, but another $2.2 million puts it right on the cusp of $50 million at $47.4 million. It's showing a bit of staying power for a title that earned $13.6 million in its first weekend.

Anchored by 300 and several strong holdovers, the top ten managed $98.6 million compared to last year's $89.7 million. That's an increase of 9.9%. The 2007 box office campaign is speeding along like a Japanese bullet train right now and the news only gets better with May's juggernaut line-up only six weeks away. In the interim, we get bombarded with six (!) new releases next weekend. The lineup is highlighted by TMNT, the latest Teenage Mutant Ninja Turtles saga; Shooter, an action film starring Mark Wahlberg - the only cast member of The Departed to receive an Academy Award nomination for the movie...how odd is that?; and Reign Over Me, a 9/11-based drama featuring comedian Adam Sandler in a dramatic role alongside BOP fave Don Cheadle. There is also an African-American swim film called Pride, featuring the wonderful Terrence Howard, a children's flick called The Last Mimzy and the movie sequel dearest to BOP staff member Dan Krovich's heart, The Hills Have Eyes 2. Needless to say, next weekend's box office should be fascinating as a slew of newcomers try to prove they are tougher and more appealing than 300 Spartans.