Wild Hogs Pig Out at Box Office
Weekend Box Office Wrap-Up for March 2-4, 2007
By John Hamann
March 4, 2007
BoxOfficeProphets.com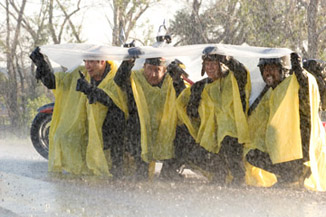 ---
It's one of those weekends. New openers included a bland, poorly reviewed, lame looking Disney flick about four Hollywood actors begging for a hit, and a well reviewed, David Fincher directed suspense flick. Which did three times the business of the other opener? I'm sure you can guess. Holdovers did the expected this weekend, with Ghost Rider and Reno 911 heading off a cliff.

The number one film of the weekend is Wild Hogs, but it was certainly expected. From your friends at Disney, Wild Hogs debuted on a huge number of screens, blanketing the competition and coming out with a huge win. Wild Hogs earned $38 million from 3,287 venues this weekend, giving exhibitors a fantastic average of $11,561. That puts it in the top ten largest openings in the month of March, surpassing films like The Pacifier (Disney, $30.6 million opening) and Bringing Down the House (Disney, $31.1 million opening). Disney has found a trend they obviously like, opening bad films to big business in the first weekend in March. How bad was Wild Hogs? It was that nasty kind of bad like gum in your hair or having your car stall during rush hour at a busy intersection. At RottenTomatoes, 85 reviewers took their medicine, and only 12 got drunk enough to give this one a positive review. That's 14% fresh if you're still playing along at home. Remember who the cast is here: William H. Macy, Martin Lawrence, John Travolta, and Tim Allen. What was I expecting? By the ad campaign, this one was supposed to be City Slickers, but somehow I don't think so.

For the leads of Wild Hogs, the results are exactly what this quartet was looking for – box office salvation. Travolta's last flick was Be Cool, the sequel to Get Shorty. Despite the pedigree, Be Cool opened to $23.5 million and failed to reach $50 million. Martin Lawrence's last film was Big Momma's House 2, but before that one was Rebound, a comedy that opened to $5 million and didn't reach $20 million domestically. Tim Allen's last was the Santa Clause 3, but prior to that it was Zoom, which opened to $4.5 million, and finished with $11 million. Finally, we have William Macy, the good actor in the group, who needed this one to keep buying groceries. He's seen two recent flops in Bobby and Everybody's Hero, so at least he was due. Again, the problem with these movies is that when they gross $30 million plus, studios like Disney will just keep churning them out – and the overall IQ of North Americans suffers as a result. Won't anyone think of the children?

In second we have the flip side of the bad movie coin with David Fincher's Zodiac from Paramount Pictures and Warner Bros. Wild Hogs it certainly isn't, but this one still grossed a respectable $13.1 million from 2,362 venues, almost 1,000 fewer than the Disney film. Zodiac had an average of $5,546, and a weekend multiplier of 3.28, which is solid for a film like this, where the director's fans rush out to see it on Friday night. No wonder they rushed out to see it. Critics wrote love letters to Zodiac, with 121 reviewers coming out, and 105 liking it. That's good for a fresh rating of 87% from critics, something we don't often see in the month of March.

David Fincher flicks aren't your garden variety huge openers. It's been five very long years since Panic Room opened to $30.1 million, and went on to earn $95 million. Before the Jodie Foster thriller there was the venerable Fight Club. That one opened to $11 million and finished with $37 million before becoming one of hottest cult classics of all-time on home video. Prior to that, the director did The Game with Michael Douglas ($14.3 million opening, $48.3 million finish), and Se7en, Fincher's only $100 million earner. Will Zodiac find big success in the weeks to come? I hope so, but have to wonder if Frank Miller's 300 will steal some of that Fincher audience. Check back next weekend to see how Zodiac holds up.

Finishing third is Marvel and Sony's Ghost Rider, our second motorcycle movie of the weekend - this one quite different than Wild Hogs (but not critically). The Nic Cage comic book title got thrown again, earning only $11.5 million, far away from the $45 million it earned over its debut weekend. The drop this time around is 43%, an improvement over last weekend's plunge of 56%. Currently, Ghost Rider sits with $94.8 million and will most likely finish with about $120 million.

Bridge to Terabithia finishes fourth, and is one of the few highlights in the top ten. Bridge grossed $8.6 million its third frame, dropping 39% compared to last weekend. The Walden Media product dropped 37% last weekend, so it's having a decent run thus far. So far, Terabithia has earned $57.9 million, a solid figure for a smaller-sized picture.

Despite starring Jim Carrey, The Number 23 has a had a rough run of it so far, and any finger pointing should be directed Joel Schumacher's way. Number 23 earned $7.1 million in its second weekend, and was off 51%. Critics hammered this one, and audiences failed to get on board last weekend, which is leading it into the dirt. The New Line thriller has now earned $24.7 million, and will most likely fail to earn $50 million.

Sixth spot goes to Norbit, Eddie Murphy's cross-dressing/fat suit comedy. Another critical failure, Norbit still earned $6.5 million in its fourth frame, off 34% from the previous weekend. I'm not sure how this 10% fresh entry continues to keep its head above the water, but the Paramount entry has now earned $83 million.

Music and Lyrics falls to seventh, as the Drew Barrymore/Hugh Grant picture earned $4.9 million. That equals a fair drop of 36%, but it's too little too late for this rom-com. Currently Music and Lyrics sits at $38.7 million, with $50 million still a long way away.

Finishing eighth is Black Snake Moan, the latest Samuel L. Jackson flick from Paramount Vantage. From Hustle & Flow director Craig Brewer, this southern drama played at only 1,252 locations, and earned $4 million over its opening frame. Black Snake saw mixed reviews (63% fresh), and will probably be gone very quickly.

Universal's Reno 911! Miami drops all the way from fourth last weekend to ninth this weekend. Reno 911 earned $3.8 million in its second frame, off a whopping 63%. After a hot start above $10 million, this one will have a tough time earning $25 million. So far, this odd-looking comedy has earned $16.4 million.

Finishing tenth is Chris Cooper's Breach, a film that has played under the radar, but achieved at least decent results. Breach earned $3.5 million in its third weekend, and was off 42%. The spy thriller has now earned $25.4 million.

There is good news at the box office for the weekend. The top ten earned $100.8 million thanks to Wild Hogs. Last year, the box office was not the happiest place on earth. Madea's Family Reunion led things for the second straight weekend despite a second weekend plunge of 58%. The top ten for the weekend came in at about $78 million, so at least the overall box office has something to crow about in 2007.