Ghost Rider Revs Up Box Office
Weekend Box Office Wrap-Up for February 16-18, 2007
By John Hamann
February 18, 2007
BoxOfficeProphets.com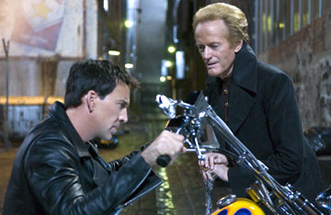 ---
Exhibitors, Nicolas Cage and Walden Media were the big winners this weekend, as the box office finally bounced back from two months of ineptitude. A strong crop of openers debuted, including Cage's Ghost Rider (another big hit for Marvel), Walden Media's Bridge to Terabithia, Warner Bros.' Music & Lyrics, and Tyler Perry's latest in Daddy's Little Girls. Holdovers got some help from the President's Day weekend, so overall business is way up over last year.

The number one film of the weekend is Ghost Rider, Marvel Enterprises' latest blockbuster. After an awesome trailer and ad campaign, Sony managed to open Ghost Rider to an impressive three-day total of $46.4 million from 3,619 venues. It had a super-sized venue average of $12,821, which will finally make exhibitors happy after a long cold winter of poorly attended flicks. For Nicolas Cage, this is an important victory for the actor. Cage has had some quiet times since 2004's National Treasure, which opened to $35.1 million and went on to make $173 million domestically. Since then, Cage has been in flops like The Wicker Man ($9.6 million opening, $24.4 million finish), the animated Ant Bully ($8.4 million opening, $28.1 million finish), The Weather Man ($4.2 million opening, $12.5 million finish) and Lord of War ($9.4 million opening, $24.1 million finish). Even when combining those opening weekends, they don't come close to matching the power of Ghost Rider. Next up for Cage is a sci-fi thriller, appropriately called Next, which also stars Julianne Moore and is directed by Lee Tamahori.

Ghost Rider was no critical darling, but really, who was expecting that? Of the 55 reviews counted at RottenTomatoes, only 13 were positive. That gives it a rotten rating of 24%, but that is yards better than recent releases like Norbit, The Messengers and Date Movie. For Marvel Enterprises, this is another big hit coming on the heels of the success they found this summer with X-Men: The Last Stand ($234 million finish) and 2005's The Fantastic Four, which earned $154 million domestically. Next up for the comic company is Spider-Man 3, set to be released in May, then followed closely in June by a Fantastic Four sequel.

Finishing a strong second is Buena Vista and Walden Media's Bridge to Terabithia. This Lion, The Witch and The Wardrobe lookalike grossed a higher-than-expected $29.0 million this weekend from only 2,284 venues. It had an average of $9,885. The nice thing about this movie – at least for me – is that it seems to be quality product, and still managed to open above $20 million. 78 reviewers at RottenTomatoes chimed in on this one, and 66 liked it, leaving it with a gorgeous fresh rating of 85%. The last film to open decently with a fresh rating at RT was the first wide weekend of Dreamgirls, when it grossed a little over $14 million in the last weekend of December.

Terabithia is from Walden Media, the company that has had its severe ups and downs since entering the movie business in 2002. They got off to a decent start with Holes and Ghosts of the Abyss before falling into that Abyss with Around the World in 80 Days, the $100 million flop that earned only $24 million domestically. They bounced back with The Chronicles of Narnia: The Lion, The Witch and The Wardrobe, as that one finished just short of $300 million domestic, after opening to over $65 million. They then took another large step backward with Hoot, as that one earned a mere $8 million. Finally, last December, Walden had a sure thing with Charlotte's Web, but couldn't exploit the popular kids title enough, drumming up $81 million domestically after an awful opening weekend at $11 million. Their biggest upcoming film is probably Mr. Magorium's Wonder Emporium, which stars Natalie Portman and Dustin Hoffman.

Finishing third is last weekend's champ Norbit, Eddie Murphy's multiple character comedy. Audiences obviously figured out that Norbit is no Dreamgirls, as the comedy earned $20.7 million, a drop of 40%. That drop would have been much higher if not for the President's Day holiday on Monday, as the holiday tends to inflate Sunday numbers somewhat. Still, Paramount and Murphy have a two weekend gross so far of $62.8 million, and could see a total of $90 million, if Murphy wins an Oscar and the drop-offs level out somewhat.

Quiet newcomer Music & Lyrics finishes fourth, as the Drew Barrymore/Hugh Grant picture couldn't match the power of Ghost Rider or Terabithia. Music & Lyrics earned Warner Bros. $16.0 million over its opening frame, which is somewhat disappointing after Because I Said So opened to $13 million just a few weeks ago. Music and Lyrics opened to a large venue count of 2,929, so it's obvious that Warner Bros. had high hopes for this one. It could have legs – reviews were so-so but at least fresh, with 84 positive reviews out of a possible 130 at RottenTomatoes.

Finishing fifth is Breach, a film I'll admit knowing little about. Breach, a spy drama starring Chris Cooper and Ryan Philippe, earned $12.3 million this weekend from 2,806 venues. I bet those that saw this one liked it, as it was 78% fresh at RottenTomatoes. It will be interesting to see if this one holds well next weekend, once positive word-of-mouth starts to work.

Sixth spot goes to Daddy's Little Girls, the latest from Tyler Perry. This is another small film from Perry and Lionsgate, and it didn't match up to the director's other big hits. Little Girls grossed only $14.3 million from 2,111 venues, which pales in comparison with Madea's Family Reunion ($30 million opening) and Diary of a Mad Black Woman ($21.9 million opening). The problem for Perry is the fact that his small film got buried under too much new competition and the second weekend of Norbit. I expect this one will disappear quickly.

Hannibal Rising finishes seventh, and finishes the franchise. Hannibal Rising grossed $6.5 million in its second frame, off a large 50% from its opening weekend. Is there anything left to tell of Hannibal Lecter? I almost hope not, as the more films that come, the more The Silence of the Lambs is tarnished. Currently, Hannibal Rising sits with $23.2 million.

Because I Said So thankfully slides to eighth. The Diane Keaton rom-com of seriously questionable quality earned $6.0 million, and was off 35% from the previous frame. The total now for the Universal entry is $34.2 million.

In ninth is Night at the Museum, which will spend its last weekend in the top ten since opening in December. The Ben Stiller comedy earned $4.7 million in its ninth weekend, and was off 18% compared to last weekend. The total now for the blockbuster is an amazing $238.3 million. Equally awful The Messengers is tenth, with a gross of $4.4 million. It was off 39% from last weekend and has now earned $31.1 million.

Overall this weekend, there is nothing but good news at the box office. Over the three-day portion of the long weekend last year, the top ten pulled in about $106 million with Eight Below and Date Movie leading the charge. This weekend, the top ten pulled in $165.5 million over four days, which will help to make up for all those weekends in 2007 where box office seriously lagged behind last year.