Weekend Forecast
By David Mumpower
February 15, 2007
BoxOfficeProphets.com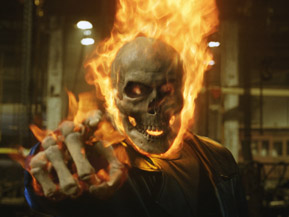 ---
Valentine's Day isn't even 24 hours in the past, yet we are already looking forward to the next major holiday, President's Day. Hollywood has decided that after six weeks of playing it safe, they are ready to release a ton of new products into the marketplace. The expected result is one of the strongest February weekends ever, with a comic book adaptation almost certain to claim victory despite stiff competition.

Ghost Rider is the 800 pound gorilla over the four-day holiday. North American audiences, perhaps seeking to remove all doubt about their shaky movie tastes, are showing strong interest in this Nicolas Cage/Eva Mendes action/drama. For those of you who have never picked up a comic book in your life, this is the tale of a biker/stuntman named Johnny Blaze who makes a deal with the devil (literally) to give up his soul in exchange for a favor. Once that task is completed, Blaze becomes a creature of the night, a flaming skull-headed biker capable of shooting hellfire out of his fingers. Mendes plays the love interest in the movie who presumably is not interested in letting Blaze get to third base with her.

Ghost Rider has been a rumored project that pre-dates even the existence of BOP. In fact, Cage announced his interest in the project the week before our site made its debut. Given that almost six years have passed, it is clear that getting Ghost Rider into production was no easy feat. Real progress was finally made when Daredevil helmer Mark Steven Jackson was brought on board to write and direct. Even then, almost two years passed before the first footage was shot. Clearly, there are difficulties in making a realistic re-creation of such visually unique character. The lack of archetypal villains in the superhero's rogues gallery was also problematic. Eventually, the studio settled upon American Beauty's Wes Bentley to portray the big bad and Ghost Rider finally became a reality.

Clearly, the project has struck a chord with consumers despite the fact that very little happens in the trailer. A Super Bowl pre-game airing of the commercial created a ton of water cooler chatter, causing tracking data to spike. At least one service believes the project is capable of earning $50 million in four days. I am not quite as optimistic, though after Norbit's remarkable success, nothing shocks me these days. Look for around $42 million over the President's Day holiday weekend.

Men who like to dress up as women by using fat suits and heavily caked on make-up is not the topic of the next Maury Povich. Well, it might be but that is not my point. This is the weirdest box office phenomenon of the 2000s. We have (unfortunately) seen Eddie Murphy and Martin Lawrence perform this schtick in recent years and the President's Day weekend affords Tyler Perry another opportunity to cross dress to achieve success. Oh wait, he's not doing that this time? Err, never mind. It's probably for the best. Dueling fat suit movies might prove too confusing for North American audiences.

The almost completely unknown playwright introduced himself to North American audiences with Diary of a Mad Black Woman, though he had already built up a significant bit of buzz with a play of Woman, Thou Are Loosed. The project became a movie later that year despite the fact that Perry passed on working on it in order to focus on writing Diary of a Mad Black Woman. This proved to be a brilliant decision as Diary debuted to a jaw-dropping $21.9 million two years ago this month. Perry followed this success with an even more impressive follow-up. Tyler Perry's Madea's Family Reunion opened to $30.0 million on its way to $63.2 million. To this day, our staff giggles a bit about the frenetic missive we received from our friends at Lionsgate, begging us to change the movie's name in order to reflect Perry's drawing power. I won't pretend to know whether this was a power on Perry's part or simply savvy marketing on the part of the distributor. What I can say with confidence is that it worked.

BOP frequently teases about the quality of his movies (coming clean: I have had both Madea titles in my bottom ten the past two year). What we do not, however, deny is the massive appeal of Perry within the African-American community. BOP has discovered first hand how passionate Perry's fans are toward his work. Before we had any real understanding of who he was, our feedback inbox was inundated with questions about his two projects. Our simple acknowledgement of his work created a firestorm of site traffic from a group who felt Perry's work was not accurately supported on the Internet. When his movies were released, those fans spoke with their wallets and purses, forcing Hollywood to stand up and take note of a previously ignored movie-going demographic. His career ascension represents one of the best industry stories of the decade to date, exemplifying the fact that consumers drive the product.

Perry's latest work, Tyler Perry's Daddy's Little Girls, stars one of my favorite actresses, Gabrielle Union (Two Can Play That Game), as a successful woman struggling to come to terms with the chaos created by her falling in love with a divorced mechanic with three kids. When the ex-wife comes back into the picture and tries to take away the kids, Union's character must re-evaluate her life to determine what is important to her. I am not going to lie and say that I expect to like this movie, but I am certain it will do well this weekend. $28 million over four days is my expectation, proving once more that Perry is a significant box office draw.

The third opener of the weekend, Music & Lyrics, capitalized on Valentine's Day by debuting in theaters yesterday. The Hugh Grant/Drew Barrymore romantic comedy finished in second place with $4.2 million, falling just short of Daddy's Little Girls' $4.6 million. Throwing Ghost Rider on top of those two accurately reflects the weekend should play out. Grant appears perfectly cast as a washed up pop star who discovers that his neighbor is not just hot but also gifted when it comes to catchy lyrics. Grant has made a cottage industry out of playing easily lovable, socially awkward Brits in Four Weddings and a Funeral, Love Actually and Notting Hill, among others. Barrymore has found similar success with 50 First Dates, The Wedding Singer and Ever After. The combination of the two guarantees opening weekend success as well as long legs for Music & Lyrics. An opening holiday weekend of $22 million appears reasonable.

In danger of getting lost in the shuffle is Bridge to Terabithia, the theatrical adaptation of the Katherine Paterson Newbery Award-winning 1977 classic. A sort of thematic predecessor to Pan's Labyrinth as well as 1991's Macaulay Culkin tearjerker, My Girl, the story involves a young boy who loses a "boys only" foot race to an exceptional girl. Over time, they grow to be friends and share with one another their varying forms of artistic creativity. He loves to draw while she creates fantastic tales of imaginary adventure. Bridge to Terabithia is a project the staff at BOP had circled as a potential sleeper since its inception. Unfortunately, the film enters the marketplace in a situation where it could be devoured by the stiff competition involved. A $15 million performance over four days would be a solid accomplishment although the optimist in me is hoping for more.

The sacrificial lamb of the holiday weekend is (to my mind) the most intriguing new release, Breach. The Universal Pictures production is a semi-biographical re-telling of the events that led accomplished FBI agent Robert Hanssen to be convicted of treason. The man sold documents to the Soviet Union over a 15 year period before Hanssen's underling, Eric O'Neill, managed to bring him to justice. The project strikes me as a sleek political thriller with a lot of intellectual appeal. Unfortunately, stars Ryan Phillippe and Chris Cooper might be great actors (Phillippe will surprise you) but they are the polar opposite of box office draws. Thrown to the wolves on a weekend with four strong productions, Breach will be lucky to earn $7 million over four days. Universal has my money, though.