Norbit Slays Hannibal Rising at the Box Office
Weekend Box Office Wrap-Up for February 9-11, 2007
By John Hamann
February 11, 2007
BoxOfficeProphets.com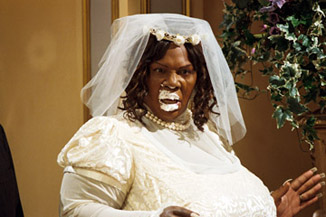 ---
The good news/bad news situation is this: we finally got a movie to open beyond $25 million, but the bad news is that for what feels like the 1000th weekend in a row, the two openers are simply awful films. The Eddie Murphy comedy Norbit opened this weekend from Paramount and was joined by an Anthony Hopkins-free Hannibal Rising from MGM and The Weinstein Boys. Last weekend's critically-reviled flicks did the expected – the horror flick flopped, and the rom-com bobbed its ugly head up for another weekend. None of this spells good news for the overall box office.

The number one film of the weekend is Norbit, starring the Oscar nominated Eddie Murphy. Despite looking dumb and being critically ravaged, Norbit still managed to open to $33.7 million from 3,136 venues, giving it a location average of $10,759. Norbit is another early 2007 flick with a shot at a Raspberry Award, joining the likes of Epic Movie, Because I Said So and The Messengers. At RottenTomatoes, the multiple-role, single fat suit comedy got 83 reviewers out to see it; however, only eight liked it, leading to a nasty 10% fresh rating at RottenTomatoes. If you want bad movies, January and February certainly seem to be the time to head out to your local movie theatre. The Messengers came in at 13% fresh, Because I Said So 7% fresh, Epic Movie 2% fresh, and Catch and Release at 22% fresh. Sadly, these films are dominating the Oscar bait that's out there, like The Queen at 98% fresh and Pan's Labyrinth at 96% fresh.

For Eddie Murphy, Norbit still got his usual audience out despite its quality issues, as his other films generally have received a similar response. The Haunted Mansion opened to $24.3 million in 2003 and Daddy Day Care found $27 million in the same year (I was on a bus once, and was forced to watch it – I'll never go Greyhound again). The Nutty Professor, another Murphy fat suit comedy, opened to $25.4 million in 1996, while the sequel opened to $42.5 million in 2000. Other fat suit movies include Martin Lawrence's tour de force in Big Momma's House and its sequel, which earned the original $25.7 million and the sequel $27.7 million over their opening weekends. It is absolutely beyond me as to what is so funny about a man dressed as an overweight woman, but somehow, someway, there is an audience for it.

Hannibal Lecter returns in Hannibal Rising; however, if people were looking for The Silence of the Lambs, they quickly learned that Peter Webber is no Jonathan Demme. Hannibal Rising managed to earn only $13.3 million from 3,003 venues, giving this horror flick a venue average of $4,446. Compared to the other Hannibal flicks, this opening is a disaster. It barely surpassed the $13.8 million that The Silence of the Lambs opened to 16 years ago, with twice as many venues at its disposal. It pales in the face of Hannibal's $58 million opening in February of 2001, and against Red Dragon's $36.5 million opening a year later. Critically, it did slightly better than Norbit, but really, that's not saying anything. Hannibal Rising got 98 reviewers out to see it, and this time only 16 reviewers liked it, and giving it a 15% fresh rating. In comparison, Red Dragon was 68% fresh and Hannibal was 37% fresh. With this opening weekend take, we can consider the franchise dead, as it should have been left after the release of Red Dragon.

Pulling up in third this weekend is Because I Said So, Diane Keaton's awful chick flick. Because I Said So earned $9.0 million this weekend from 2,529 venues, and was off a much-too-low 31% from last weekend. It's sad to think that this one is going to gross about $50 million, as it already sits with a cume of $25.6 million. No budget data has been released, but unfortunately, this most likely is a win for the studio.

Fourth spot goes to The Messengers, a bad horror flick from Sony and Screen Gems. The good news is that like the usual horror trend, The Messengers is falling off quickly. The small child in peril flick grossed only $7.2 million and was off 51% from the previous frame. The problem is that this one was made for only $15 million and has now grossed $24.7 million, so there are certainly more horror flicks like this one still to come. Look for The Messengers to finish just shy of $40 million.

Proving how slow the box office is, the eight-weekend-old Night at the Museum finishes fifth this weekend. The Fox Christmas flick (my tree has been down for over a month) grossed another $5.7 million this weekend, and was off only 10% from the weekend before. To me, this proves that moviegoers are starving for something decent to see, and are seeing Museum again because everything else (save the Oscar-bait) is just awful. Night has now grossed $232.1 million, and passed The Lost World: Jurassic Park to move into the top 50 biggest movies of all time this weekend.

Sixth spot goes to Epic Movie, another sign of the impending movie apocalypse. Epic Movie and its 2% fresh rating grossed $4.4 million in its third weekend, off a hearty 47% from the previous frame. This one opened to $18.6 million only three weekends ago, which shows its awfulness. So far, Epic Movie has grossed $35.5 million.

Smokin' Aces lands in seventh, as this stylized flick is also fading fast. Aces earned $3.8 million and was off 38% from last weekend. It has now earned $30.9 million against a budget of only $17 million. The Hollywood motto these days is make them fast and cheap, market them at the 17-25 set and make your money on DVD. This is not good news for moviegoers.

Eighth brings some relief from all the dreck, as Pan's Labyrinth spends its fourth weekend in either seventh or eighth place in the top ten. Pan grossed $3.5 million, off only 4% from the previous frame. This Picturehouse entry cost only $16 million to make and has now grossed $26.6 million.

Eddie Murphy's other film in the top ten, Dreamgirls, manages to hang around for another weekend. Dreamgirls grossed $3.1 million, finishing ninth, and was off 23% from the previous frame. I thought this one would have held much better, but Paramount will have to work with the $97.1 million this one has grossed so far.

Once again, The Queen comes out of nowhere from its Friday performance to finish in the tenth spot. The outstanding movie about the British royal family (and Tony Blair) takes in another $2.5 million, a mere 5% drop from last week. Its domestic total is now $49 million, about $45 million more than anyone would have ever expected back in September when it made its limited theatrical debut.

Overall, things aren't great at the box office for the umpteenth weekend in a row. Last year, when bad films like The Pink Panther were out, the top ten managed to earn just short of $100 million, coming in at $97.7 million. This year, things aren't so rosy. The top ten pulled in only $86.5 million, leaving us to wait another weekend for things to improve. Next weekend brings Music & Lyrics, Ghost Rider and Bridge to Terabithia, so hopefully things will change.