Super Bowl Frame Breeds Ugly Movie Weekend
Weekend Box Office Wrap-Up for February 2-4, 2007
By John Hamann
February 4, 2007
BoxOfficeProphets.com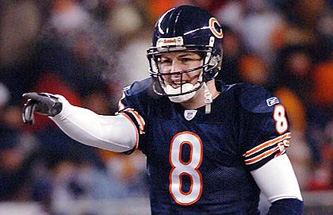 ---
For the third straight frame, the news was ugly at the box office. Overall, numbers were dismal, off more than $20 million when comparing this year to last year. The box office was so slow (how slow was it?), that the two disgustingly bad openers both managed to pass the $10 million mark. The debuting dogs this weekend were horror flick The Messengers from Screen Gems, and the comedy Because I Said So from Universal, which, from what I hear, played more like horror.

The number one film of the weekend is The Messengers, another "put a child in danger" horror film, designed to draw the female moviegoer away from the Super Bowl. The Messengers opened to $14.5 million � more than it had any right to, and more than most prognosticators were looking for. The Screen Gems release opened on 2,528 venues and had an average of $5,736. As BOP's Tim Briody wrote yesterday, The Messengers opened to $6 million on Friday night, but then had to face the Super Bowl on Sunday, which cut off its opening weekend legs. It had a dreadful internal multiplier (weekend gross divided by Friday gross) of 2.54 � which may actually say more about film quality than its competition. Critics murdered the Pang Brothers picture, with only five critics at RottenTomatoes liking it enough to give it a thumbs up.

Could the shine be coming off these awful horror movies? A year ago over the same weekend, When A Stranger Calls fell into a $21.6 million opening weekend, and also had to face off against the biggest football game of the year. Last weekend's horror entry, Blood & Chocolate, tanked badly, opening to only $2.1 million. Remake Black Christmas is another supposed fright-fest that failed to scare (and engage audiences), as it grossed only $16.2 million since opening on Christmas Day. Even sequels aren't safe. The Grudge 2 opened to just over $20 million, and couldn't even double that score over its run, as it finished with only $39.1 million in domestic sales. Audiences are talking to you Hollywood � these types of films may be financially viable, but even the kids are starting to figure out that these movies are crap. This opening may leave a lot of room for Hannibal Rising, which opens next weekend.

Finishing second is another large turd laid at movie theatres this weekend in Because I Said So. This Universal flick is a stab at bringing out the female audience over Super Bowl weekend (because you know that men don't leave the house all weekend because of the Big Game). Sadly, the ploy worked to an extent. Despite a 7% fresh rating at RottenTomatoes, Because I Said So managed to gross $13.0 million this weekend from 2,526 venues. It had a venue average of $5,146. I don't really blame you, North America. This one had a decent cast (Diane Keaton, Lauren Graham) and a venerable director (Michael Lehmann of Heathers fame) and you didn't have a lot of strong mainstream choices to begin with. Hopefully this one dies a quick death, and doesn't show chick-flick/rom-com legs.

More quality cinema finishes third in Epic Movie, a movie that wasn't shunned enough in its second weekend to restore my faith in humanity. Epic Movie grossed $8.2 million in its second frame (more than it should have grossed in its first), and was off a wonderful 56% compared to last weekend. The top three movies this weekend averaged a 9% fresh rating at RottenTomatoes, including this 3% fresh masterpiece. Epic Movie most likely cost about $20 million to make, and has so far earned $29.4 million. That means more are coming, people, whether I like it or not.

Night at the Museum is simply running out of moviegoers willing to see it. In its seventh weekend, Night at the Museum earned $6.8 million, and was off 29%. The Ben Stiller flick has now earned a remarkable $225.4 million, and will probably top out at about $240 million domestically.

Fifth goes to Smokin' Aces, the crash, bang, shoot'em up from Universal. This entry also tanked hard this weekend, grossing $6.3 million, off 57% from last weekend. This one could finish with as much as $40 million, but we will have to see how it does against Hannibal next weekend. Currently, it sits with $25 million.

Stomp the Yard continues its surprising run, as this out-of-nowhere flick has been the only bright surprise of the New Year thus far. Stomp grossed a meager $4.2 million with a drop of 45%, but its damage has already been done. This $15 million picture has now grossed $56 million, about double my expectations.

Seventh goes to Dreamgirls, which all of a sudden is somehow in danger of not hitting $100 million. Dreamgirls grossed $4 million from 2,797 venues, and was off a serious 40% from last weekend. The Paramount/DreamWorks flick has now earned $92.8 million.

Pan's Labyrinth finishes eighth, as distributor Picturehouse continues to try and propel it forward with more venues. Pan grossed another $3.7 million this weekend from 1,082 venues, which is an increase of about 250 from last weekend. Pan's Labyrinth cost about $20 million to make and has now earned $21.7 million. A couple of Oscar wins and this will be a huge hit on home video.

Ninth spot goes to The Pursuit of Happyness, Will Smith's Oscar-worthy effort. Pursuit grossed $3.1 million in its eighth frame, and drops 38% compared to last weekend. This rags-to-riches flick has performed just like its main character � after opening to $26.5 million, it has now earned $157.4 million, or about six times its opening weekend effort.

The Queen, another of the Oscar-nominated films, holds onto a top ten spot this week as it finishes with $2.7 million. The marvelous Helen Mirren film about the Royals now sits with $45.5 million domestically, an amazing amount for a film like this one.

Overall, this is an ugly weekend at the box office. The top ten grossed a sad $66.5 million, an awful amount, let alone in a weekend in February. Last year over the February 3rd - 5th frame, the top ten earned about $76.5 million � a heck of a lot better than this weekend. Next weekend could change things around significantly � Hannibal Rising is on the docket from The Weinstein Company, and Eddie Murphy's Norbit from Paramount also opens.