Weekend Forecast for February 2-4, 2007
By Reagen Sulewski
February 2, 2007
BoxOfficeProphets.com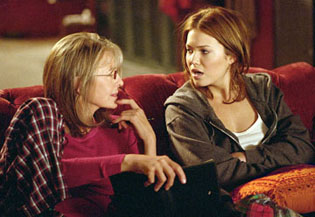 ---
A slow weekend greets the box office as February starts, with a couple of middle tier releases providing the new blood. With few strong holdovers, and the Super Bowl looming on Sunday, it's not a guarantee that the box office will place even one film in the double digit millions.

Because I Said So is our second romantic comedy opening in as many weeks, hoping for counter-programming dollars against the biggest sports event of the year. The film features Mandy Moore as the unlucky-in-love daughter of Diane Keaton, who is determined to set up her daughter so that she doesn't end up unhappy like her. Wacky antics ensue, as she turns on her full, overbearing motherly traits on her daughter in a display of shrieking insecurity. Doesn't that sound fun?

The film also stars Lauren Graham and Piper Perabo as Moore's sisters and is directed by Michael Lehmann, who almost 20 years ago was responsible for one of the most biting teen satires ever made, Heathers. Try not to think about that too hard. Because I Said So is getting critically thrashed to a degree rarely seen for romantic comedies, which can usually rely on the "innocent fun" factor to at least get a few critics to stand behind it. Keaton has had a bit of a career resurgence of late, and Moore has done some moderately enjoyable work in the slapstick romance genre, but this one looks almost dead in the water. Only the counter-programming aspect really seems to be working for it. On abour 2,500 screens, it should see a weekend total of about $8 million.

The Messengers is the English language debut for the Hong Kong directing team of brothers, The Pangs. Best known for 2002's The Eye (which is seeing an English remake), they are well versed in horror circles for producing stylish supernatural films. In this case, this appears to be your standard haunted-house-meets-creepy-kid hybrid, with a bit of the malevolent stranger thrown in for good measure. Starring Penelope Ann Miller, Dylan McDermott, John Corbett and Kristen Stewart, The Messengers posits that children have an untapped connection to the paranormal, and can communicate with the beyond, who have secrets to tell. This kind of thing never turns out well for anyone.

The Pangs seem to have blended the Asian sensibilities of horror onto the North American setting, which has worked to various degrees in other horror movies like The Ring and the Grudge, and less so in cases like Pulse, which this film superficially resembles. Sony declined to submit this to critics for review, which doesn't show a lot of confidence in the film, and the lack of a solid and/or well known lead will probably stop this film from breaking big, unless Stewart has developed a sudden following from Catch That Kid that I'm not aware of. Also opening on about 2,500 screens, this should see about $7 million worth of business this weekend.

The latest sign of Hollywood's general creative bankruptcy, the "parody" Epic Movie, was last weekend's number one movie. Starting with a little over $18 million, or about $19 million too much, this pale retread of virtually every significant blockbuster of the last two years managed to convince a tremendous number of people that this was a good use of their time and money. I weep for them. Already in the IMDb's bottom 100 movies, Epic Movie has seen an incredible backlash in word-of-mouth. My only question to you people – what in the hell were you expecting? Last year's Date Movie, which was basically the same concept, dropped over 50% in its second weekend, and I don't expect Epic Movie to do better, especially against the Super Bowl. With any justice, all prints would burn up from spontaneous combustion, but we'll have to settle for it dropping to about $8 million.

Joe Carnahan's hyperactive gangster action film Smokin' Aces overcame bad reviews to finish in second place with close to $15 million, which is pretty good for a film that was essentially dumped into January as a Tarantino-wannabe. I'm not expecting huge legs for the film, especially against the Super Bowl, which will cut into its main audience. However, it has managed to steal first place away from Epic Movie in the mid-week totals, which has to count for something. I see this film bringing in a hair under $8 million for its second weekend.

Night at the Museum remains a strong performer, still in third place after six weeks in release. Among 2006 releases, it has now moved past The Da Vinci Code, and is closing in on X3 for total box office. It's really been a remarkable performer for Fox, and one that I think few saw coming to this level. Super Bowl weekend should take less of a bite out of this one than other films, and it should still earn around $6 million.

A bevy of Oscar nominated films are still vying for attention, with Dreamgirls leading the way. At just under $7 million, however, it's revealing a rather tepid response to the nominations, when past films have exploded into double digits upon recognition. Films like The Queen, Babel and Letters From Iwo Jima have certainly benefited from the attention, but compared to previous years, the result this year has been subtle. That said, The Queen is closing in on $50 million, Dreamgirls nears $100 million, and several other films that might not have broken $1 million are approaching $10 million.