Epic Movie Leads Ugly Weekend at the Box Office
Weekend Box Office Wrap-Up for January 26-28, 2007
By John Hamann
January 28, 2007
BoxOfficeProphets.com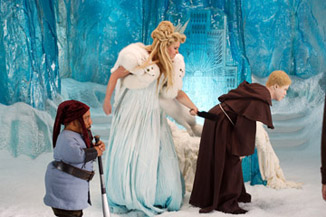 ---
Usually, the later weekends in January have a good side and bad side to them. The good side is that the Oscar hopefuls are out in force, leading the charge as they all vie for the big awards. The bad side is that Hollywood tends to level out the good with some atrociously bad movies. This year, award nominees aren't all that exciting, and making it worse is that openers like Epic Movie and Catch and Release are even worse than usual. What does this all add up to? The second consecutive weekend where last year's totals leave this year's totals in the dirt.

The number one film this weekend is Epic Movie, another in a long line of bad films like Date Movie, Not Another Teen Movie, and the more recent Scary Movies. This one is just like the others – way low on quality, and earning way more than it deserves. Epic Movie grossed $19.2 million this weekend from 2,801 venues, giving it a venue average of $6,855. Despite being released in January, this one already has a somewhat solid lock on worst picture of the year. At RottenTomatoes, zero positive reviews have been counted, and the critics with bad reviews are howling (and not in a good way). Why someone would drop $10 to see something like this leaves me scratching my head, but really, it's nothing new. Date Movie opened to $19 million less than a year ago, and the last Scary Movie grossed $40 million over its opening frame. The nice thing about these films is that they don't last long. Date Movie's second weekend drop came in at 52%, and I expect this one to be even bigger. Epic Movie will earn almost half its total gross from opening weekend and its 2,800+ venues will be wiped out in its third weekend and get gobbled up by Hannibal Rising. Really, it can't happen fast enough.

While bad for us, Epic Movie is good news for Fox. These spoof films cost about $20 million to make, and with a $19.2 million opening, the studio should see a cash return from the theatrical release. The good news for the studio doesn't end there. 20th Century Fox will most likely also see an equal or larger gross from the DVD release. After domestic and foreign box office, combined with home video dollars, Fox will earn somewhere in the neighborhood of $150 million off a film that so far has zero positive reviews. That's Hollywood, baby.

Our number two film this weekend is Smokin' Aces, the latest all style/no substance shoot'em up, in the vein of 2005's disaster Domino. This one fared much better than the Keira Knightley flick - at least over opening weekend. Smokin' Aces earned $14.3 million over its debut frame, yards better than the $4.7 million Tony Scott's Domino opened to last year. This Universal effort opened on 2,204 venues, and had an average of $6,470. Why did this one do so well? It certainly had little to do with expected film quality, as this one only had 29 positive reviews out of a possible 100 at RottenTomatoes. My guess to its success is that there have been few films over the last few months that have this kind of body count, and with the style this one has, it was sure to bring a few of those fans out as well. It also had a decent cast that includes Ben Affleck, Jeremy Piven, Ray Liotta and Ryan Reynolds. Unless this one strikes a chord with audiences and earns some word-of-mouth, this will be another entry that doesn't last long (but don't worry - it will have Epic Movie beat in spades).

Finishing a strong third is Night at the Museum, the Ben Stiller comedy that refuses to quit. Museum earned another $9.5 million from a still powerful 3,241 venues. Last weekend the Fox film earned $12 million, so the drop of 21% is can be considered outstanding. Night at the Museum still has a decent shot at $250 million, but will have to pull it up a bit in the next two weekends if it hopes to achieve that. Currently it sits with $216.7 million.

Finishing fourth this weekend is Jennifer Garner's latest, Catch and Release, as moviegoers did more Release than Catch with this one. The Sony picture earned a slow $8.0 million, albeit from only 1,622 venues, which tells us the studio didn't have a lot of confidence in it to begin with. It had a venue average of $4,932. This was our third of four critical dogs this weekend, as it earned only a 23% fresh rating from RottenTomatoes. This opening pales in comparison with Garner's last rom-com, 13 Going on 30, which, after being marketed like Big, opened to over $21 million in 2004. This time out, Garner will be happy if this one earns $21 million over its domestic run. Next up for the former Alias star is The Kingdom, where Garner costars with Jamie Foxx, which may help pull her out of a slump that's included Elektra and now Catch and Release.

Finishing well back in fifth is Stomp the Yard, which led the box office for the last two weekends. Things continue to be sunny for this Sony picture, as it gross falls from over $12 million last weekend to 7.8 million this weekend – equaling a drop of 36%. This is a huge hit for Sony and Screen Gems, as Stomp cost only $15 million to make, a figure it easily earned after a $20 million plus opening frame. Currently, this urban dance film has earned an impressive $50.7 million.

Despite a handful of Oscar nominations, Dreamgirls has to settle for sixth place, as competition was just strong enough to keep it out of the top five. The Paramount/DreamWorks musical earned $6.6 million from 2,785 venues, giving it a venue average of $2,377. Nominated for eight Oscars, I was looking for an improvement on last weekend's $8 million weekend, but we see a 18% drop instead. Did the lack of Best Picture nomination force it downward? Maybe. Will the gross so far of $86.7 million make Paramount happy? Absolutely. This one cost $70 million to make and should finish above $100 million (and that's just the domestic total).

Seventh spot goes to The Pursuit of Happyness, which has earned Will Smith an Oscar nomination. Now in its seventh weekend, Pursuit grossed $5.0 million, off only 21% from the previous frame. The Pursuit of Happyness has shown some fantastic legs, with only one 40% plus drop since it opened. It now sits with $152.9 million, and could finish with as much as $175 million.

Pan's Labyrinth finishes eighth, and because distributor Picturehouse added another 200 venues, it sees no drop from last weekend. Pan's Labyrinth grossed $4.5 million from 823 venues this weekend, and with the venue increase and six Oscar noms, sees its box office total hold steady with exactly the same number as last frame. With a budget of only $5 million, this small film is proving huge for Picturehouse, as this one has now grossed $16.3 million.

The Queen from Stephen Frears is our number nine film. Thanks to six Oscar nominations and 200 more venues from Miramax, The Queen saw an increase over its total last week. The Helen Mirren flick earned $4.0 million and was up 18% from the previous frame. The Queen has now grossed $41.2 million domestically, and a similar amount overseas.

The Hitcher falls from fourth spot last weekend to tenth spot this weekend, as a poor opening is followed by an even worse sophomore weekend. The Hitcher earned $3.6 million in its second frame, off 54% from the previous weekend. This forgettable Focus Features entry has earned $13.4 million after two weekends of release.

Our final new release failed to even make the top ten this weekend. Blood and Chocolate took in $2.1 million from only 1,200 venues. The MGM horror entry was DOA, and won't be heard from again, at least until its DVD release.

Overall, the top ten at the box office is down drastically compared to last year for the second weekend in a row. The top ten films this weekend earned $82.4 million, off a lot from the $103.5 million the top ten earned last over the same weekend last year. Next weekend brings Diane Keaton and Mandy Moore in Because I Said So, and another horror entry in The Messengers. Check back next weekend to see if these two can lift the box office.