Friday Box Office Analysis
By Tim Briody
January 27, 2007
BoxOfficeProphets.com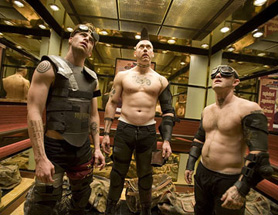 ---
Despite three new releases in the top four spots, the box office top ten is now overflowing with Oscar hopefuls, dead weight, and in some cases, both.

Epic Movie

The spoof entry comes in with $6.66 million on Friday. Interpret that as you will. Anyway, while it was one of the most reviled movies of 2006, Date Movie did come in with $19 million in its first three days before collapsing quickly. The 2.79 multiplier that Date Movie had seems like a decent fit here for Epic Movie, which would give it an okay $18.5 million, enough to win the weekend pretty easily.

Smokin' Aces

The heavily-advertised, star-studded Smokin' Aces does better than I expected with a solid second place finish at a hair under $5 million on Friday. Perhaps the closest comparison to the ensemble gangster action/comedy is something like Snatch, now only six years old. That had a 3.0 multiplier in its first weekend of wide release. I expect something a little bit worse here, likely around the same multiplier as Epic Movie would have. A 2.8 would give it a fairly decent $14 million for the weekend.

Catch and Release

The virtually-unadvertised romantic comedy on only 1,600 screens could only manage $2.7 million, a far cry from Jennifer Garner's first romantic comedy release, 13 Going on 30, which opened to $21 million in April of 2004 (on over twice as many screens, too). Who'd have thunk that hubby's film would actually do better this weekend? Look for a weekend total of around $7.8 million

Notable Holdovers

Two-week champ Stomp the Yard is stomped by three newcomers down to fifth place. Look for a third weekend take of around $7 million.

With a slew of Oscar nominations, but a tainted eight since three are for Best Song and there's no Best Picture nomination, Dreamgirls doesn't see a bounce at all but instead declines 24% from last Friday. Things are better for The Queen, which sees an 11% increase in the wake of its Best Picture nomination.