Movie Review: Black Snake Moan
By David Mumpower
March 1, 2007
BoxOfficeProphets.com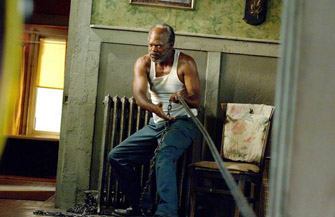 ---
"You ain't got but one life. You ought to live it the way you want."

The above words permeate throughout Black Snake Moan, a contemplative story of abuse and redemption from Craig Brewer. Fans of the writer/director's studio debut, Hustle & Flow, need not worry. A sophomore slump has been averted.

Black Snake Moan stars Academy Award-nominated actor Samuel L. Jackson as Lazarus, an embittered man who has just seen his marriage broken up due to his wife having an affair with his younger brother. Lazarus is reduced to working his fields in the morning to produce green beans, spending his afternoons drinking away his sorrows, and finding occasional relief through his mastery of the slide guitar. The connection to music is not a first for Jackson, who has also participated in hidden gem The Red Violin as well as Spike Lee's 1990 outing, Mo' Better Blues.

Another familiar theme for Jackson is religion. His character has rejected the church due to the humiliation he feels because of his wife's actions as well as their gossip. This causes tension between him and his oldest friend, R.L. (industry veteran John Cothran Jr.) since the latter man ministers at the church in question. R.L. is well aware of the fact that Lazarus is walking a shadowy path while refusing to rely upon his flagging faith.

Enter Rae as portrayed by recovering child actress Christina Ricci. The artist formerly known as Wednesday Addams portrays a damaged sexaholic similar to her role in 1998's The Opposite of Sex. The difference is that Rae lacks the meanness of Dede Truitt, her character in that film. Instead, Rae is more straightforward in her goals. She wants to make peace with her mother and she wants to come to grips with her raging sexual desires. Don't get too excited, though, horndogs. Rae's sexual encounters are soulless endeavors with no attainable satisfaction possible. She is a nymphomaniac and her actions exemplify the fact that the concept isn't as sexy as it sounds.

Early in the movie, Rae's boyfriend, Ronnie (Justin Timberlake), leaves for a tour of duty. After she unsuccessfully begs him not to go, the fragile, needy woman temporarily satiates her sexual desires, then gets wasted at a party. Also in attendance is Ronnie's brother, Gill (Michael Raymond-James). Seeing the woman wasted out of her mind, Gill offers her a ride home. This ends badly for Rae. The end result is that the woman is dumped on the side of the road, left for dead.

Lazarus wakes up from a night of drinking to discover that Rae is outside his house. He attempts to be a good Samaritan, bringing her inside and trying to help her recover from the prior night's events. The guitarist quickly realizes that this woman has a dangerous fever and needs caretaking in order to survive. A kindly pharmacist with a crush on him risks her job to get him the medication he needs. Over the next couple of days, Rae and Lazarus' encounters are based upon her sleepwalking through night terrors and his attempts to retrieve her to the safety of the house. Eventually, he winds up chaining her to his radiator in order to prevent further flight. It's only when Rae wakes up that Lazarus realizes he has no interest in letting her leave in her current state...and I don't mean her physical state.

The wounded man recognizes a kindred spirit, another soul in need of comfort and personal growth. The two proceed to square off in a battle of wills as Rae seeks release from her captivity while Lazarus attempts to get the woman to look deep inside and find the courage to battle the self-inflicted wounds and urges that are destroying her life.

For those of you familiar with Hustle & Flow, I have good news. Black Snake Moan is thematically similar in just the right way. Most of the characters are well intended ne'er-do-wells who all have a dream of a better life just around the corner. Ronnie wants to move to Knoxville and start his own car shop. His brother, Gill, holds firmly to the idea that Ronnie will eventually keep his word, going to college and making something of his life. R.L. believes that he holds the key to Lazarus finding his faith again. The pharmacist, Angela (S. Epatha Merkerson) wants to be the woman who helps Lazarus find love again. And Lazarus himself, well, he just wants to get his life back to some semblance of normal.

None of them save arguably Gill is an innately bad person and none of them save arguably R.L. is an innately good person. They're all just people, and that sort of realistic storytelling is where Brewer has the Midas touch. He's not one for heroes and demons. He credits all of his characters with their own sort of gradual growth over time. It's a methodical, precise form of cinema that isn't for everyone, but I am deeply impressed with what Brewer has done in his first two studio releases.

As for the specifics of Black Snake Moan, Ricci's performance is fearless. She spends a great deal of the movie clad only in a half-tee and panties (and chain), and she allows herself to feed off this vulnerability. Over time, the chain she wears becomes a part of personality. The symbolism of being tied to the parts of her personality that hold her down is unmistakable. The way she goes from helpless child desperate for her momma's love to brazen temptress luring men of all ages into temptation is dazzling. Saying that this is Ricci's best work since Monster is not much of a compliment given the roles she has had in the interim. Instead, I would rather note that this stands with The Opposite of Sex and Monster as the best three roles of her adult career to date.

Samuel L. Jackson is always great and everyone reading this knows it. Black Snake Moan is an unusual choice for him, though. Jackson allows himself to look every bit of his 58 years with the result being a worn down looking man ready to quit life. As Jackson's character gradually begins to embrace those parts of his personality gradually left behind over time, he summons a portion of his youth not only emotionally but also physically. The man strikes a powerful figure as he plays slide guitar at a couple of points in the movie. At these moments, he is much more the man we saw getting snakes off his motherfucking plane than the tired, betrayed farmer at the start of Black Snake Moan. Even by Jackson's lofty standards, this is a superlative performance. It is every bit as measured as he was in the aforementioned The Red Violin and my favorite effort of his, 1998's underrated The Negotiator.

Black Snake Moan is not going to be confused with Hustle & Flow in its implementation of music, even though both movies feature a musically gifted lead character. Lazarus is the polar opposite of Terrence Howard's DJay. He is almost at the end of his career and the creative process no longer holds any mystery for him. Even so, there are two key moments in the movie where music is impetus for character development. Brewer has shown a mastery of this sleek enjoining music video styling with thought provoking imagery. Particularly noteworthy is a key sequence towards the end of the movie. The acoustically enhanced room from Hustle & Flow is substituted with an earthy blues club dance sequence but the end result remains the same. Brewer once again deftly melds story and sound into a powerful, memorable scene that encapsulates the movie's point of view.

In the end, Black Snake Moan will not be for everyone. At exactly two hours long, its patient, methodical brand of storytelling will prove too much of a struggle for some. That is a shame because they will be missing out on what I may already say with confidence will prove to be one of the best releases of 2007.