BOP Contests: Sundance Channel
By BOP Staff
January 19, 2007
BoxOfficeProphets.com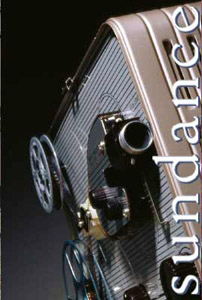 ---
I know what you are thinking to yourself. Is it possible that my favorite Web site, BOP, is running a second contest this week? Could I be so lucky? The answer is yes, our loyal reader, you are just that lucky. Not only does BOP exist, proof enough of a benevolent deity, but we are also awarding further prizes to those of you capable of telling us your name and mailing address. If you can keep up with holiday extrapolations, weekend multipliers, and the like, BOP knows you can type in such rudimentary info. We believe in you. Those three years of first grade were time well spent.

So, what is up for grabs and what do you have to do? Well, thanks to BOP's dear friend M (someone we love so much we want to have her in all of our weddings or, at the very least, let her keep the guest books), we have a dynamic pair of prize packs.

What do these magical piñatas include? Let's let our buddy M tell you: "Each one includes a t-shirt, notebook, DVDs, and a bag. We also have one Sundance Channel Festival Jacket as a grand prize. They are made by 66 North, and priced at $400 each."

Yes, you read that correctly. A $400 Sundance jacket! We know what you are doing right now. You are hyperventilating. Your hands are shaking. You can't think. You can't type. Your only goal in life is to figure out how you will be able to calm down long enough to send us your contact info. Breathe, people. Faith Hill, Michelle Branch and Drew Barrymore in Ever After can't all be wrong about the importance of this action.

Now that you have gotten your pulse back down to normal, what you need to do is simple. Email us at kim@boxofficeprophets.com and mention Sundance in the header. Please include your name and address. One caveat: this contest is available only to residents of the United States. Tough luck, Uzbekistanis!

Finally, keep checking back here over the next several days. BOP will have several exclusive clips from Sundance 2K7.