Weekend Forecast for January 19-21, 2007
By Reagen Sulewski
January 19, 2007
BoxOfficeProphets.com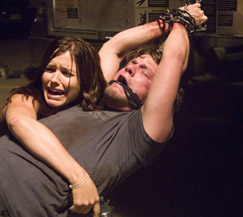 ---
Post-Golden Globe weekend this year has just one new release in wide distribution, leaving room for a handful of award hopefuls to expand or relaunch into multiplexes around the country.

The sole new release this weekend is The Hitcher, a remake of the 1986 horror thriller starring Rutger Hauer and a then on-the-cusp-of-stardom C. Thomas Howell (yeah, how'd that one work out for him?). Hauer played the title character, a psychotic criminal who frames Howell for his crimes after he picks Hauer up on the highway, and the hitcher tries to do away with the Howell character for good measure. That's gratitude for ya.

This update puts Sean Bean in the lead role (a fairly inspired choice) with One Tree Hill's Sophia Bush and relative unknown Zachary Knighton in harm's way as The Hitcher's target. The original film was never a giant hit, though it did attain a certain cult status through endless cable repeats. As such, it's a pretty good candidate for a remake, unlike a lot of the other classic horror films that Michael Bay's production company has set its sights on.

Whether they've done a good job on it or not is anyone's guess at this point, as it's yet another horror film that has not been screened for critics. In general, this means "bad", but then you already knew that, didn't you? Taking that into account, The Hitcher looks decent, as these movies go, so box office prospects are relatively strong. Opening on 2,831 screens, The Hitcher should see a weekend total of approximately $14 million.

We now move to the numerous expanding films this weekend. The most significant jump is claimed by The Queen, which moves up to over 1,500 venues, close to quintupling its showings. Having earned $31 million to date, this telling of the events surrounding the death of Princess Diana and its effect on the British Royal Family has garnered the most attention for Helen Mirren's portrayal of Queen Elizabeth II, which won her Best Actress in a Drama at this Monday's Golden Globes. Prior to this award, the film had more or less run its course, reaching as high as tenth in the box office. It should crack the top ten a little higher this weekend, with a take of around $6 million.

Babel, the Best Drama winner at the Globes, makes the next biggest leap, from under 200 theaters to almost 900. The ensemble drama, which stars Brad Pitt, Cate Blanchett and a host of international stars that are becoming a little bit better known stateside, had been considered a disappointment up to this date, earning just $21 million so far. This win, combined with a possible Oscar nomination, should change that. Look for a weekend of about $4 million.

The Last King of Scotland increases its count by almost 500 venues, all the way from just four. This move will take advantage of Forest Whitaker's win for Best Actor in a Drama as the insane Ugandan dictator Idi Amin. The film itself has received outstanding reviews but has had only slight availability across the country, which is why it's not gone above the $1 million mark for a weekend, and has just $4 million in domestic box office to show for its efforts to date. Relatively speaking, this film will benefit the most from Oscar exposure, as it brings in another $2 million or so this weekend.

Pan's Labyrinth didn't win any awards at the Globes, but it was a nominee for best foreign film. Guillermo del Toro's macabre fantasy film has collected a few major nods and is probably the biggest threat to Pedro Almodóvar's Volver at the Oscars for the foreign film category. Set amidst Franco's Spain, Labyrinth follows a little girl into her deepest imagination as she deals with the calamity of war and repression around her. Already a bit of a sensation in limited release, this visually dynamic film could be set to break out. Expanding to over 600 theaters, it should be able to earn about $5 million this frame.

The actual winner of the Globe for Best Foreign Film was Letters From Iwo Jima, although it is ineligible for that category for the Oscars. However, it is considered a favorite to pick up a regular Oscar nomination anyway. It expands to 360 theaters this weekend. Directed by Clint Eastwood, it's a companion piece to Flags of Our Fathers and tells the story of the Battle of Iwo Jima from the Japanese point of view. To date, its box office has been underwhelming, and is still under $1 million after four weekends of limited release. The attention it got this past Monday should help significantly, though it's going to need multiple Oscar nominations to really become a significant player at the box office. Look for a weekend of around $4 million.

Dreamgirls has already had a few weekends of wide release, but there's still room for it to expand, and expand it does, moving over the 2,000 venue count level. The winner of Best Musical/Comedy already has almost $70 million in the bank, and took first spot in Wednesday's box office totals. This expansion is minor relative to its previous berth, but combined with its Musical win, as well as the wins for Eddie Murphy and Jennifer Hudson in the supporting acting categories, it should see a boost in the weekend totals, to about $11 million.

Finally we get to the non-Oscar contenders, starting with last week's surprise number one, Stomp the Yard. Opening with $21.8 million over three days, the film about stepping obviously resonated with college crowds, who were underserved by a market filled mostly with adult-leaning Oscar contenders and family films. This counter-programming has proven for several years now to be an effective strategy, and this is one more example of the phenomenon. It should have a brief stay at the top, as reviews have been less than kind to the film, and this has front-loaded written all over it. Its second weekend should be in the neighborhood of $10 million.

Still running strong is Night at the Museum, which slipped to second place for the first time since its release, though it has packed over $190 million into its coffers, and is inches away from passing Madagascar as Ben Stiller's second highest grossing film. This film just won't go away, even after its Christmas support has theoretically evaporated. It won't get back up to win the weekend, but a second place finish yet again isn't impossible. I give it close to $11 million this weekend.