Weekend Wrap-Up
Dancers Stomp Ben Stiller
By David Mumpower
January 15, 2007
BoxOfficeProphets.com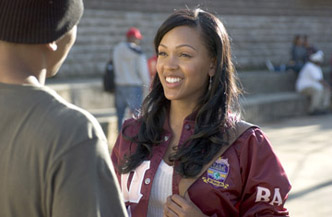 ---
In 1999, Varsity Blues established that a teen movie could utilize the Martin Luther King Jr. four-day holiday period as an anchor for strong box office. That movie, starring semi-famous actor James Van Der Beek, opened to $17.5 million over four days, a strong debut by the standards of January in the 1990s. 2000 saw an African-American comedy anchored by Ice Cube earn $16.9 million over four days. There were signs that a movie that appealed to African Americans as well as the teen demographic could do impressive box office over the holiday. In 2001, this theory was put the test with the release of Save the Last Dance, and the results were stunning. The Julia Stiles/Sean Patrick Thomas romance earned a spectacular $27.5 million on its way to $91.0 million in domestic receipts.

In the interim, movies such as Black Hawk Down ($33.6 million), Kangaroo Jack ($21.9 million worth of suckers), Along Came Polly ($32.5 million), and Coach Carter ($29.2 million) showed that the Martin Luther King Jr. holiday weekend is now an optimal time to open a movie. Whereas January had once been considered a dumping ground for the releases a distributor felt were not good enough for the prior year, a new behavior has emerged. Sure, we still see garbage like Code Name: The Cleaner and Arthur and the Invisibles, but not every January title is automatically disposable.

The Martin Luther King Jr. holiday in 2006 was a prime example. Three different quality productions debuted, each of them earning a respectable $15+ million over the four days. The winner of the battle last year was Glory Road, a Josh Lucas basketball title that earned $16.9 million over the holiday on its way to $42.6 million in domestic receipts. The winner of the war was The Weinstein Company's first release, Hoodwinked. The CGI-based fractured fairy tale about Little Red Riding Hood earned $16.8 million on its way to $51.0 million in domestic receipts. This family film also was afforded the luxury of having a sequel greenlighted within five days of its release. The other quality outing was Last Holiday, a Queen Latifah vacation comedy that earned $15.5 million over four days on its way to $38.4 million. What we can take from all of this is that African-American consumers love to celebrate the Martin Luther King Jr. holiday with a movie and if Hollywood doesn't insult their intelligence with dreck, the movie can break out. The same may be said of the teen demographic, meaning that projects such as Save the Last Dance can make a fortune if they successfully cater to both audiences.

Enter Stomp the Yard.

The unheralded musical drama starring virtual unknown Columbus Short (Darius on Studio 60 on the Sunset Strip if any of you join me in the vast minority who watches it), Chris Brown and Meagan Good earned an estimated $26.4 million, making it the most successful Martin Luther King Jr. weekend opener since 2005. So, how does a movie whose biggest name is either The Girl in movies like You Got Served and Roll Bounce, a bit actor on an unpopular network show or an R&B recording artist with exactly one previous credit on his acting resume become a blockbuster opener? The credit goes to Sony's Screen Gems for their vision in going to some campuses in the greater Atlanta area, filming a movie that combines the vision of Drumline with the spirit of Save the Last Dance and just a touch of School Daze thrown in, then marketing it using the MySpace stratagem BOP discussed in our Top Film Industry Stories of 2006 columns. The end result is a movie whose sum is greater than its parts. Lacking a Ben Stiller or Will Smith as the A-List actor to anchor such a project is irrelevant since Stomp the Yard has tapped into the zeitgeist at the perfect moment, creating a trailer that makes the entire experience look captivating to teen audiences. The result is what will stand as one of the strongest openings of the year until summer arrives. Screen Gems is to be commended for turning a smaller movie with a catchy title into a trend-setting hit.

After an impressive three weeks at number one, Night at the Museum slips a notch into second place over the extended holiday weekend. Another $21.5 million gives the Ben Stiller CGI-intensive comedy $190.2 million after 25 days of release. With only $10 million needed to surpass Ice Age: The Meltdown and Superman Returns, the comedy blockbuster is poised to become one of the top five domestic earners released in 2006 by this time next week. The Da Vinci Code's $217.5 million is definitely in reach as well with X-Men: The Last Stand's $234.4 million a distinct possibility. Stating the obvious, Night at the Museum is a huge success story for Fox.

Speaking of success stories, Will Smith's latest $100 million earner continues to impress. An estimated four-day total of $11 million gives the Smith and Sony production a running tally of $138.4 million, making it one of the most successful pure dramas in recent memory. The third place finish this weekend is the logical sequential showing for a movie that started in first before holing up in second during Night at the Museum's run of dominance. At this point, it is hard to argue the point that Will Smith is the most reliable box office draw in Hollywood.

Dreamgirls has an eye on bigger prizes with this evening's Golden Globes Awards. In the interim, the Beyonce musical will have to settle for fourth place over the holiday. Another $10.2 million over the four days after $8.6 million in three days last weekend gives the Dreamworks/Paramount production a grand total of $67.1 million. Considering the way that the movie died in days two, three and four after its scintillating debut (as I chronicled in the Twelve Days of Box Office), this has to be considered a satisfactory result. If the movie attains momentum tonight, however, $100 million remains a strong possibility.

Last weekend saw the debut of a Dangerous Minds clone called Freedom Writers. The Hilary Swank project earned $9.4 million, making it the "hit" out of a batch of miserable new January releases. That momentum was temporarily sustained by the holiday, allowing the inspirational story about a teacher making a difference to bag another $8.8 million. A running tally of $20.1 million is frankly more than I thought this movie would earn in theaters. Another $11 million would allow Freedom Writers to surpass the totals of The Black Dahlia and The Core, making it the third most successful movie of Swank's career after Million Dollar Baby and Insomnia.

Justin Timberlake took time out from his busy schedule of getting dumped by Cameron Diaz to star in the fifth most popular movie this week, Alpha Dog. The Nick Cassavetes movie about a kidnapping and its impact on a bunch of drug abusers earned an estimated $7.6 million over four days. That's barely half of what the director's last movie, The Notebook, earned ($13.4 million) on its way to $81.0 million in domestic receipts. Of course, this sordid tale based on the life of Jesse James Hollywood, a 20-year-old who found himself on the FBI's Most Wanted list, is a much harder sell. But Universal has to be disappointed that Timberlake's teenage fan-base refused to follow him into theaters. Between this movie and Edison (aka Edison Force on video), Timberlake's fledgling acting career is off to the sort of rough start that would drive a poorer person to porn.

The buzz movie of this awards season is unquestionably Children of Men, a complicated science fiction production about a human race no longer capable of reproduction. The universally well-regarded Alfonso Cuarón project is becoming a box office sleeper, earning another $7.4 million over the holiday. This seventh place performance gives the Universal release $22.4 million after ten days of "wide" release. The platformer jumped from 16 exhibitions to 1,209 last weekend and has added another 299 now. With growing awareness from more mainstream consumers, this project should evolve into one of the most memorable outputs from 2006. Already being hailed as the Blade Runner of our era, it should make a killing on the home video market after its currently successful box office run is complete. Of course, a reported budget of $72 million does put a damper on a lot of this optimism.

As a fan of Brooke Langton and particularly Dominic Purcell, I am saddened to report that they are the stars of Primeval. The good news for both of them (as well as their agents) is that almost no one in North America will ever know this. Primeval debuts in eighth place with a paltry $7.0 million over four days. The critically reviled horror thriller, currently 15% fresh at RottenTomatoes, is going to be in and out of theaters in the blink of an eye. Hopefully, Purcell can find better work during the next Prison Break hiatus. As for Langton, her old buddy George Lucas is ramping up production of the final Indiana Jones movie. Maybe he will throw her a bone. Or maybe we could get a Replacements sequel.

Luc Besson stated going in that he knew absolutely nothing about the animated filmmaking process, and it's obvious that movie-goers can tell. Arthur and the Invisibles debuted in ninth place to $5.8 million over four days despite having a relatively wide 2,247 exhibitions. Like the other openers this weekend, critics hated Arthur & Co., with only 19% of reviewers at RottenTomatoes giving it the proverbial thumbs up. The expensive film cost $86 million, yet it has proven to be a financial disappointment in Besson's homeland of France and is nothing short of disastrous in North America. Worldwide audiences have spoken, Luc, and they want you to stick to action films. Maybe not even those.

After a modest opening weekend of $11.5 million, little was expected of our tenth place finisher, Charlotte's Web. But the majesty of December legs has granted salvation to the timeless classic about a pig and a spider. Another $5.0 million over the four day holiday weekend gives the Nickelodeon/Paramount production an impressive running tally of $73.3 million. In this day and age, earning a factor of seven more box office than the opening weekend total is almost unheard of, even for December releases. It is safe to say that after a gloomy start, Charlotte's Web has circled back to being one of the bigger hits of the holiday campaign. With only one new title next weekend, it's not going to fade out of the top ten in the immediate future, either.

The top ten for the weekend combined for receipts of $110.7 million. This is a decrease of 3% ($3.7 million) from the Martin Luther King Jr. four-day period in 2006. The three opener combination of Glory Road, Hoodwinked and Last Holiday proved to be too much of a burden for Stomp the Yard plus the other lackluster openers of this weekend to overcome.