Weekend Forecast for January 12-14, 2007
By Reagen Sulewski
January 12, 2007
BoxOfficeProphets.com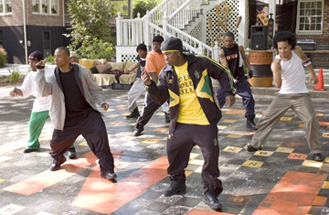 ---
The first weekend of 2007 didn't offer much in the way of new quality films, and although the Martin Luther King Jr. holiday weekend shows some improvement, we're still left to rely on returning and expanding films for the best quality of the frame.

Of the new releases, Stomp the Yard leads the way. It's a movie that centers on the tradition of step dancing (aka krumping), popular at traditionally black colleges, but little known elsewhere. Starring a collection of young rappers, choreographers and a few up-and-comers, Stomp the Yard looks like a cross between 2002's minor hit Drumline and last year's Step Up, with maybe a little bit of You Got Served in for good (bad?) measure.

The main, or perhaps only, attraction here is the high-energy dance scenes. Critics have not been kind to the rest of the film, with its soap opera-quality plotting and acting singled out for specific criticism. Even at that, this isn't a film that is dependent on reviews for its core audience, who will be going for the dance numbers. However, a cross-over appeal can pretty much be written off. Opening on about 2,000 screens, look for a weekend total of just under $10 million.

Competing for some - but not all - of the same demographic is Alpha Dog, an urban crime drama starring a cast of young actors including Ben Foster (of X-Men: The Last Stand), Emile Hirsch and Justin Timberlake, the latter of whom is the reason the film is getting as much attention as it is (although Bruce Willis also figures in the movie in a smaller role).

Directed by Nick Cassavetes and based on true events, Alpha Dog is a purported look at teen culture in the over-privileged suburbs of L.A., filled with drugs, sex, and a kidnapping here and there. It's getting some decent reviews for impassioned performances and kinetic camera work, but the negative reviews are really negative. It feels for all the world like a very special episode of The O.C. Opening on just under 1,300 screens, I peg this one for a mediocre $7 million opening weekend.

Horror is tackled this weekend by Primeval, whose advertising campaign is, quite literally, the biggest crock of this short new year. Or perhaps I should say croc. It purports to be about the world's most active serial killer, named Gustave, with over 300 kills. Gustave, however, is actually the world's largest known fresh-water crocodile, a legend in Africa.

So really, it's Anaconda all over again, as we follow a camera crew attempting to capture Gustave for a documentary. Meanwhile a South African warlord doesn't take too kindly to these interlopers, and tries to hunt both them and the croc down. Unlike Anaconda, the film isn't even confident enough to show us the monster (let alone let us know it exists), which was a big reason why the earlier movie, as bad as it was, managed to become a hit. Primeval, which stars Dominic Purcell, Brooke Langton, and Orlando Jones, does not look to have that same potential, even going so far as to not preview the movie for critics. This one looks doomed to about a $5 million weekend.

Our fourth new film of the week is Arthur and the Invisibles, notable mostly for spoiling the animation Oscar party by withdrawing its eligibility, cutting the field to 15, one under the number necessary to get five nominees this year. Luc Besson's going to be real popular in animation circles, I can bet. A mix of animation and live action, Arthur and the Invisibles sees a young boy (played and voiced by Freddie Highmore) who journeys into a secret world of fairies and demons located in his family's lawn in order to recover a treasure to help stave off the demolition of his house. Other voices in the cast include Madonna, David Bowie, Robert DeNiro and Snoop Dogg, among others.

This movie looks a bit too similar to The Ant Bully, which was a miserable flop last year, and the lack of advertising support and the sudden pull of its Oscar bid are just two ominous signs against it (and really, who's going to go for Madonna's voice as a lead character?). The animation is middle of the road as far as what we expect these days for animation, but the film itself looks pretty hopeless. Give it about $3 million.

The biggest expansion of the weekend is Hero and The House of Flying Daggers director Zhang Yimou's Curse of the Golden Flower. Starring Chow Yun-Fat and Gong Li, this Chinese period epic is set in the 10th Century amidst court intrigue, with illicit liaisons and murderous scheming abounding. The most expensive Chinese film ever made, it is also that country's entry for the Academy Awards this year.

So far, the film has not been completely impressive, earning just $6,000 per screen on 55 screens last weekend after a debut frame of nearly $1 million on 70 screens. However, Sony Classics is attempting a medium scale launch of this film on about 1,200 screens, hoping that it can repeat the pattern of other wuxia films like Crouching Tiger, Hidden Dragon, and Yimou's last couple of films. I see Curse of the Golden Flower falling short, earning about $3 million this weekend.

Among returning wide releases, Night at the Museum looks set to win the weekend for a fourth straight time. With nearly $175 million in the bank, it has been a stealth blockbuster that few saw coming, at least on this scale. Though we should start to see it slow down some, $200 million is a forgone conclusion at this point, with $250 million not impossible. Its winning total for this weekend should be in the neighborhood of $15 million.

Though it's already in wide release, major awards contender Dreamgirls more than doubles its screen count to over 1,900 this weekend, and will have a shot at unseating Ben Stiller's action comedy. The Beyonce Knowles, Eddie Murphy, Jamie Foxx and Jennifer Hudson starring movie about a girl-group in the '60s has been the movie with the top wide release per screen average for the last couple of weeks. It's wowing audiences if not critics. Watch for it to fall just short of being number one as it takes in around $13 million, and a box office total of about $70 million after the weekend.

Last weekend's Freedom Writers is also making an expansion attempt to almost double its screens after a relatively strong $9 million opening weekend. I look for this one to be not as successful, and see it holding steady at around $10 million.

Will Smith's Oscar hopes with The Pursuit of Happyness are still strong, thanks to its $125 million plus domestic total so far. It's seeing a mild expansion this weekend, and thanks to good word of mouth should stay in the top five with about $8 million.

Finally, what would January be without a mad dash by limited release films to capitalize on their awards buzz. Among the numerous films adding more screens this weekend are Notes on a Scandal, The Painted Veil, Pan's Labyrinth, Letters From Iwo Jima and Miss Potter. All of these films are in serious contention for one award or another, or more.