Museum Repeats Again at Number One
Weekend Wrap-Up for January 5-7, 2007
By John Hamann
January 7, 2007
BoxOfficeProphets.com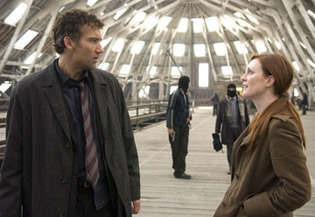 ---
The first weekend of 2007 brought two small surprises at the box office, both from a small amount of venues. Hillary Swank's Freedom Writers got off to an admirable start this weekend, as did the well-reviewed Children of Men, Universal's futuristic tale starring Clive Owen. Other new releases didn't fare very well. Lionsgate's Happily N'Ever After got off to a below average start, and Cedric The Entertainer's Code Name: The Cleaner crashed and burned. The winners again this weekend are Night at the Museum and The Pursuit of Happyness, as Ben Stiller and Will Smith's holiday-season family flicks continue to roll through the New Year.

The number one film for the third consecutive weekend is Night at the Museum, the 20th Century Fox release that refuses to falter. Night at the Museum grossed another $24 million from 3,730 venues this weekend, giving it a venue average of $6,434, and a drop from last weekend's holiday frame of 35%. While the drop may seem a tad high, remember that last weekend was the post-Christmas frame, and this weekend dealt with kids heading back to school on Monday. Night at the Museum has followed the Cast Away trend quite closely. Both films had Christmas and New Year's Eves fall on a Sunday and both saw an increase from the Christmas weekend to the New Year's weekend. In Cast Away's third weekend, the Tom Hanks film earned about $22 million, and dropped 28% - not far off that of Night at the Museum.

Night at the Museum should have no problem reaching the $200 million plateau as it currently sits with $164.1 million. My estimate for a landing spot for Museum is around $225 million – but that won't make it Ben Stiller's biggest film. Another Ben Stiller Christmas release - Meet the Fockers , which finished with a domestic total of $279 million - will retain that title. Next up for Stiller is the as yet untitled film that reunites him with his There's Something About Mary directors Peter and Bobby Farrelly.

Finishing second is the holiday season's perpetual runner-up – Will Smith and his Pursuit of Happyness. The Sony flick had another excellent weekend in its third frame, earning $13 million from 3,027 venues. It had an average of $4,295 and was off only 33% from last weekend. This feel-good movie has obviously struck a chord with audiences and is receiving excellent word-of-mouth. It already sits with $124.2 million in the domestic kitty, and I expect another $45 million is still to come.

Landing in third is an expanding release that had previously received an excellent location average in only a few theaters. Alfonso Cuaron's Children of Men is a better-than-expected third place finisher. Released to only 1,209 venues, the Clive Owen film earned $10.3 million in its first weekend of wide release, good for an outstanding venue average of $8,511. Children of Men is the futuristic story of man trying to save a pregnant mother, and audiences obviously responded to the fantastic word-of-mouth this one got from its limited release last weekend. Reviews for Children of Men were also excellent. At RottenTomatoes, 141 reviewers chimed in, and an amazing 131 of them liked it enough to give it a positive rating. That results in a fresh rating of 93% - one of the better ratings of the year - which means this one may have legs for quite awhile. There's something here for everyone: Science fiction, drama, action and romance.

Finishing fourth is Freedom Writers, which stars Hillary Swank. Freedom Writers grossed $9.7 million over its opening frame, and was also kept to a small number of venues, this time 1,360. That gives Freedom Writers an excellent venue average of $7,140. From Richard LaGravenese (who usually writes instead of directs), Freedom Writers is a Dangerous Minds lookalike, and another true, feel-good story is already in the top ten in the form of The Pursuit of Happyness. Critics liked it enough to give it a 65% fresh rating at RottenTomatoes, but I don't think this one has enough going for it to keep it from dying off quickly. Let's see if Paramount chooses to expand this one over one of the next two weekends.

Fifth goes to Dreamgirls, but I'm wondering if Paramount shouldn't have expanded this one this weekend. Still on only 852 screens, Dreamgirls grossed $8.8 million this weekend, off a bigger than expected 37%. Next weekend the musical expands to 1,800 venues, as Paramount hopes to capitalize on the huge buzz surrounding this production. Currently it sits with $54.5 million, and if it left theatres today, would be the second highest grossing film ever to never see more than 850 screens.

Finishing sixth is Happily N'Ever After, and if you watch any TV, you know it's from the producers of Shrek (woo!). Happily won't have the folks at Lionsgate overly pleased on Monday, as it earned only $6.8 million this weekend from 2,381 venues. Critics hated it, and again if you've seen the TV ad, you won't be wondering why. RottenTomatoes critics hammered Happily, leaving it with 5% fresh rating, one of the worst ratings I've seen for an animated picture. I don't imagine this one will be around for long.

Seventh is Charlotte's Web, which, after an auspicious debut, bounced back nicely over the holiday season. This weekend Charlotte and Company earned $6.6 million, keeping the pig alive for another weekend. The Paramount feature was off 43%, and now has a cume of $67 million. Look for it to finish around the $80 million mark.

Landing in eighth is Robert DeNiro's The Good Shepherd, which is never going to live up to its huge production budget. The Matt Damon film grossed $6.5 million in its third weekend, and was off 41% compared to last weekend. The budget here is above $100 million, and has currently earned $48.4 million. Look for it to gross two-thirds of budget domestically.

Rocky Balboa slugs its way to ninth spot, as the shine has come off this senior-citizen boxing movie. Rocky grossed $6.3 million this round, and was off 40% compared to New Year's Eve weekend. With a budget of only $25 million, and a total so far of $60.9 million, MGM will be seeing a decent return on investment.

We Are Marshall is our number ten film this weekend. The football drama epic earned $5.1 million, off 37% from last weekend. The Warner Bros. film has netted an okay $35.4 million.

Cedric the Entertainer's Code Name: The Cleaner failed to make the top ten this weekend, finishing in 12th spot with a gross of $4.3 million. Cedric failed to live up to his name with this one, as it went only 4% fresh at RottenTomatoes.

Overall this weekend, things were fairly similar to where things stood last year. In early 2006, the top ten films earned $98 million, powered by Hostel's opening of $20 million. This year, with Freedom Writers and Children of Men matching Hostel's power, the top ten earned a similar $97.2 million.