Weekend Forecast for January 5-7, 2007
By Reagen Sulewski
January 5, 2007
BoxOfficeProphets.com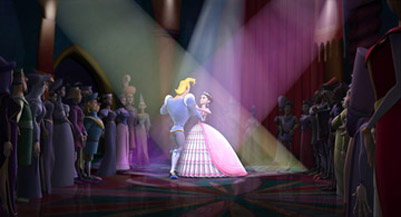 ---
While things have somewhat improved in the last few years, the first weekend of the New Year remains a dumping ground for films seeing their first release. For the most part, studios are content to let December releases and expanding Oscar hopefuls run the show, not challenging with films that have much potential.

Illustrating this point, of the three new wide releases, Happily N'Ever After premieres on just 2,381 screens, under two-thirds of this week's most widely distributed film, Night At the Museum. The first CGI animated effort from mid-major studio Lionsgate, Happily N'ever After comes onto the scene several years too late, and with about as derivative a product as could possibly be imagined.

Taking its cue from the Cinderella fable, this film Shrekifies that story up (it at least comes by that connection honestly, sharing a producer). Sarah Michelle Gellar is the Princess Ella, whose happy ending with Prince Humperdink (this is a kids' movie, right?) is threatened when the Evil Stepmother (Sigourney Weaver) deposes The Wizard in charge of all that.

On the surface, there's nothing wrong with an update of the story – after all, it worked for Shrek and to a much lesser extent, last year's Hoodwinked. However, the end result looks as sloppy as can be, with animation that might have been impressive ten years ago, but now might be bested by Saturday cartoons. Indeed, the press notes boast about its speedy production time of 15 months. Just one question here – as a movie-goer, am I supposed to care about that, or should I rather be entertained?

All signs point to the likelihood that you won't be if you go see this film, which starts out the year with a rock bottom critical reception. A lot of last year's animated films are hitting DVD now; parents would be much better served checking out one of them. A weekend of about $6 million would be pretty generous for Happily N'Ever After.

Freedom Writers is the latest entry in the inner-city-teacher-as-savior genre as popularized by films like Stand By Me, Dangerous Minds, and recently, Take the Lead (which twisted the genre by using dance rather than academics). Hilary Swank stars in this movie as a real-life teacher in a Los Angeles high school who attempts to save her students' future through a writing project. Patrick Dempsey also stars in the film, along with a group of up-and-coming young actors, many of whom you've probably seen on TV but couldn't place.

Though potentially inspiring, Freedom Writers looks rather by-the-book and has received a middling critical reception. Tellingly, it's being released on only 1,360 screens, a sign that Paramount doesn't have much faith in the film's prospects. Swank, despite her two Oscars, is still not much of a draw and really doesn't have a success that's due to her and her alone. Look for about $5 million for Freedom Writers in its debut.

Code Name: The Cleaner is the requisite horrible action comedy for January, this time starring that match-up we've all been asking for, Cedric the Entertainer and Lucy Liu. Cedric plays an amnesiac janitor who stumbles into an espionage plot and is duped into thinking he's a super spy. Hilarity theoretically ensues as he bumbles his way through a conspiracy, which if you listen to critics, makes about as little sense as possible. Given that director Les Mayfield was also responsible for such classics as The Man, Blue Streak and Encino Man, well, let's just say you've been warned.

Cedric has been a solid supporting performer in several films in the past, but as a lead, has been at the scene of the crime for some of the worst dogs inflicted on us in recent memory, like The Honeymooners and Johnson Family Vacation. Code Name: The Cleaner looks worse than these, even. It debuts on only 1,700 screens this weekend, likely with the hopes that it just won't embarrass anyone. Give it about $5 million and a quick exit from theatres.

Expanding into wide release is Children of Men, jumping from only 16 screens to over 1,200. Set in a future world where every woman has been rendered infertile, Children of Men is a post-apocalyptic thriller that has been garnering tremendous praise as one of the best films of the year. Directed by Alfonso Cuaron and starring Clive Owen, Julianne Moore and Michael Caine, its dystopic setting sees humanity falling apart, with no hope for the future. No hope, that is, until a miraculously pregnant woman shows up who must be ferried to safety so that she can, just maybe, save the world.

Equal parts chase film, cautionary tale and political activism, Children of Men has become a darling with critics, especially for Cuaron's directing. In its limited release, it attracted huge audiences, grossing half a million dollars on just 16 screens. In this wide release, I give it a very good chance at making a box office impact, with around $10 million, helping it with a last minute Oscar push.

In returning films, Night at the Museum should repeat for its third week at the top of the box office. The family action-comedy was the top film for December and has already brought in an astounding $136 million at the box office. Dick van Dyke's still got it. I kid, I kid, it's Ben Stiller, combined with a fairly ingenious premise and a perfect release slot that's brought it this far. Its box office topping total this weekend should be around $22 million.

Other holdovers should be strong as well this week. Will Smith's The Pursuit of Happyness held over very strongly during the Christmas week, boosting its box office total over the $100 million mark. The inspirational story improved well over the New Year's Eve weekend, upping its total by 30%, and should stick around with about $14 million this frame. Dreamgirls packed in audiences in just over 800 screens starting on Christmas Day, and has earned close to $50 million to date. Though it's not expanding this weekend, its buzz has been very strong, and I look for it to keep third place with about $10 million.

Charlotte's Web was a strong family choice during the Christmas week but should drop off sharply now that kids are back in school. This demo is always hardest hit in this period, and I don't see the case for an exception here. Give it about $6 million this frame, though it should move close to the $70 million mark. The Good Shepherd and Rocky Balboa could in no way be considered kids' flicks, but they should share that same fate. Neither held up strongly over Christmas in comparison to the field, seeing only a slight rise and a slight drop respectively, when other films saw big gains. Look for both to come in at about the $5 million mark.