Top 10 Film Industry Stories of 2006 #2: Borat takes on the U.S.
By Kim Hollis
January 4, 2007
BoxOfficeProphets.com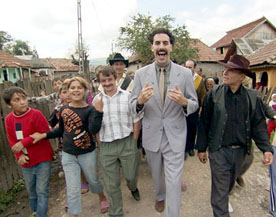 ---
Jagshemash!

Chances are, six months ago, you had no idea who or what Borat was. Fans of the UK's Channel 4 program would have known that Borat Sagdiyev was a fictional Kazakh reporter portrayed by the very funny Sacha Baron Cohen on his comedy series Da Ali G Show. The reason that the schtick worked is that Borat, a naif who understands little outside his own "backwards" culture, would accost unsuspecting real men and women on the street to interview them - with uproarious results. Da Ali G Show eventually made its way to the United States by way of HBO, but no one could have accounted for the mega success that would come for Borat once the character made his debut in a full-length feature film.

When the preview for Borat: Cultural Leanings for Make Benefit Glorious Nation of Kazakhstan was shown in front of Talladega Nights: The Ballad of Ricky Bobby (a movie in which Cohen appears as the villain), people laughed. And laughed. They began to speculate that perhaps the film could make more than $5 million total at the box office and perhaps even manage that amount in an opening weekend.

Then the commercials and the guerilla marketing came. The television and movie marketing very specifically focused on some very funny segments of the movie that featured Borat getting lessons from a humor coach (This suit is NOT black!) and a driving instructor. A MySpace page was strategically designed to attract youthful and Internet-savvy fans. Borat himself was on the front of what seemed like every newspaper and magazine in existence, with many of the lead-ins and headlines posing the question "Is Borat the funniest movie ever?" Early screenings were almost universally joyous, with many critics reporting uncontrolled bouts of laughter and rolling in the aisles. Shortly in advance of the movie's release on November 3, 2006, the first few minutes were available for viewing on MySpace, and the portion that aired was over-the-top and hilarious.

When early returns came in on Saturday, forecasters and box office analysts were stunned to see that Friday alone was worth more than $9 million. Borat started its theatrical run with a $26.5 million weekend and as of this writing, it sits with $125.8 million in North American money. It earned back its $18 million budget after two days of business.

Given the fact that Borat is a character that makes fun of a true-to-life culture and country, there was bound to be controversy. Although savvy viewers of the movie will recognize that the movie's real goal is to expose and take a harsh (though funny) look at racism, sexism and bigotry, it's easy to understand why the nation of Kazakhstan might take offense at the purported anti-semitism and backwards habits that were portrayed. It didn't stop there, of course. Sensing big pockets and a certain opportunity, a number of the real-life people who appeared in the film sued the comedian and the movie studio, claiming a number of damages such as fraud, appropriation of likeness, and emotional distress. A television producer who brought Borat on for a segment of her morning news show was ultimately fired, and claimed that Sacha Baron Cohen was to blame (though other reports have said that she did only cursory research in vetting him as a guest). Worst of all (!), Kid Rock became infuriated with new wife Pamela Anderson over her involvement in the project and she filed for divorce after only 17 days of marriage.

A movie based on one of Cohen's other characters, Bruno, is in the works, but it certainly does seem as though he's already captured lightning in a bottle with Borat. Cohen will clearly be able to leverage this performance to further dollars and possibly an Academy Award nomination. If he wins, we truly look forward to his speech.